[
(U.S. Forest Service)]
[From
NOAA
and
NOAA NCEI
]  The end of February ushered in the end of meteorological winter (December, January and February), which ranked as the nation's 12th-driest winter in 128 years. Drought conditions across the western U.S. were exacerbated by the dry winter.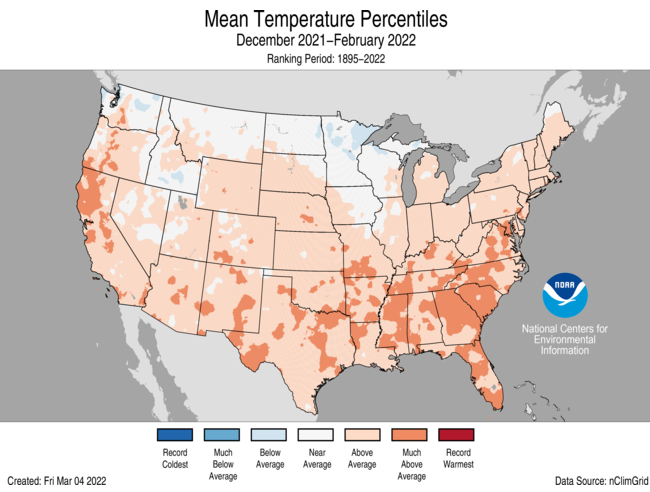 Meteorological winter
was quite mild and dry across the contiguous U.S. The average temperature was 34.8 degrees F, 2.5 degrees above average, ranking in the warmest third of the winter record. 
Winter temperatures
 were above average across much of the Lower 48 with 
Georgia
 and 
South Carolina
experiencing their seventh-warmest winter on record. Temperatures ranked near average from the Pacific Northwest to the western Great Lakes. No states ranking below average for the winter season. Total winter precipitation was 5.76 inches — 1.03 inches below average — which ranks as the 12th-driest winter on record. Precipitation was below average across portions of the West, central and southern Plains, Gulf Coast and across parts of the Southeast and Mid-Atlantic. Louisiana had its third-driest winter on record, Nebraska had its fourth driest and Kansas saw its fifth driest.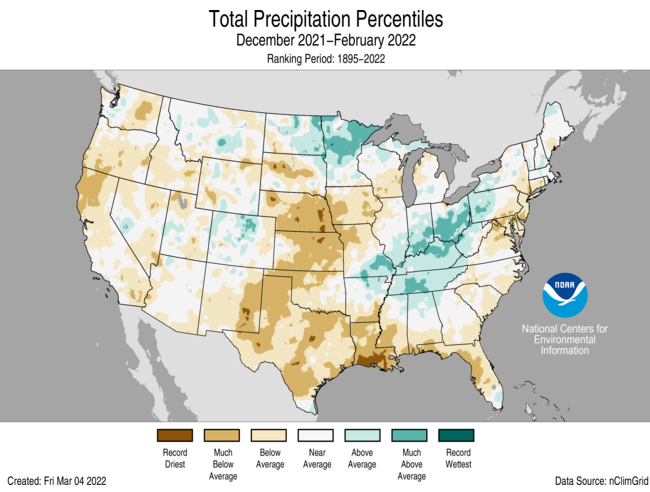 Climatologically speaking, winter is the wet season across much of the western U.S. If the dry conditions experienced in January and February across portions of the West were to continue into March and April, insufficient water resources may result during the dry season (summer), as well as an increased potential for drought intensification and wildfires in the fall.
Precipitation
 was above average across parts of the Upper Mississippi, Ohio, and Tennessee valleys. 
Minnesota
had its 10th-wettest winter.
Edited for WeatherNation by Mace Michaels