MARINE  ALERTS
---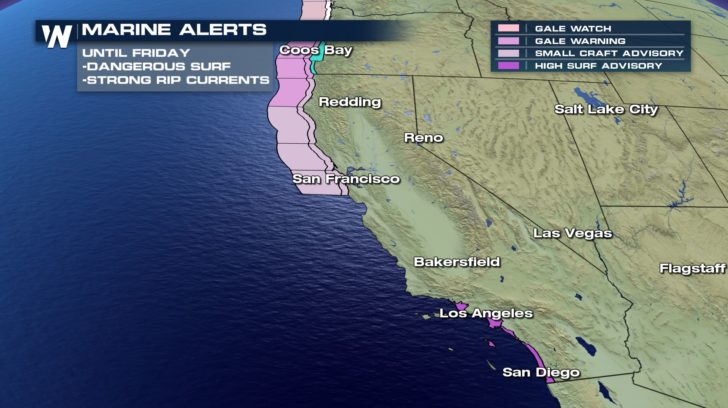 SOUTHERN CALIFORNIA:
High surf advisory is in place from Los Angeles to San Diego due to surf and waves being around 4-8 feet through Friday. Strong rip currents will lead to dangerous swimming conditions. Large breaking waves can cause injury and wash people off beaches and rocks. Small boats can even capsize near shore.
NORTHERN CALIFORNIA: 
Multiple marine alerts are in effect for northern California. This includes a gale warning, small craft advisory, and hazardous seas warning. Gale warning:  A southerly wind is looking to pick up early Friday morning with gusts reaching up to 50 mph. Small craft advisory and hazardous seas warning:  Steep waves are expected over the next couple of day. They will be reaching around 12-14 feet. Mariners without proper experience are recommended to stay in port. Beach goers should take extra precaution because sneaker waves will be a threat over the next couple of days. Never turn your back on the ocean. These waves could easily pull people out to sea. Shock and hypothermia can occur quickly if this happens. Stay safe over the next couple of days!