[Farm workers picking cucumbers in North Carolina. Image credit: News & Observer, 2016 via NOAA]
From
NOAA 
As summer months come and go in North and South Carolina, many people are noticing more days of intense heat or uncomfortable humidity each year. To some, it's little more than a growing inconvenience—but to others, the increasing heat burden is becoming a matter of life and death. In fact, weather records show that heat waves in the United States are occurring more frequently, becoming more intense, and lasting longer. In the United States, more deaths have been attributed to heat than from all other natural disasters combined—an average of more than 650 heat-related deaths occurred each year between the years of 1999 and 2009.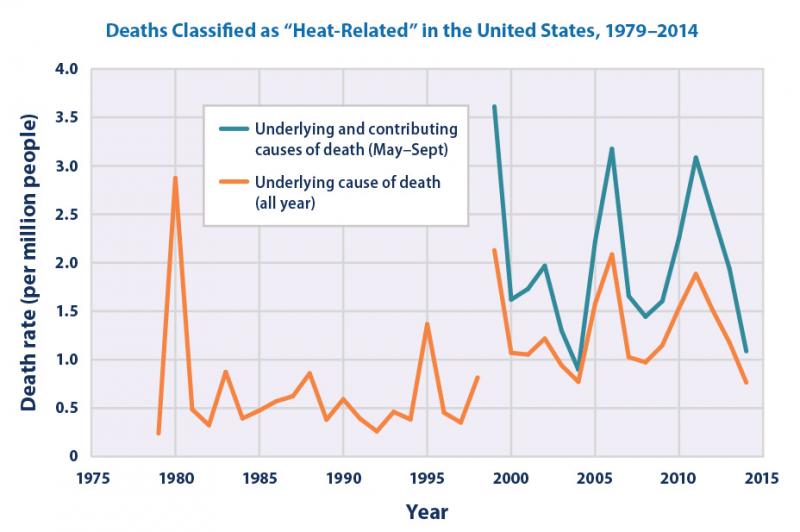 [The graph shows heat-related illness as a more prominent cause of death in the summer months of May through September. From NOAA]
Emergency departments in North Carolina are carefully tracking the number of heat-related visits they see. Ashley Ward, a Climate Integration and Outreach Associate with the Carolinas Integrated Sciences and Assessments (CISA) program, attributes the observed increase in heat-related emergency room visits not only to the effect of increased temperatures in the Carolinas, but also to relatively low levels of community preparation for extreme heat events. Ward is working with the National Integrated Heat Health Information System (NIHHIS), a collaboration lead by the National Oceanic and Atmospheric Administration (NOAA) and the Centers for Disease Control and Prevention (CDC), to assess problems and determine solutions to combat extreme heat in North Carolina's most vulnerable counties.
Rural impacts and vulnerable populations
Although urban areas in the Carolinas can experience increased temperatures due to the urban heat island effect, the proportion of people who experience heat-related illnesses seemed to be higher in rural counties. This sparked an interest in CISA's research team to investigate the differences.