[
Written from NOAA and NOAA NCEI
]  The first six months of 2021 brought
eight billion-dollar weather disasters
, ranging from destructive severe weather to a historic deep freeze, according to experts from NOAA's National Centers for Environmental Information. Below are more highlights from NOAA's U.S. climate report:
Billion-dollar disasters to date
The U.S. experienced eight 
weather and climate disasters
 in the first six months of 2021, each with losses exceeding $1 billion. They were:
two flood events focused in California (January 24-29) and Louisiana (May 14-19);
the historic mid-February winter storm and cold wave with impacts focused in Texas;
two severe storm events in late-March (24-25 and 27-28) across many southeastern and eastern states, respectively;
two severe storm events focused across Texas and Oklahoma in mid-to-late April (12-15 and 27-28);
the expanding Western drought and heatwave that has amplified throughout 2021.
The costliest event so far was the February 10-19 winter storm and cold wave that incurred direct losses of approximately $20 billion. This is now the most costly U.S. winter storm event on record surpassing (nearly doubling the inflation-adjusted cost of) Superstorm 1993. The next costliest was the severe weather outbreak of April 27-28 in Texas and Oklahoma that caused $2.4 billion in damages. The 2021 YTD inflation-adjusted losses from all eight disasters were also at a near-record high for the first six months and came in at nearly $30 billion – only behind 2011. The U.S. has experienced 298 weather and climate disasters since 1980 where overall damages/costs reached or exceeded $1 billion (including CPI adjustment to 2021). The total cost of these 298 events exceeds $1.975 trillion. In addition to significant economic impacts, the eight events identified during the first half of 2021 resulted in at least 331 fatalities.
Year to date (YTD) I January through June 2021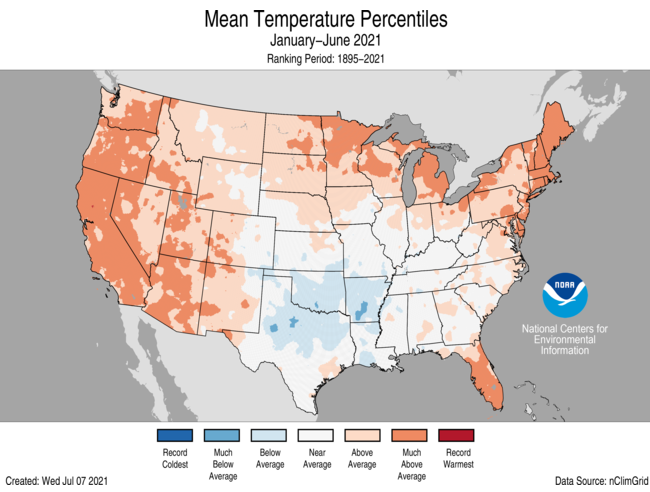 The year-to-date average temperature for the contiguous U.S. was 49.3 degrees F, (1.7 degrees above the 20th-century average) and placed in the warmest third of the record. Maine saw its third-warmest YTD, and both California and New Hampshire had their fifth warmest.
January-June temperatures were above average across the vast majority of the West, northern Plains, Great Lakes, Northeast, mid-Atlantic and parts of the Southeast.
Temperatures were below average across much of the southern Plains.
The Alaska statewide average temperature for the year-to-date period was 22.6°F, 1.3°F above average, and ranked in the middle third of the record. Above-average temperatures were present across the Aleutians and Bristol Bay regions with near-average temperatures dominating the rest of the state.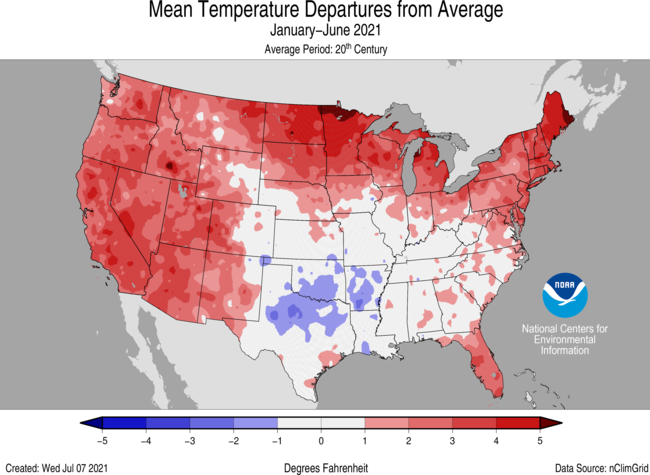 The precipitation total was 14.64 inches, 0.67 of an inch below average, which ranked in the driest-third YTD on record. Nine states across the interior West, northern Plains and New England logged a top-10 driest January-June periods on record.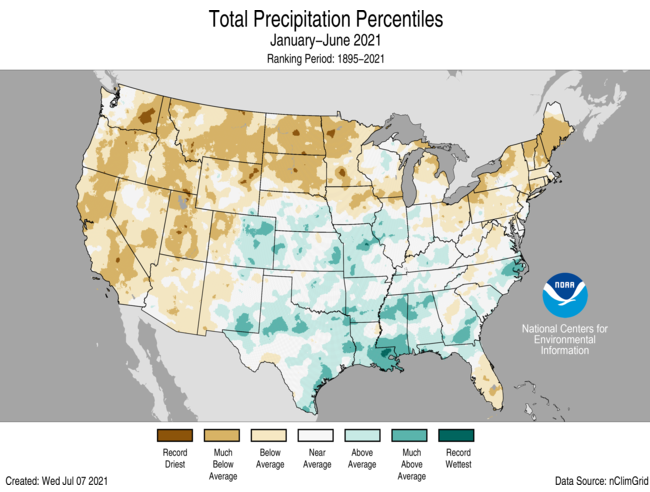 Precipitation was above average from the central and southern Plains to the Midwest and from the Deep South to the Southeast. Louisiana ranked eighth wettest on record for this year-to-date period.
Precipitation was below average across much of the West, northern Plains, Great Lakes, Northeast and Florida.
For Alaska as a whole, precipitation was above average during the first half of 2021. In the Panhandle, Juneau ranked second wettest on record for this period.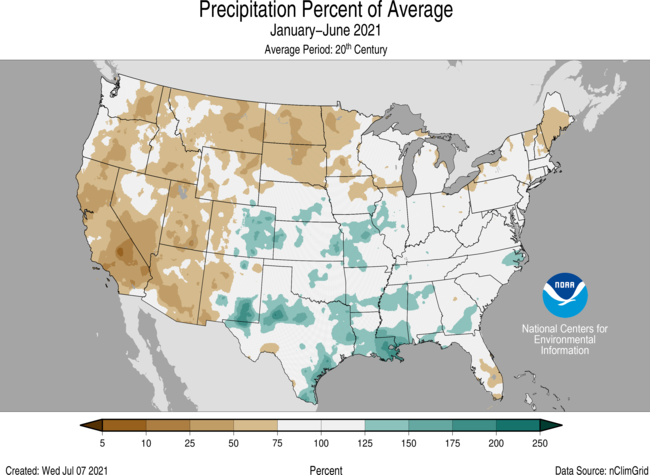 Edited for WeatherNation by Mace Michaels