[
February 11, 2020 -- An aerial photo of a levee failure that flooded the Springridge Place Subdivision in Yazoo County, Mississippi, following heavy rainfall. Four homes and a church were threatened. From MS Emergency Management Agency via Facebook]
The numbers have been crunched and the climate statistics are in from February.  Here's a look back at the month. Information written from the
National Centers for Environmental Information
,
NOAA
, and
Rebecca Lindsey
 at
NOAA Climate
.
TEMPERATURE
The average February temperature across the contiguous U.S. was 36.2 degrees F (2.4 degrees above the 20th-century average), which ranked in the warmest third of the 126-year record. Much-above-average temperatures were felt across parts of the Mid-Atlantic and Northeast, as well as portions of California and Florida.  
New Jersey
 and 
Rhode Island
 ranked third warmest, while 
Maryland, Delaware and Connecticut
 ranked fifth warmest. Below-average temperatures were observed across portions of the central Rockies to western Texas during February, but no state ranked below average for the month.
PRECIPITATION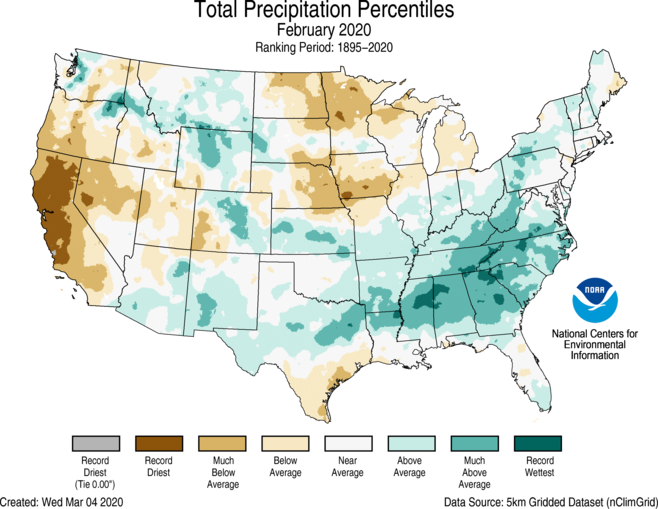 Among the highlights of the February 2020 climate summary for the United States were the precipitation extremes experienced by different parts of the country. Much of the Southeast experienced record or near-record wet conditions last month, while almost all of California and parts of Oregon and Nevada were either much drier than average or record dry. Stations across the San Francisco Bay area and interior parts of northern California tied or set records for driest February on record. San Francisco, San Jose, Sacramento, Oakland and many other stations received no precipitation during the month, setting local records for the driest February.
Last month's average precipitation was 2.40 inches (0.27 of an inch above average), ranking in the wettest third of the historical record.
This map shows precipitation—including both rain and snow—for February 2020 as a percent of the 1981-2020 average.  Places where precipitation was close to 100% of average are white or very light yellow (just barely below normal) or very light green (just barely above normal). Dark browns and greens indicate extreme departures from average.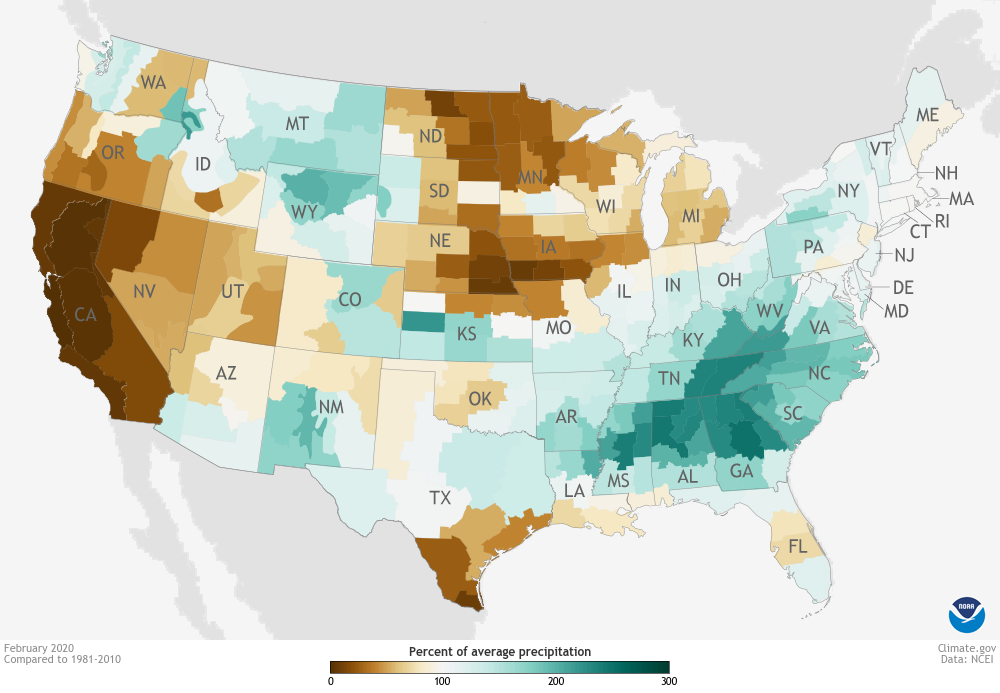 The February numbers brought no good news for California, which depends on winter months for the lion's share of its annual precipitation. On the heels of a drier-than-average 
January
, February was drier still, with many areas reporting less than 5% of their normal rainfall. Some locations in the northern part of the state received no measurable precipitation all month, setting local records for the driest February and bringing an early start to the 
annual fire season
. At the other extreme, an continuous arc of record to near-record wet conditions stretched from eastern Texas through the Southeast and up the Southern Appalachians to West Virginia. Among other impacts, heavy rain caused 
landslides
 in Virginia, historic 
flooding
 in Mississippi, and 
road closures
 in Alabama. Georgia ranked second wettest, while Alabama and North Carolina ranked third wettest on record.
OTHER NOTABLE CLIMATE EVENTS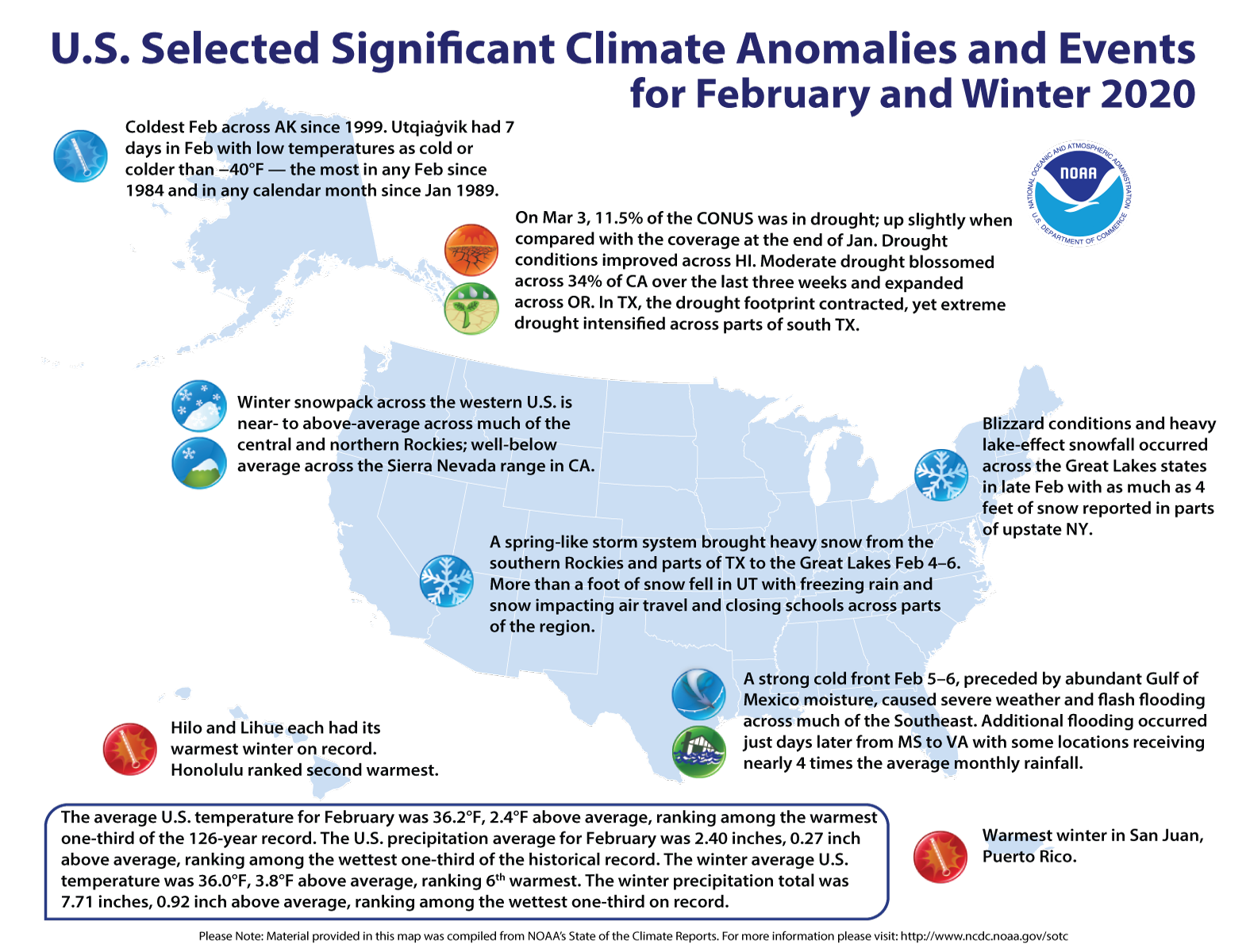 Alaska on ice
: The 
Alaska February temperature
 was 1.5°F, 3.3°F below the long-term average. This ranked among the coldest one-third of the 96-year period of record for the state and was the coldest February since 1999. It was the coldest February since 1984 in Utqiaġvik (Barrow). Utqiaġvik had seven days in February with low temperatures as cold or colder than −40°F — the most in any February since 1984 and in any calendar month since January 1989. For the first time in 21 years, Fairbanks remained below freezing during all of meteorological winter.
California eyes its water supply
: After a very dry January, California had a record-dry February with only 0.20 of an inch of precipitation, beating the previous record of 0.31 inch in 1964.  The arid winter increased concerns for sufficient water to get through the summer, as well as to fight wildfires that commonly occur in the fall.