[An atmospheric river drenched California with heavy rain and mountain snow the week of February 10, 2019, triggering flash floods, mudslides and winter storm warnings in the Sierra Nevada. This conveyor belt of clouds and moisture stretching across the Pacific Ocean easily stands out in this February 14, 2019, infrared satellite image from NOAA's newly operational GOES West (GOES-17) satellite]
[NOAA] After a steady march of snow and rain storms across the country between December 2018 and the end of February 2019, it's no surprise that the contiguous U.S. marked its wettest winter on record. The wet weather last month also made February 2019 the second wettest February on record.
Here are more highlights from NOAA's latest monthly U.S. climate report:
Climate by the numbers
February 2019
The average temperature during February across the contiguous U.S. was 32.0 degrees F (1.8 degrees below average), which put it among the coolest third of the 125-year record for February. However, the U.S. Southeast experienced much-above-average temperatures, with Florida having its second-hottest February on record.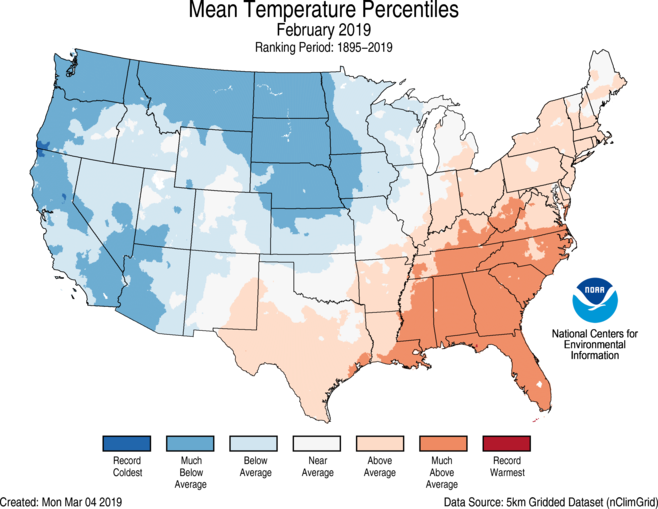 The average precipitation for February was 3.22 inches (1.09 inches above average), making it the second wettest February on record.Across the U.S., 19 states had a top-10 wettest February, with Tennessee having its wettest February on record.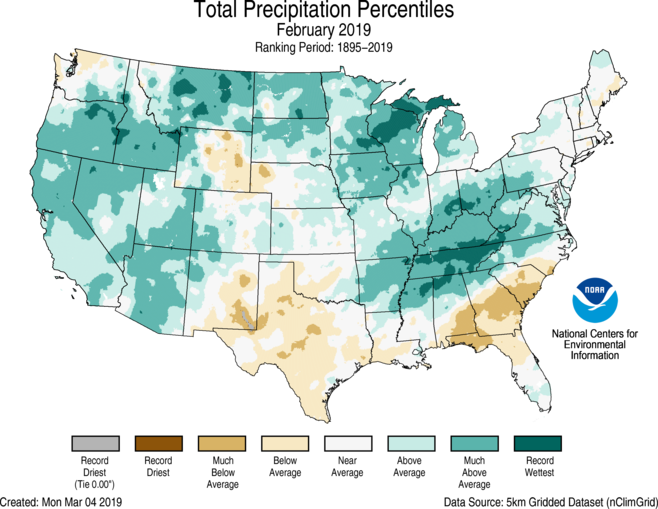 Winter | December 2018–February 2019
The winter temperature was 33.4 degrees F (1.2 degrees above average), ranking it among the hottest third of winters on record, with warmer-than-average temperatures across the Deep South, the Southeast and parts of New England.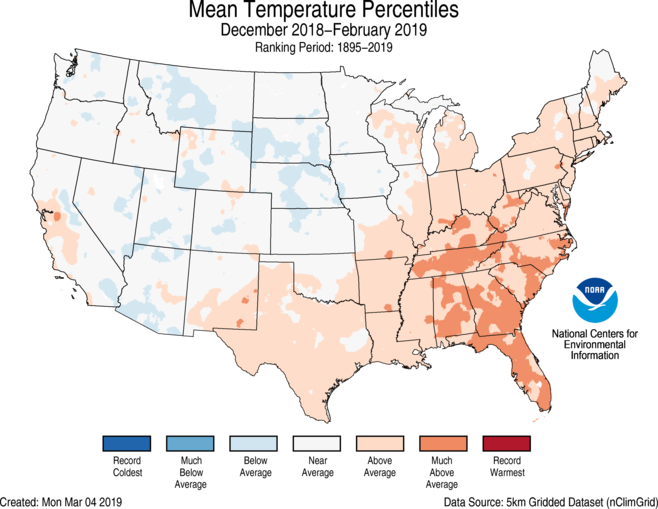 The total U.S. winter precipitation was 9.01 inches (2.22 inches above average), which made it the wettest winter on record, beating the winter of 1997-98 by 0.02 of an inch. Much of the western U.S. received above-average precipitation, while regions in the Great Lakes, Mississippi, Ohio and Tennessee River Valleys, and High Plains experienced much-above average and record precipitation.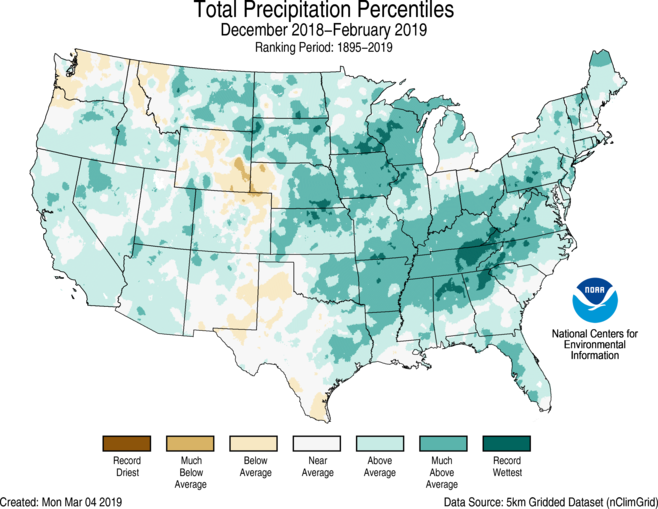 Other notable highlights
Shivering temperatures: In February, below-average to much-below-average temperatures were tallied from the West Coast to the Great Lakes. For example, the average February temperature for Great Falls, Montana, was nearly 28 degrees F below normal — more than 10 degrees colder than the previous record.

Record snowfalls: Several cities had record snowfall in February, including Seattle (20.2 inches); Pendleton, Oregon (32.5 inches); Minneapolis (39.0 inches); Rochester, Minnesota (40.0 inches); and Eau Claire, Wisconsin (53.7 inches).

Drought improvement: At February's end, the U.S. Drought Monitor showed 11.9 percent of the contiguous U.S. to be in drought, down from 16.5 percent at the end of January.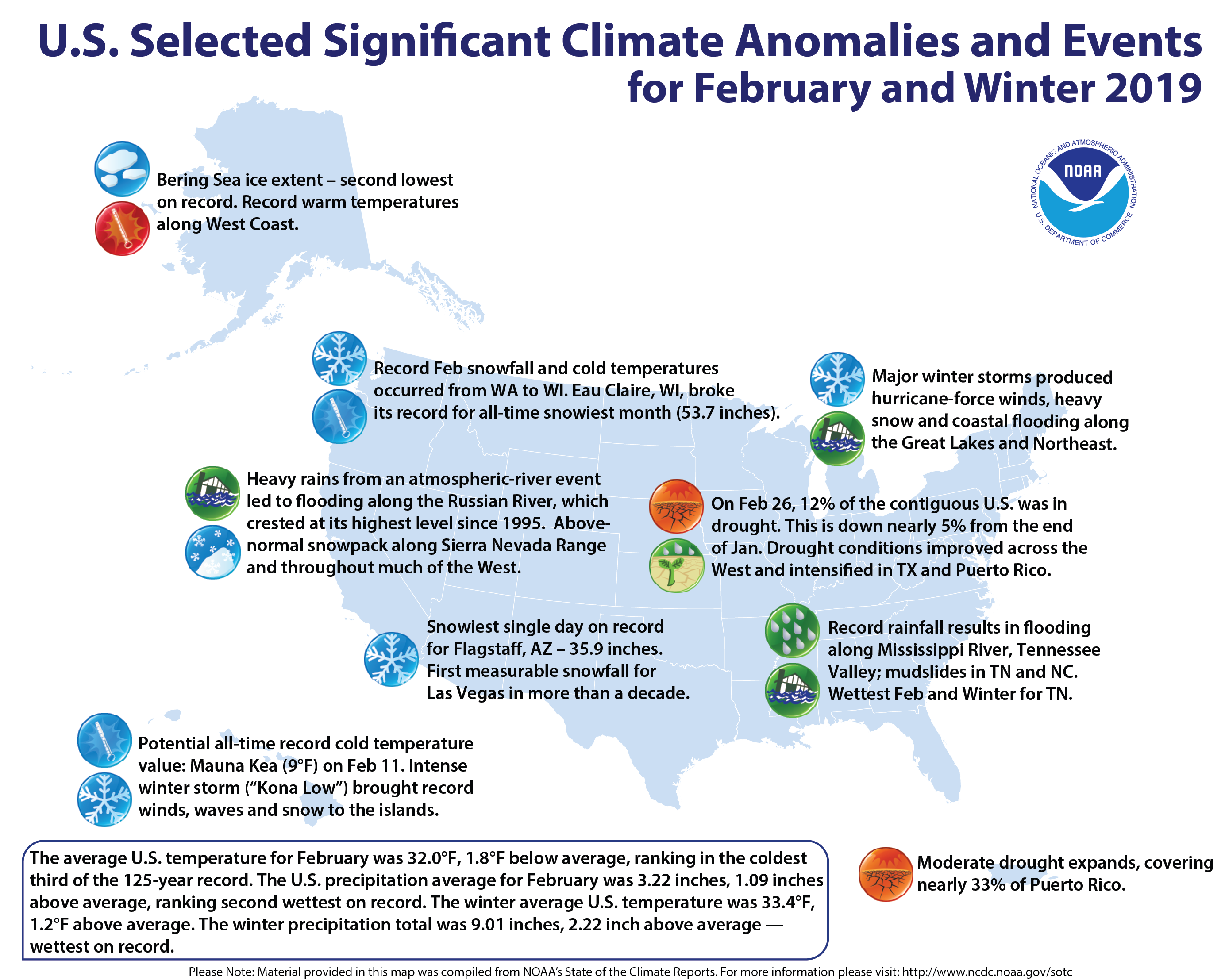 Edited for WeatherNation by 
Meteorologist Mace Michaels