[
An Arianespace Ariane 5 rocket carrying South Korea's Geostationary Environment Monitoring Spectrometer (GEMS) instrument launches Tuesday, Feb. 18, from the Guiana Space Center in French Guiana. Credits: Courtesy of Arianespace
] [From
NASA
]   South Korea's Geostationary Environment Monitoring Spectrometer (GEMS) instrument on the Korean Aerospace Research Institute GEO-KOMPSAT-2B satellite recently launched into orbit aboard an Arianespace Ariane 5 rocket Tuesday, Feb. 18, from the Guiana Space Center in French Guiana. A sister instrument to NASA's Tropospheric Emissions: Monitoring of Pollution (TEMPO), GEMS will be the first satellite instrument in a constellation of three satellite instruments that will revolutionize the way scientists observe air quality over significant swaths of the Northern Hemisphere. GEMS will monitor atmospheric gases over Asia hourly during daytime from a geostationary, or fixed, orbit over the equator. This marks a significant leap forward in scientists' ability to monitor air pollution from space.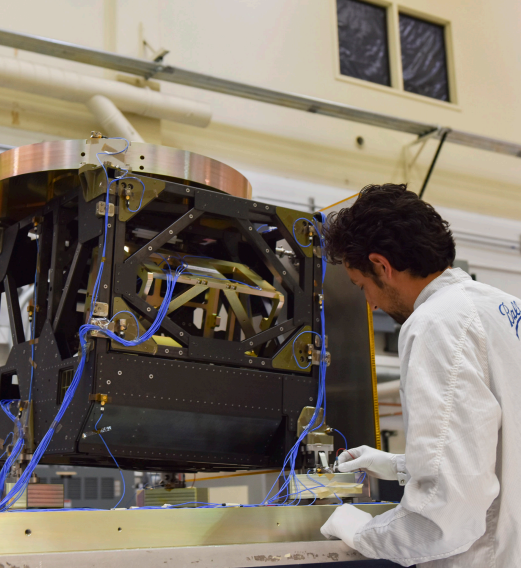 [
The Geostationary Environment Monitoring Spectrometer (GEMS) is designed to provide measurements of air quality over South Korea and the greater Asia-Pacific region by measuring tropospheric pollution from space. The GEMS 10-year mission will investigate chemical concentrations critical to air quality, such as nitrogen dioxide, sulfur dioxide, formaldehyde, ozone, and other aerosols.
] GEMS is nearly identical to TEMPO, which is scheduled to launch into geostationary orbit in 2022 as a payload on Intelsat 40e. TEMPO will make hourly daytime measurements of air quality over North America. Both GEMS and TEMPO were built by Ball Aerospace in Boulder, Colorado. The European Space Agency's Sentinel-4, currently in development, will observe air quality over Europe. All three instruments will provide data products that will improve scientists' ability to understand and forecast air quality around the Northern Hemisphere.