It looks like the rest of the week is going to be rather wet in the mid-Atlantic states.  The weather set-up will have a stationary front draped across Virginia, anchored by low pressure in West Virginia.  The result will be wave after wave of moisture being drawn up from the Gulf of Mexico and pulled in from the Atlantic Ocean.  There will be no shortage of rain over the next few days.  In fact, there may be too much rain!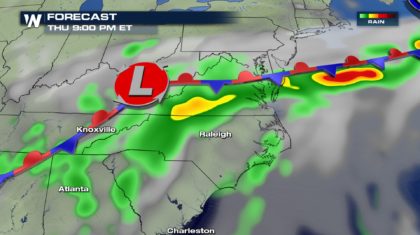 The National Weather Service has already issued Flood Watches for portions of West Virginia, Pennsylvania, Virginia, and Maryland.  Many of these areas have already received rain, and additional moisture will fall on wet soil.  This could easily lead to flooding.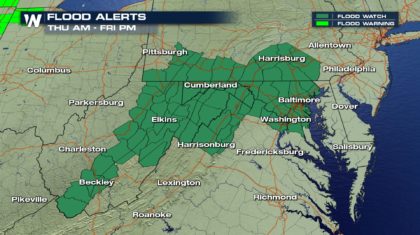 Excessive rainfall is expected overnight into Thursday morning in the areas shaded in light green.  Roanoke, Washington D.C., and Philadelphia are all in this outlined area.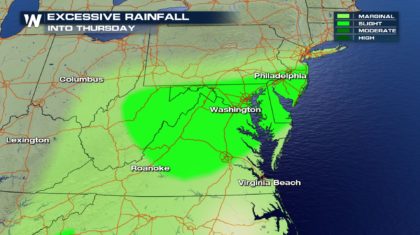 Excessive rainfall is expected in some of the same  areas Thursday into Friday.  Washington D.C. and Roanoke are outlined for more rain.  And heavy rain could also fall in portions of central North Carolina.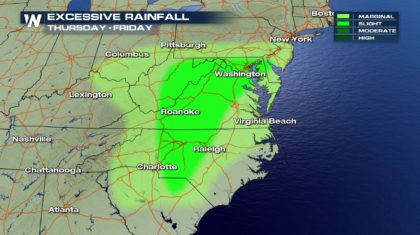 By Saturday afternoon, there could be rain totals of three to six inches in many spots.  The highest rain totals are expected from Philadelphia down to Baltimore and Washington D.C.  And most of Virginia is expected to receive large amounts of rain, from Roanoke and Lexington, eastward across the state to Richmond.  Many areas will see between two and four inches of rain, with isolated totals up to six inches.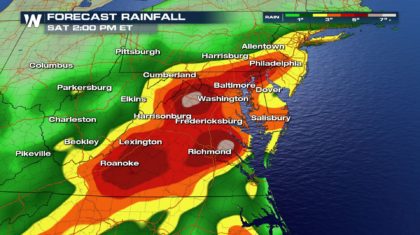 While spring rains are often a great thing, too much rain can lead to flooding problems.  It's concern, and rain totals, (along with river, stream, and lake levels), should be monitored very closely over the next several days. For WeatherNation:  Meteorologist Matt Monroe