[
GOES-17 GeoColor view of the Northern Hemisphere, Feb. 9, 2019.
] [
NOAA
]  It's official: GOES-17 is now operational as NOAA's GOES West satellite. In its new role, GOES-17 will serve as NOAA's primary geostationary satellite for detecting and monitoring Pacific storm systems, fog, wildfires, and other weather phenomena that affect the western United States, Alaska, and Hawaii. The latest milestone for GOES-17 comes exactly eleven months after the satellite 
first reached its geostationary orbit
 22,000 above Earth. Launched March 1, 2018, GOES-17 is NOAA's second advanced geostationary weather satellite and the sister satellite to 
GOES-16
 (also known as GOES East). Together the two satellites provide high-resolution visible and infrared imagery as well as lightning observations of more than half the globe – from the west coast of Africa to New Zealand, and from near the Arctic Circle to the Antarctic Circle.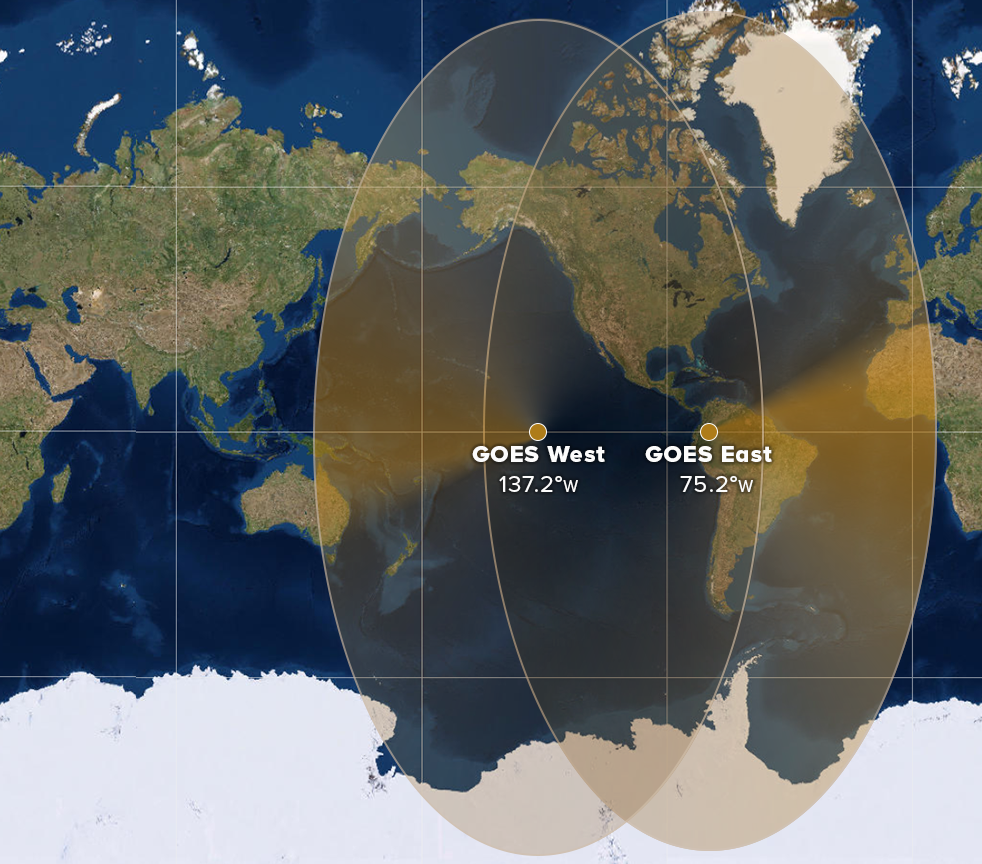 [
Map showing the geographical coverage of the GOES East and West satellites. (NOAA)
]
Better weather forecasts for the Western U.S.
GOES-17 has already been helping forecasters track the weather and other environmental hazards in places like California, Alaska and Hawaii. The satellite 
began transmitting its first images
 from its 
new orbital position
 in November 2018. Since then, forecasters have been using GOES-17 data to see weather forming over the northeastern Pacific Ocean, where many weather systems that affect the continental U.S. first form. Until recently, high-quality data coverage of the Pacific Ocean was sparse. Now that GOES-17 data is available, however, forecasters have access to more detailed views of high-impact weather systems and other environmental hazards like wildfire smoke and volcanic ash.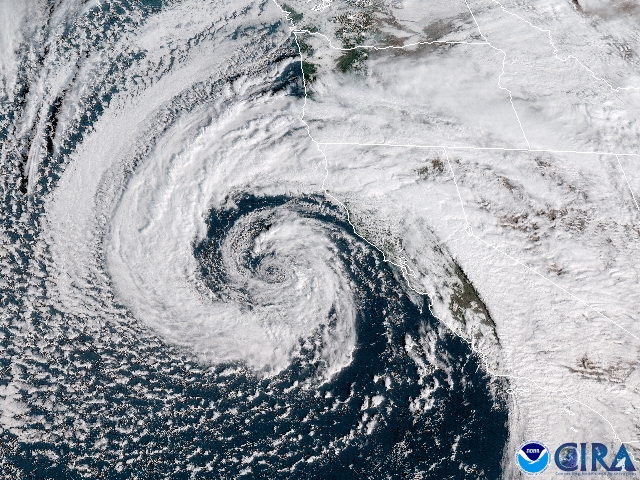 [
GOES-17 watches a storm nearing California on Feb. 2, 2019.
] For example, GOES-17 helps forecasters predict the intensity and impact of Pacific storms that hit the West Coast. These include 
atmospheric river
events
 that bring heavy rain and high-elevation snow to California and the Pacific Northwest, especially during the winter months. In Hawaii and the central Pacific Ocean, GOES-17's high-resolution visible and infrared imagery will improve hurricane forecasts and allow meteorologists to better predict areas of intense rainfall. In 2018, 
Hawaii set a new national rainfall record
 when 49.69 inches of rain fell in 24 hours. The state also faced 
several
tropical weather threats
 in what became an active hurricane season in the Central and Eastern Pacific.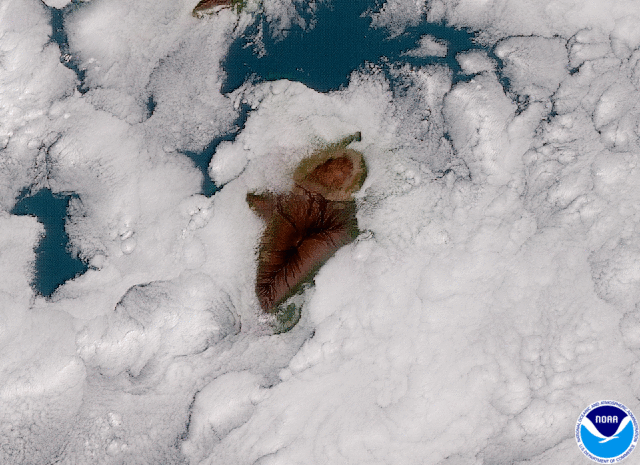 [
GOES-17 watches clouds form around Hawaii's Big Island on Jan. 15, 2019.
] Forecasters in Hawaii and other remote territories like the Marshall Islands and American Samoa are also now able to track thunderstorms in real-time. The 
Geostationary Lightning Mapper
 (GLM) on-board GOES-17 helps forecasters determine when thunderstorms and convective weather events are intensifying or becoming more dangerous. In 2018, the National Weather Service 
began using GLM data
 to issue severe thunderstorm warnings and keep the public out of harm's way.
Tracking wildfires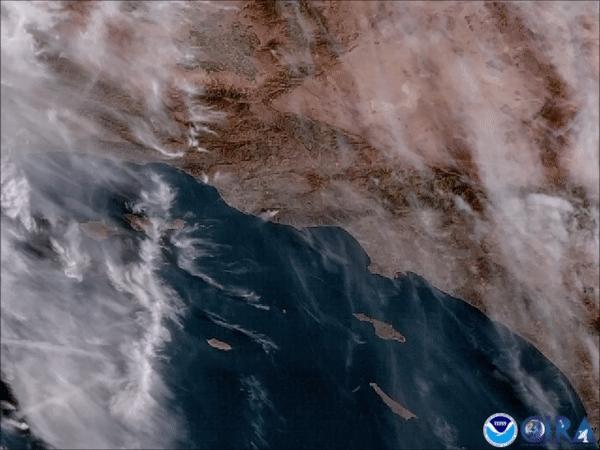 [
GOES-17 sees a thick plume of brown smoke from the Woolsey Fire in southern California
on Nov. 13, 2018.
] Among the benefits of GOES-17's high-resolution and rapid-scan capability is its ability to detect wildfires and monitor smoke coverage in near real-time. The dry climate of the western U.S. makes the region especially vulnerable to wildfires. In 2018, for example, California faced 
one of its deadliest and most destructive wildfire seasons
 on record. Providing high-definition images as often as every minute, GOES-17 helps forecasters distribute critical information to firefighters and emergency managers that saves lives. Real-time imagery of smoke plumes from fires also improves air quality forecasts.
A major upgrade for Alaska forecasts
GOES-17 has been especially valuable to Alaska, where NOAA's older geostationary satellites provided far less coverage. The state's vast territory and sparse population mean that Earth-based observations from radar, aircraft and buoys, are limited.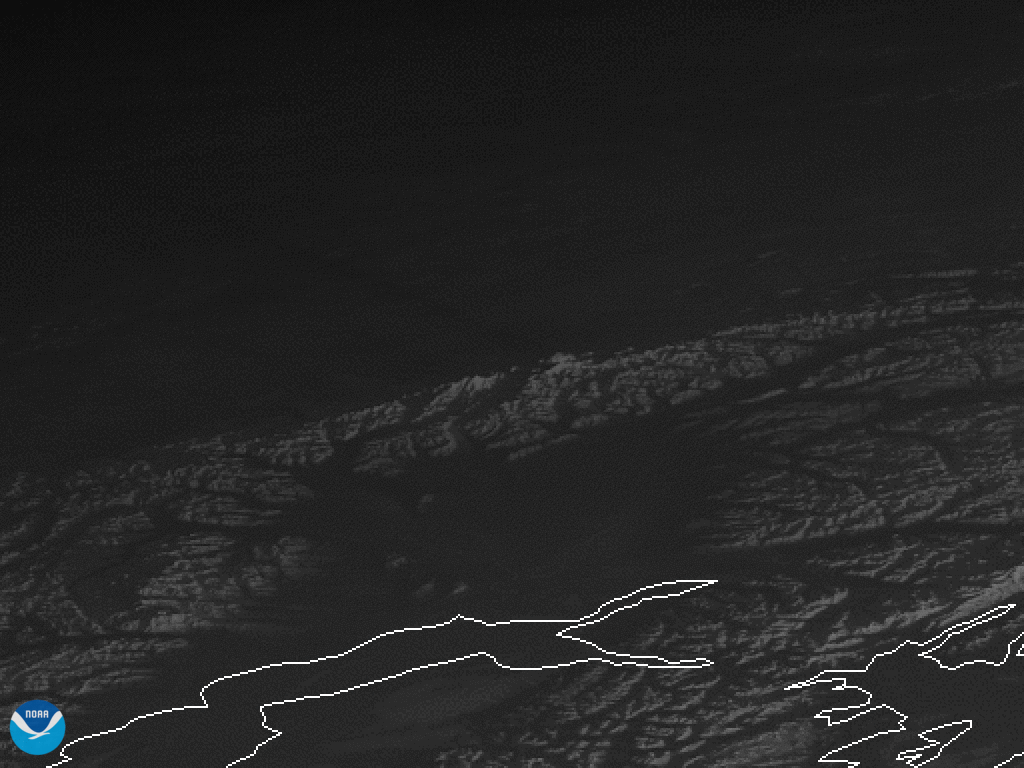 [
Denali, the highest peak in North America, casts a shadow over interior Alaska in this GOES-17
imagery from Nov. 16, 2018.
] The satellite's combinable image channels (known as "multispectral imagery") help forecasters distinguish between clouds, snow-covered ground and sea ice around Alaska's coasts. These advanced imaging capabilities mean safer, more accurate aviation and shipping forecasts, especially during Alaska's long, dark winter months, when visible satellite imagery is less useful. "In my nearly six years forecasting here, I have never seen a product revolutionize our ability to forecast the way GOES-17 has," said Michael Ottenweller, a National Weather Service forecaster at the Anchorage, Alaska field office. "The advent of GOES over our domain makes forecasting tangibly easier and better." Ottenweller described a recent experience forecasting fog over southwestern Alaska. Before GOES-17 data was available, forecasters would have to wait for data from polar-orbiting satellites passing over Alaska. "Now, not only do I have reliable data, but I can loop that data. This changes everything," said Ottenweller. "We are excited to see what [GOES-17] brings for the convective and fire weather season."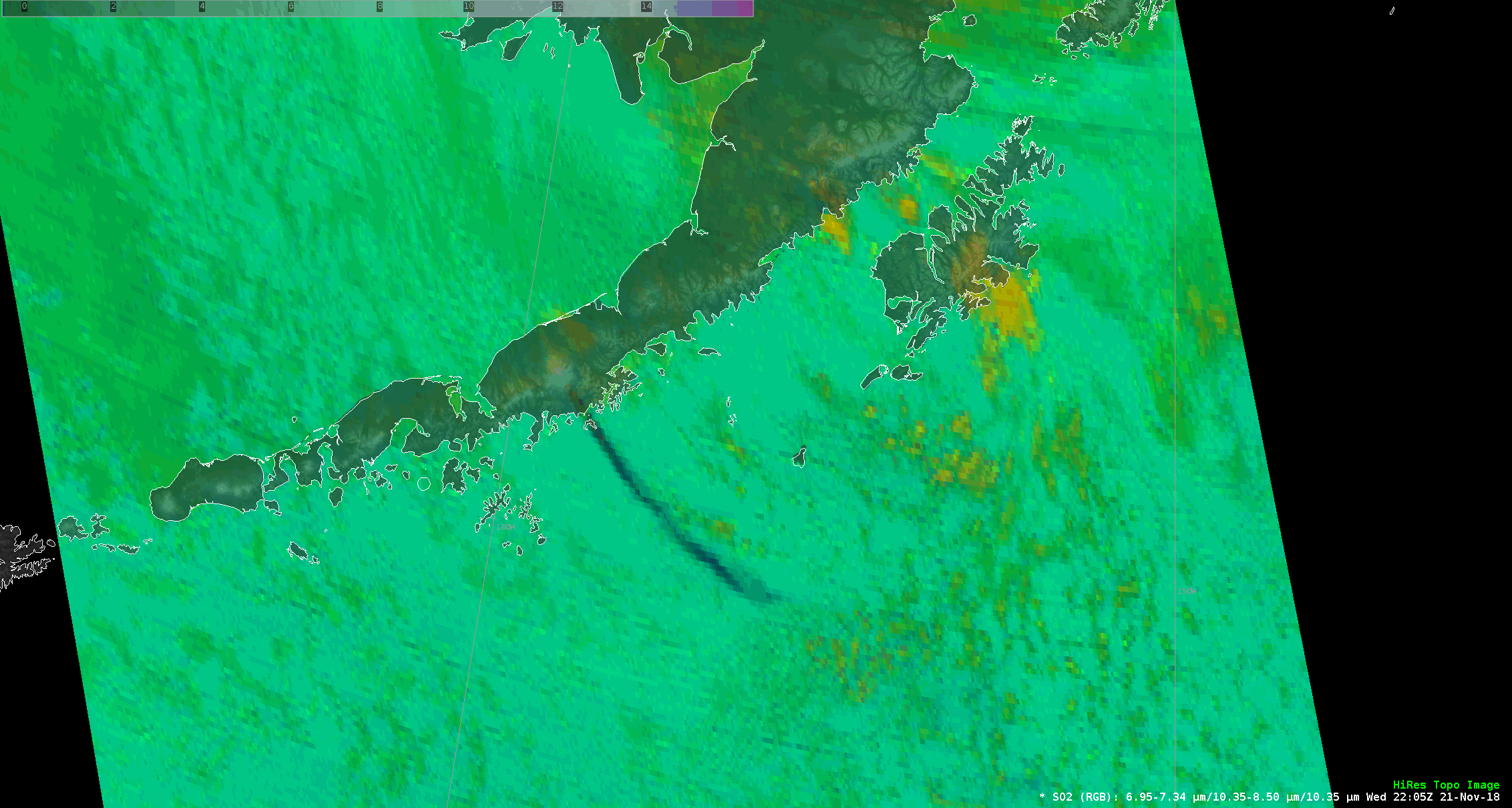 [
This GOES-17 loop of sulfur dioxide concentrations allowed forecasters to track volcanic ash from the eruption of Alaska's Veniamin of Volcano. The ash clearly stands out even when other clouds are nearby. (Imagery from Nov. 21, 2018)
] Fog and icy conditions often cause flight delays and impact airport operations. At Ted Stevens International Airport in Anchorage, fog occurs almost daily during winter. The airport is the second-busiest cargo airport in the U.S. and fourth-busiest in the world, which makes understanding the timing of fog and low clouds especially important. Just as 
GOES-16 data helped airlines mitigate flight delays
 at San Francisco International Airport in early 2017, GOES-17 data will help forecasters to predict when fog will form and clear with much greater accuracy. Among GOES-17's many benefits to Alaska is the satellite's ability to track volcanic ash clouds. Data from GOES-17 makes it easier to determine the site of an eruption, as well as the height and direction in which an ash cloud is moving. Forecasters share this information with other agencies, such as the Alaska Aviation Weather Unit and the U.S. Geological Survey's Alaska Volcano Observatory to issue volcanic ash advisories and other warnings to keep air travel safe.
GOES-15 and GOES-17 working in unison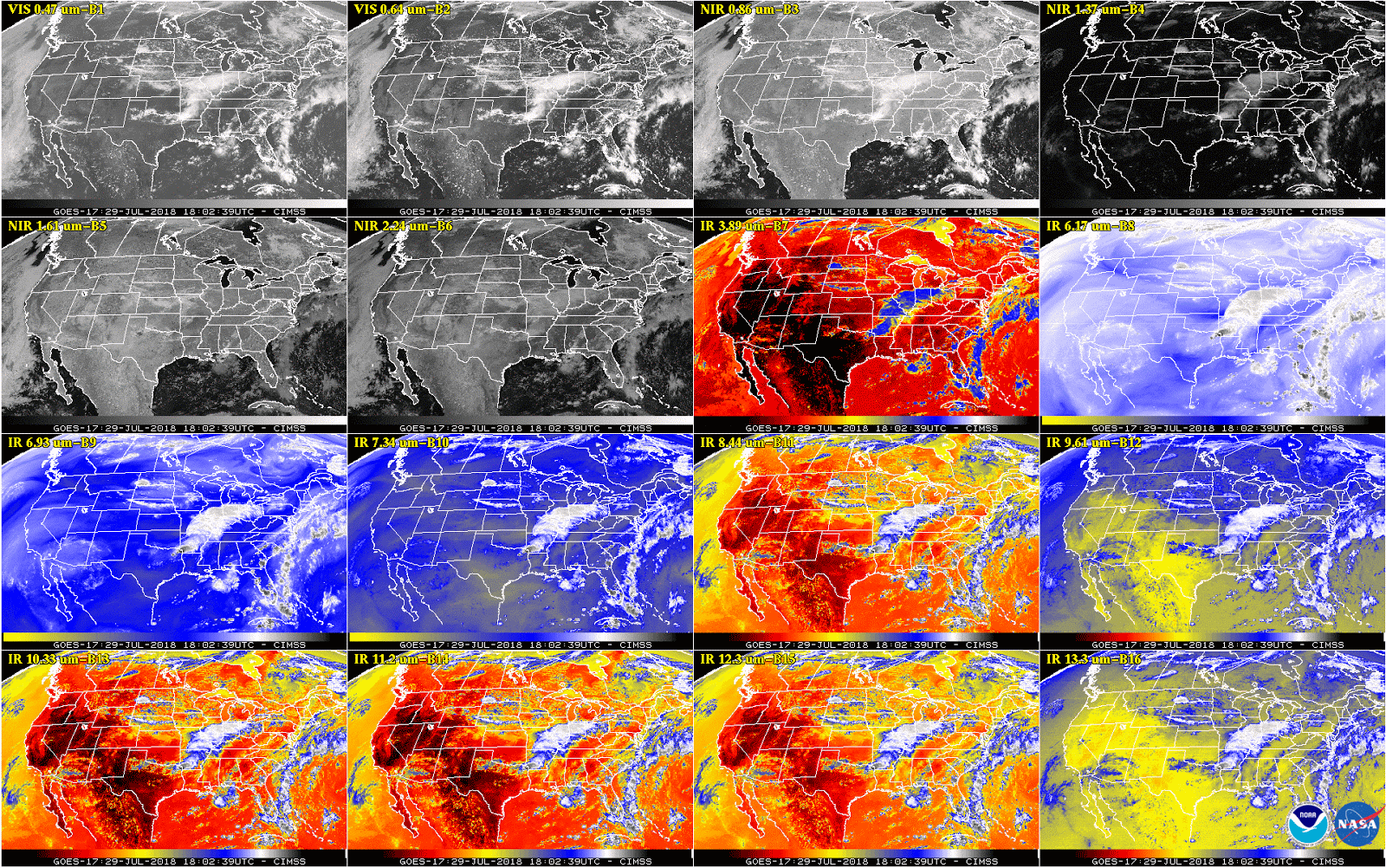 [
This 16-panel image shows a snapshot of the continental U.S. and surrounding oceans from each of the Advanced Baseline Imager channels on July 29, 2018. This imagery was captured between the instrument's "cool" and "warm" season, when all 16 channels are available 24 hours per day. During the instrument's "warm" seasons, varied data outages are expected for 9 of the channels during nighttime hours. The ABI's increased channels provide three times more spectral information than the previous GOES imager. Credit: NOAA/NASA
] Now that it is operational, GOES-17 replaces GOES-15 as NOAA's GOES West satellite. The latter entered service in December 2011. However, due to 
technical issues with GOES-17's Advanced Baseline Imager
 – or ABI, the satellite's main instrument – GOES-15 and GOES-17 will operate in unison until early July 2019. The overlap will allow scientists and engineers to make sure that GOES-17 is performing adequately before the older GOES-15 satellite gets placed in storage as a backup. "The GOES-17 ABI is now projected to deliver more than 97 percent of the data it was designed to provide, a testament to the skill and dedication of the engineers and all the GOES project team members," said Stephen Volz, Ph.D., director, NOAA's Satellite and Information Service. "We are confident the GOES constellation will continue to meet the needs of forecasters across the country." Edited for WeatherNation by
Meteorologist Mace Michaels