Millions of Americans will be driving and flying to their holiday destinations over the next few days.  So it's a good time to look ahead to see what the weather is likely to do across the country. Let's begin with Sunday, December 23rd.  The next storm will begin to move into the northwest, bringing rain to the valleys, and snow to the mountains.  Snow could be heavy in the mountains, and winter weather advisories are in effect.  Rain may cause flight delays in Seattle and Portland.  Snow may cause flight delays in Boise.  There may also be some light snow across Minnesota and Wisconsin.  But this is expected to be very light.  And rain is possible from Kentucky down to Louisiana.  This rain may cause flight delays in towns like Memphis.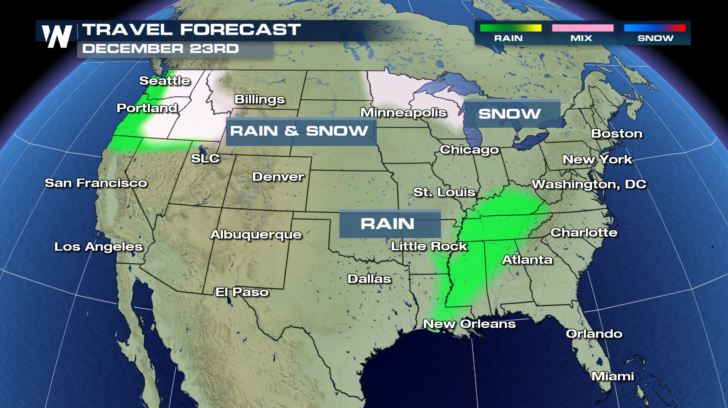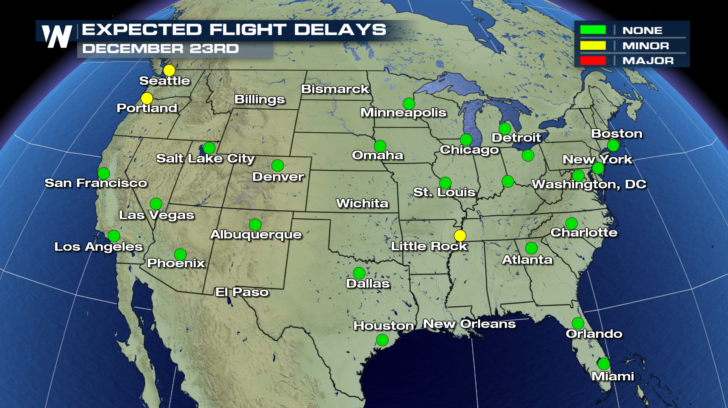 On Christmas Eve Monday, the rain and snow will continue in the northwest.  Snow will spread eastward into Montana, and down into Utah and Nevada.  Rain and snow will also spread southward into California.  The snow may cause additional flight delays in Salt Lake City.  And heavy snow in northern California may lead to serious problems on mountain passes, such as Donner Pass.  And soaking rain may add travel headaches to places like San Francisco.  Rain and snow will also move into the northeast.  This region has air traffic congestion on a normal day.  Toss in some inclement weather, and additional planes in the air for a major holiday, and you have the perfect recipe for airport headaches.  All airports in the northeast may experience delays or cancellations, especially Philadelphia, New York, and Boston.  Check with your airline before heading to the airport.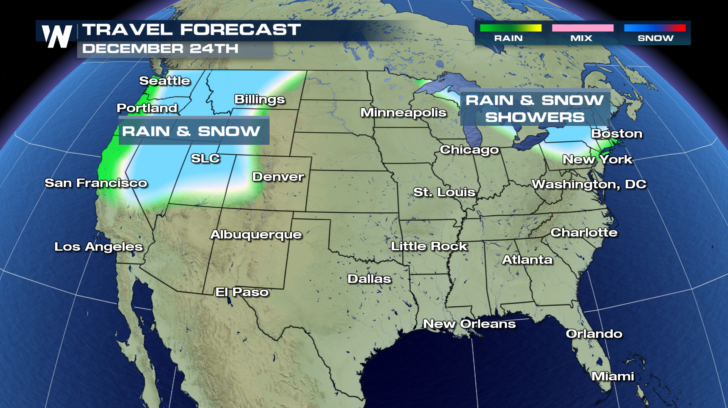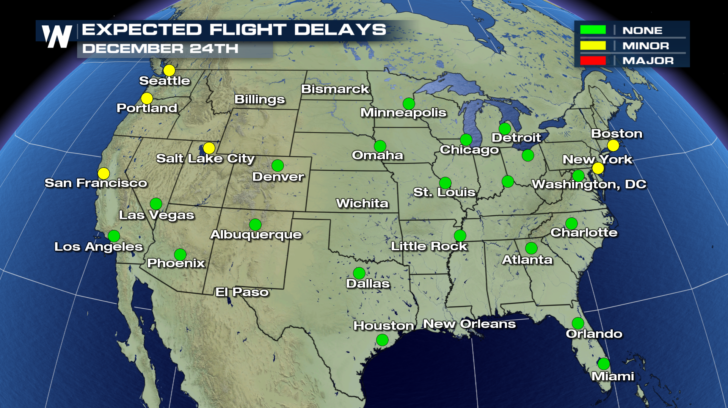 For those traveling on Christmas Day Tuesday, snow will continue to blanket the inter-mountain west.  Rain will fall from Texas, through Arkansas, and up through Missouri and Illinois.  There will be some light snow possible in parts of Wisconsin, Michigan, Indiana, and Ohio.  Travel delays will be possible in Salt Lake City from the snow.  Denver may also be affected by the snow to the west.  Dallas, St. Louis, and Chicago may see delays due to rain.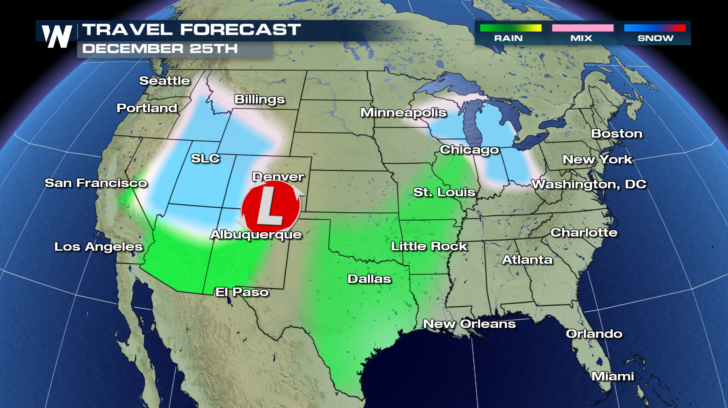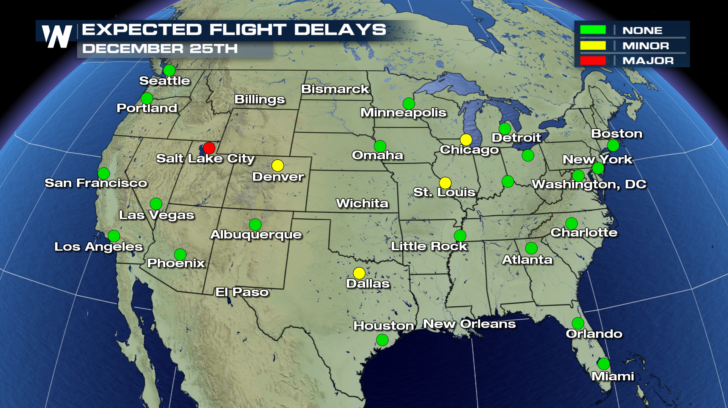 And for those traveling on Wednesday, December 26th, a winter storm will produce heavy snow from Colorado, through Nebraska, into Minnesota.  This heavy band of snow could create air travel problems in Denver, Omaha, and Minneapolis.  There will also be soaking rains from the system to the south of the snow band.  Dallas, Little Rock, and St. Louis could all be impacted by the rain.  A winter mix could also create delays in Chicago.  This is a winter weather system that must be monitored very closely in the coming days.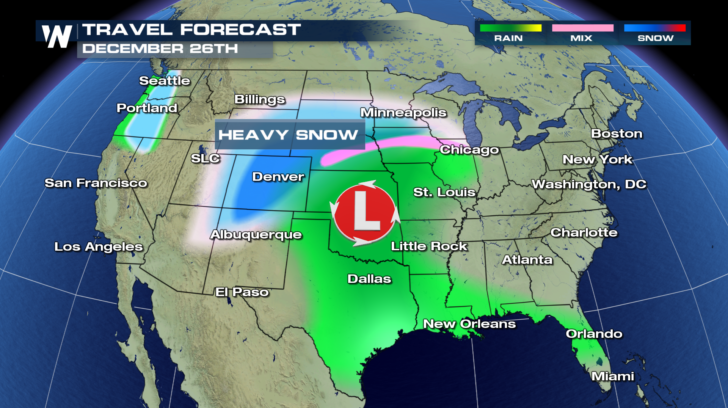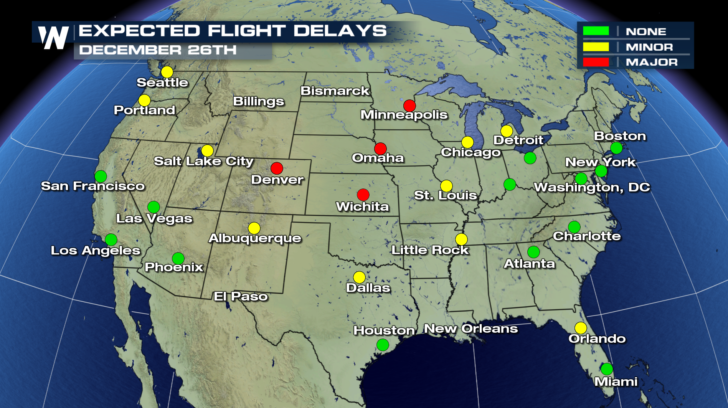 If you plan on traveling this holiday season, please stay weather aware.  We want everyone getting to their holiday destinations safely.  Get the latest national forecast on WeatherNation.  You can watch on the Dish Network, Roku, Apple TV, and Amazon Fire TV. For WeatherNation:  Meteorologist Matt Monroe