https://youtu.be/KxG2S0r0S4c Harvey, a name that still stings to think about. A name that wowed so many meteorologists. A name that devastated the Gulf Coast states with catastrophic rain and extreme winds. But what made Harvey so infamous? Was it the origin in the far east Atlantic? Or the regeneration that happened 3 times over? Or maybe the 3 landfalls? Perhaps the epic and unprecedented rain that fell? Harvey was a phenomenal storm on a meteorological level and a devastating storm on the local level. We covered it every step of the way on WeatherNation https://youtu.be/fPTNu6VRONQ This storm initiated on August 12 of 2017 as a cluster of thunderstorms. Eventually, it formed into a tropical storm on the 18
th
and then weakened to a depression on the 19
th
then eventually a tropical low. 4 days later – this storm emerged in the Gulf of Mexico and regained tropical depression strength just before it rapidly intensified to a category 4 major hurricane by august 25
th
– the same day it made its first landfall along the outer islands of the central coastal Texas. After that, Harvey made its second landfall 3 hours later on the mainland of Texas coast and within 12 hours – weakened to a tropical storm but not before 15,000 homes were destroyed and 25,000 homes were damaged in Texas. After losing most tropical characteristics – Harvey continued to haunt the western Gulf of Mexico when it re-emerged over the open waters of the Gulf, re-strengthened into a tropical storm and making its third and final landfall on the western Louisiana coast. Within the 4 to 5-day period that Harvey wreaked havoc in Texas and Louisiana – new records and astonishing satellite imagery was documented. Harvey was a prolific tornado maker. 150 tornado warnings were issued with 52 of those confirmed as mostly EF-0 to EF-1 strength.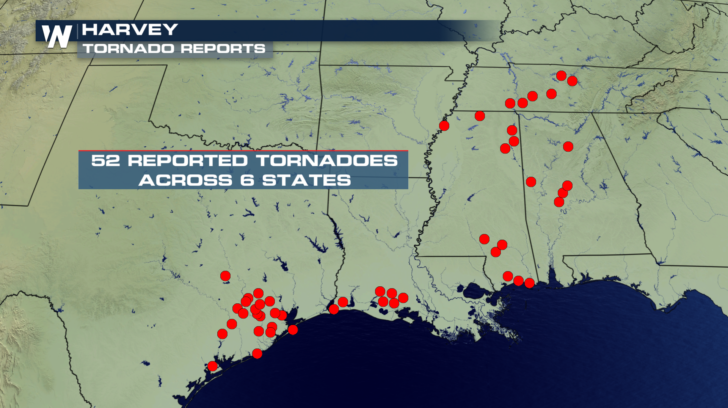 But the most notable record from Harvey was the rainfall. This storm brought the most significant rainfall in US history from a tropical system.  Nederland, TX picked up a whopping 60.58" of rain, that's over 5 feet of rain! There were 18 official reporting stations in SE Texas that picked up over 4 feet of rain in a 36-48 hour time period and in similar time.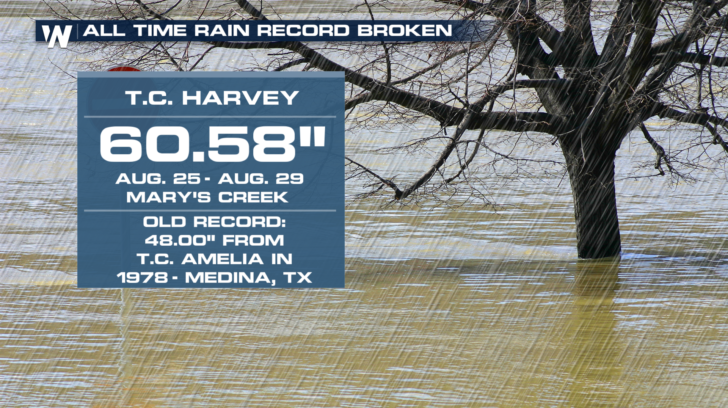 Over 300,000 homes were flooded and more than 500,000 cars were flooded leading to more than 30,000 water rescues were performed. 336,000 customers lost power and 68 deaths were directly related to Harvey – remarkably, none of which were from the 6-10 foot storm surge that coastal Texas saw. Harvey was a horrific storm of unprecedented magnitude. It's estimated that total cost from Harvey exceeds 125 billion dollars with some estimates as high as 160 billion dollars. Harvey dissipated, 21 days after originated in the Atlantic, over Kentucky on September 1 of 2017. We'll continue to follow the recovery efforts in Texas after Harvey.