After a record breaking hurricane season in 2020, the second most storms in 2021 and a devastating 2022 season with Hurricane Ian, we are gearing up for another season ahead. Hurricane season begins on May 15 for the Eastern Pacific Basin, and on June 1 for the Atlantic basin. WeatherNation will be recognizing "Hurricane Preparedness Week" from May 15-21. We'll help you get your plan together, understand the science behind tropical systems, and much more so you can be prepared this hurricane season. Whether you live on the coastline or inland, it is important to know your risks when it comes to tropical systems. Coastal communities are most at risk of destructive winds, dangerous storm surge, and are more likely to have to evacuate. Communities even hundreds of miles away from coastlines are still at risk, with the threat of high winds, flooding rainfall, severe weather & tornadoes, and the longer-lasting threat of flooding and power outages that could occur days or weeks after a storm hits.
The Week Ahead
Throughout this week, WeatherNation will be bringing you information on the science behind storms, tropical terms to get familiar with, historical storms and preparation tips to stay ahead of game. Additionally, our field correspondents Ben McMillian and Josh Morgerman will be along the Gulf Coast, talking to residents and remembering some of the strongest storms to hit the U.S. in recent history.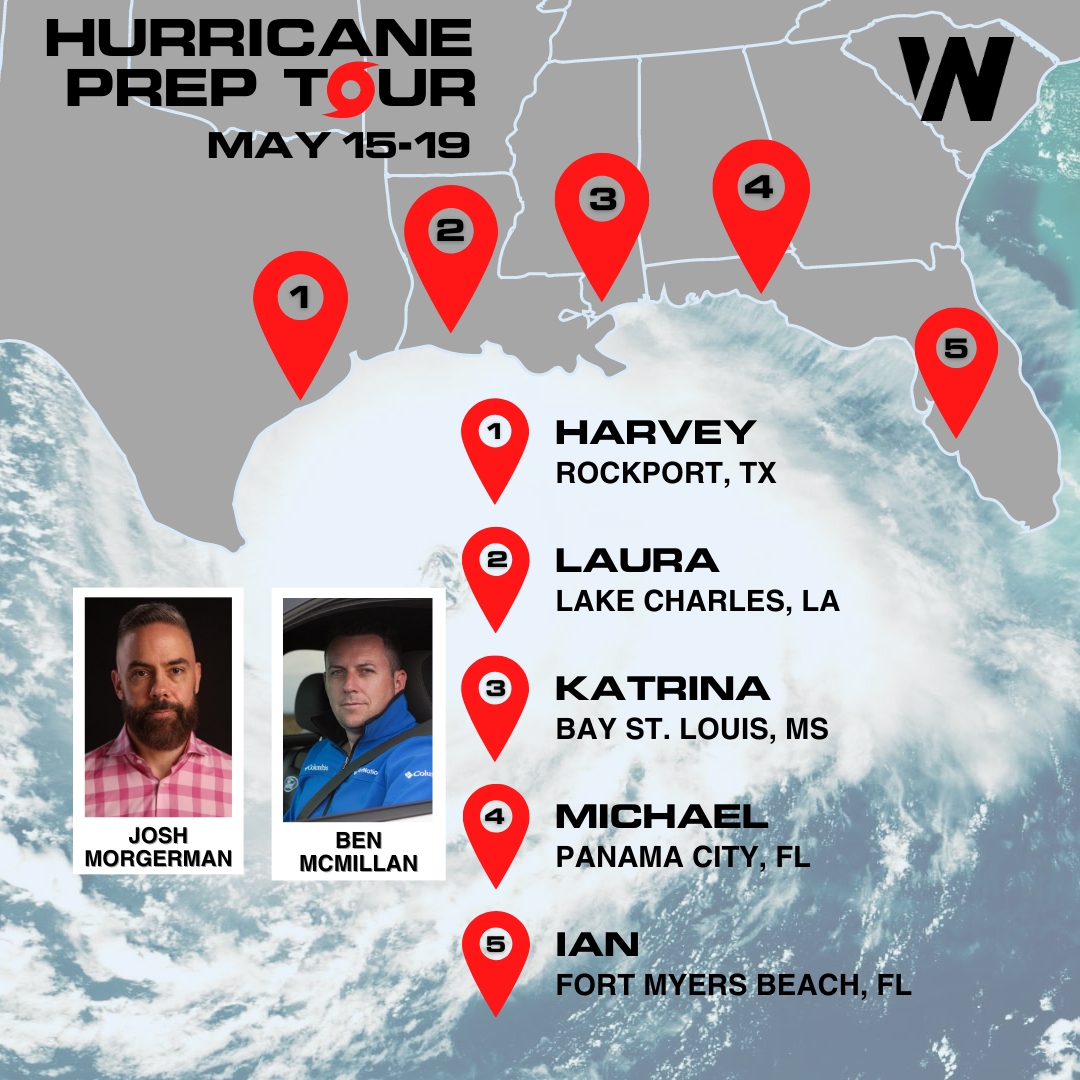 Being prepared before hurricane season is key to reacting quickly when a storm threatens your area. Understanding your risks where you live, and knowing how to react can mean the difference between saving your life and property when a storm approaches. WeatherNation will continue to follow any and all systems that threaten the U.S. and Caribbean Islands throughout hurricane season to make sure you stay informed long before a storm strikes
CSU Forecast
Hurricane season forecasts for the 2023 Atlantic basin from Colorado State University. Early predictions expect this year's hurricane season to be slightly below average. Dr. Phil Klotzbach and the Tropical Meteorology Project at CSU are among the first to issue an outlook for the season. This year they anticipate 13 named storms, 6 of which will become hurricanes and 2 of those are expected to become major hurricanes (CAT 3 or greater). In a typical season we see 14 named storms, 7 hurricanes and 3 major hurricanes.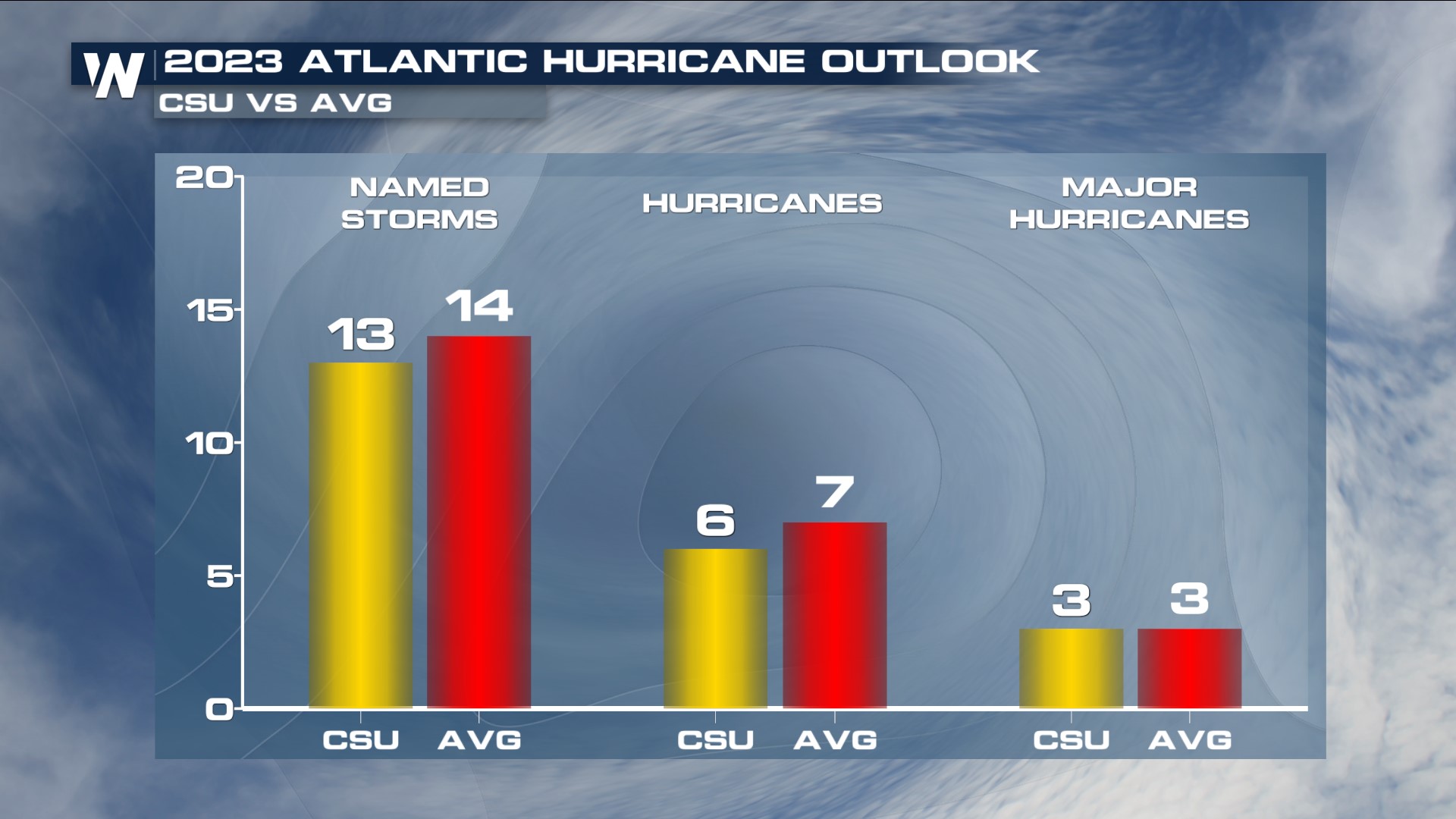 Reasoning behind the forecast are the ENSO neutral conditions, expected to transition to El Niño this fall. The climatological trend of Atlantic hurricane season to be below average during these years outweighs the impact above average sea surface temperatures in the subtropical Atlantic Ocean can have on a busier season potential. While seasonal outlooks give us some idea of what to expect, there is no way to know for certain just what the season will have in store for YOUR area. Seasonal outlooks cannot forecast exactly when, where, or if storm will strike. Remember, it only takes one to impact your area to become a "bad season". So, it's important to prepare before a storm threatens.
Still have questions? Be sure to watch Hurricane Prep Week on WeatherNation, or get in touch with us on Facebook or Twitter.