On Sunday afternoon, Hurricane Willa strengthened into a major hurricane off the west coast of Mexico.  Willa is the 10th storm to reach major hurricane status this year in the eastern Pacific Ocean.  On the Saffir-Simpson scale---the scale used to measure the sustained wind speed of hurricanes---storms reaching Category 3 or higher are considered major hurricanes because of their potential for significant loss of life and damage. The west coast of Mexico will receive a direct hit from Hurricane Willa, perhaps as a major hurricane.  On Sunday evening, Willa strengthened to Category 4 status with 140 mph sustained winds.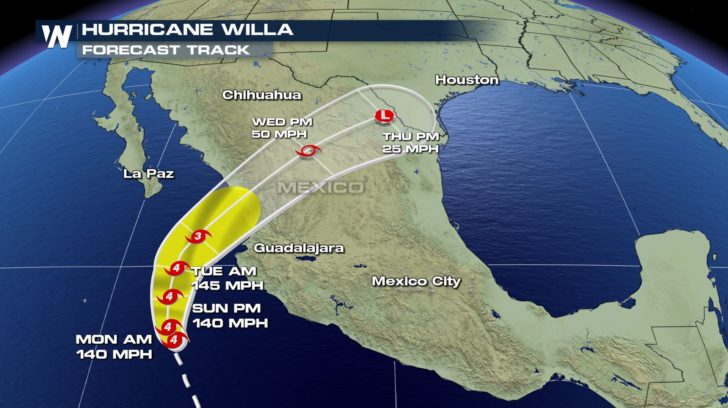 A Hurricane Watch was in effect for coastal areas of Mexico from San Blas to Mazatlan on Sunday night.  Tropical Storm Watches and Warnings were also posted for coastal areas near Culiacán and Puerto Vallarta, respectively.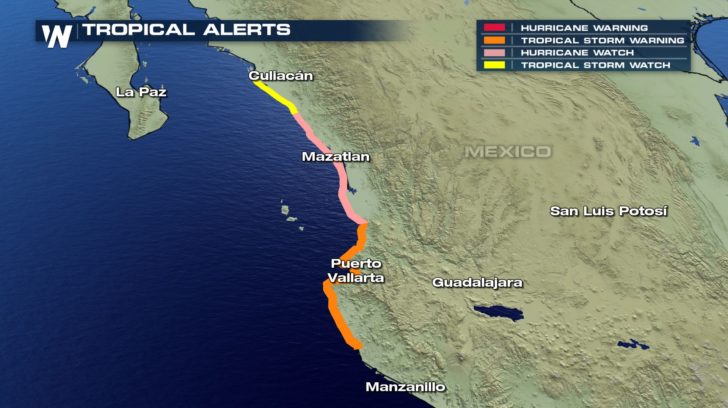 According to the National Hurricane Center, interests along the west coast of Mexico need to monitor this hurricane closely.  Willa is expected to turn toward the north on Monday and accelerate north-northeast toward the Islas Marias on Tuesday.  By Tuesday night, Hurricane Willa will approach the coast of mainland Mexico. Forecasters at the National Hurricane Center expect tropical storm conditions to impact Mexico by Tuesday morning and hurricane conditions by Tuesday night.  A dangerous storm surge with large, destructive waves are possible Tuesday as well.  Rip currents and large swells will impact beach communities.  Heavy rainfall will cause life-threatening flash flooding and landslides.  Rain of 5 to 10 inches with localized amounts up to 15 inches will fall across portions of the states of Jalisco, Nayarit, and Sinaloa.  Farther inland, the Mexican states of Zacateca, Durango, Chihuahua, and Coahuila will experience rainfall totals of 2 to 4 inches (locally up to 6 inches). The remnants of Hurricane Willa will cross the Mexican Plateau and reach Texas and the Southern Plains of the United States by midweek.  While hurricane and tropical storm conditions are not likely, heavy rain and flooding will pose a threat.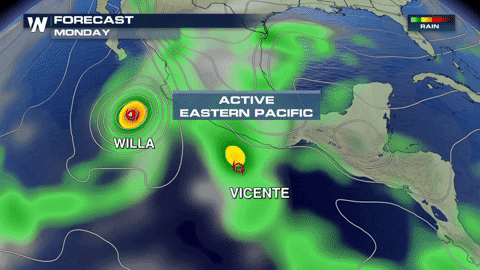 For more information regarding Hurricane Willa's impacts to Texas,
CLICK HERE
. -
Meteorologist Joe Astolfi