Drumroll please..... the winner of Fat Bear Week 2022 is number 747!

Fat Bear Week is the glorious time of the year when the fattest bears of the Katmai National Park & Preserve in Alaska face off in a bracket-style showdown of who's put on the most weight (and carries it the best)! Fat Bear Week is held (virtually) every year as cameras in the Katmai National Park document the perseverance of the brown bears throughout the spring, summer, and fall months. Cameras snatch pictures of the bears' condition at the beginning of the year after they wake up from hibernation, which usually results in the bears looking very, very skinny. By the time fall arrives, these same brown bears eat so much that they put on hundreds of pounds and are unrecognizable from their previous spring pictures. During this time, male bears can weigh over 1200 pounds! In the words of Katmai National Park and Preserve,
              "Brown bears get fat to survive and Fat Bear Week is an annual tournament celebrating their success in preparation for winter hibernation"
*You* can participate in this fun event by participating in the daily single elimination tournament. Voting is open every day from October 5th to October 11th from 12 - 9 PM ET. You can vote by visiting explore.org,
here
. But first, you need to see some of the competitors this year:

#480 - Otis
Otis is a 4 TIME Fat Bear week champion, including the inaugural year in 2014, and most recently in 2021. Otis is hitting the falls this year, ready to take on the competition again by eating his way through a healthy amount of fish. Otis is one of the oldest bears in the Falls, and while experience is important, the younger bears are challenging him to the best fishing spots. Many of Otis' teeth are also damaged or missing thanks to old age, which makes catching and eating fish difficult. Despite his challenges, Otis has been successful by waiting for the fish to come to him, and eating up to 40+ in one sitting!
#747
Teeing up against Otis is another Fat Bear Week champion, #747. Though identified in 2004, 747 has been nameless since then. Don't let his lack of anomer fool you, this guy is a fierce competitor, jumping up over 1400 pounds in some seasons! 747 and bear 856 have some beef (or fish) in recent years, each vying for the best fishing spot over the last few years. This year, 747 has come out on top, and is the most dominant bear on the river. He is expected to be a strong competitor this year. He is 2020 Fat Bear Week Champ.
#854 - Divot
Also discovered in 2004, Divot has been returning to the falls ever since. Always a competitor but never a Champion, Divot is still giving it her best shot on the Falls. Divot has hung close to the falls this year, but in the past she's traveled far distances, including outside of park limits in 2014. During this journey she got caught in a snare that got stuck around her neck. When she returned to the park and falls, rangers were able to tranquilize her and remove the snare before it caused more damage.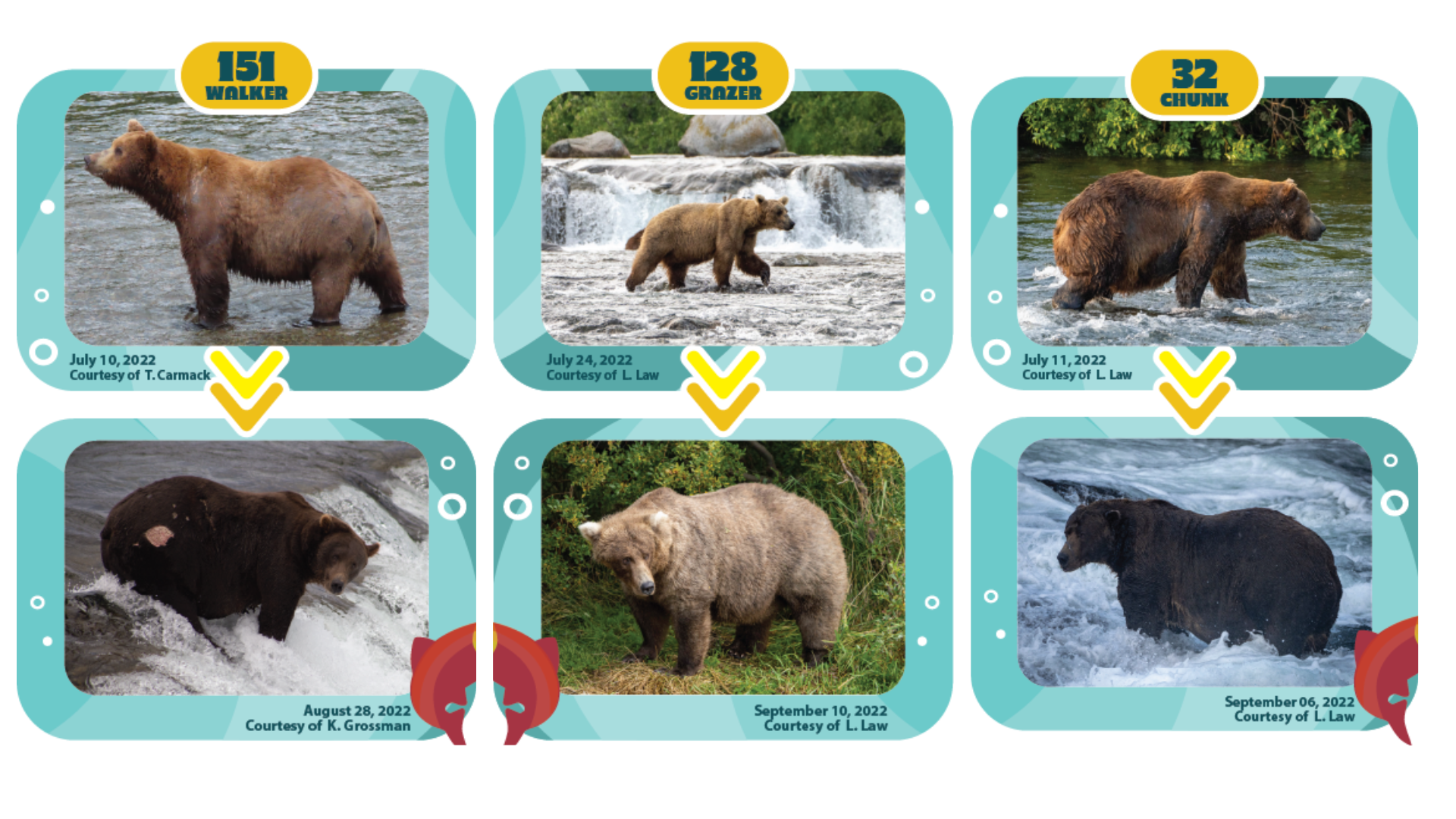 #151 - Walker
Walker is distinguishable by a wound on his leg that will likely scar over. By the late fall, walker turns into a deep brown and fills out his "pear" body shape. In his older age, Walker is displaying more aggression towards his once beary good friends. This is an example that like humans, bears can change their attitudes and behaviors with age. Walker prefers to fish alone and is large enough to dominate the pools he resides in.
#128 - Grazer
Grazer is a pretty special bear, easily distinguishable by her blonde ears. While most momma bears will let their cubs go off on their own after year 2, Grazer brought her 2.5 year old twins to the river this year, indicating that she has more to teach them! Grazer is packing on the pounds, preparing for another hibernation and potentially another round of cubs this winter.
#32 - Chunk
Chunk is a returning bear to Fat Bear Week, as one of the largest bears in the competition, Chunk is expected to take over some of his opponents. His size allows him to dominate the river and find the best mating partner. Though coming close to being the champion in 2020, Chunk has yet to be crowned "Fat Bear Champion"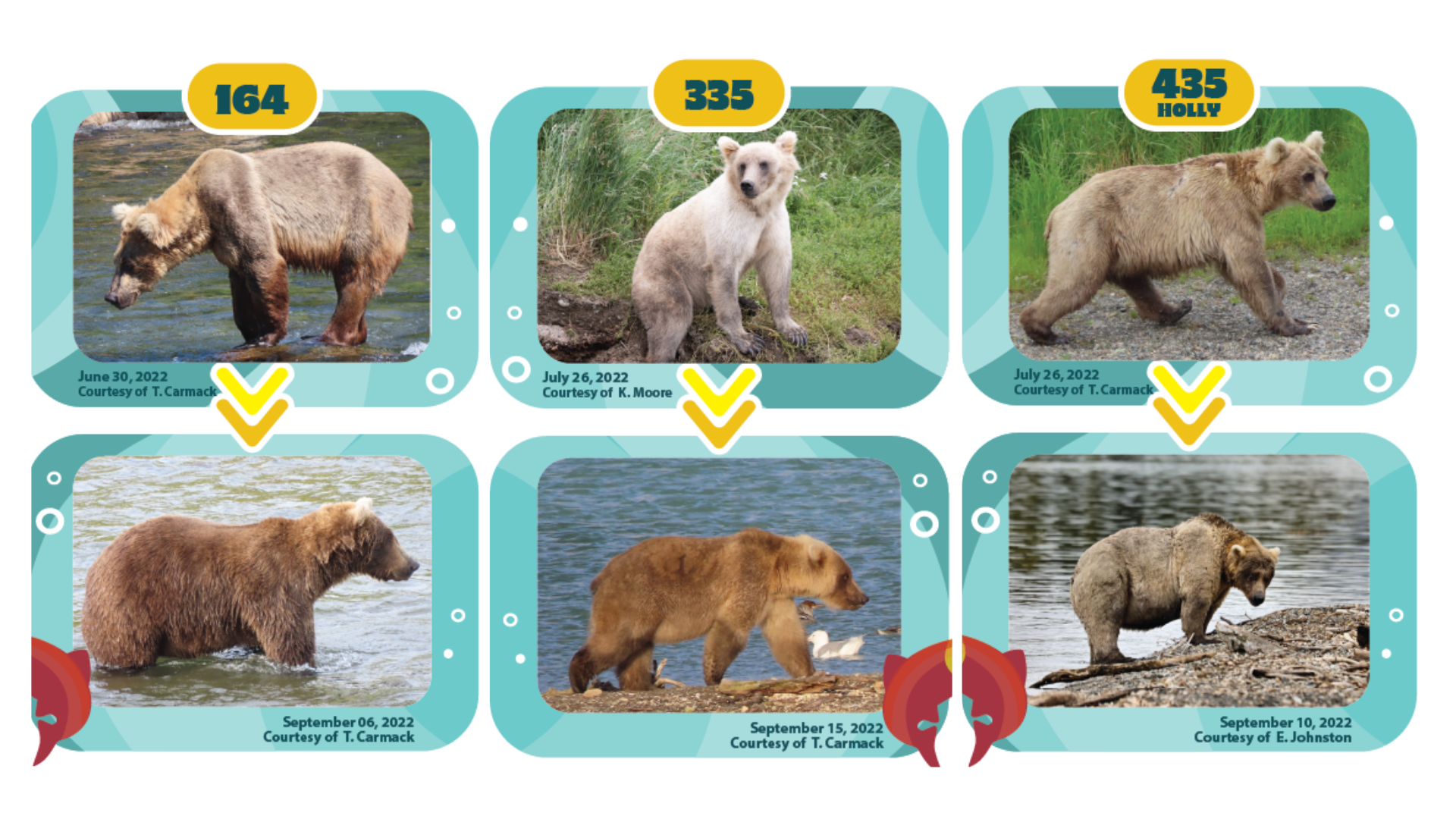 #164
164 is a small adult male bear who does not have a name. Now that's not all that uncommon, one of the fat bear week champions, 747, is also nameless. 164 was discovered in 2019 as a 2.5 year old baby bear. It is very difficult for younger bears to fish in the Fall as the older, larger bears can dominate the river. But 164 came up with an impressive fishing spot all of his own that no other bear has tried before - he stands in at the base of Brooks Falls, catching salmon from below, jumping out of the water or falling from higher up the falls.
#335
Bear 335 is another young competitor to the falls this year. As the daughter of "Holly" (described below), 335's first year on the river was in 2021, but this year she returns as an individual competitor. This first year has been difficult for 335, and unable to find a spot on the Falls, 335 traveled downriver, catching some of the discarded carcasses. Despite her less than perfect start to fattening up, 335 appears healthy and ready to enter hibernation at a good weight.
#435 - Holly
Holly is no stranger to the Fat Bear week competition and is a former champion (2019). Holly is SOLO this year, after her cub #335 is fishing solo this year. Holly is one of the most experienced bears on the river - she was first identified in 2001! Since then Holly has raised numerous cubs, some with problems of their own, like 89 Backpack, who has a pronounced limp. Holly's solo time will allow her to fatten up before hibernation and potentially get ready for another round of cubs.

#856
856 is another large adult male bear hitting the competition in 2022. In the past 10 years 856 has been the Fall's most consistent dominate bear - points there, buddy. Though never a Fat Bear Week champion, 856 has always been one of the fattest, largest bears on the river. His main rival is 747, where they fight for the best fishing spot each year. This year it appears that 747 has won that battle.
#901
901 is one of the newer bears to the Falls, only discovered in 2019 as a 2.5 year old. She still is learning quite a bit, to include fishing and social skills (we get it). It is possible that 901 will return next year with a pair of cubs if some of her mating interactions this year were successful. Regardless, she is putting on a decent amount of weight for hibernation.
#909's Yearling
Rounding out our competitors this year is #909's yearling, who is just about 2 years old! She is the youngest competitor on this year's list, but don't judge on size compared to others, the competition is based on who performed best against their earlier self! She was voted the 2022 Fat Bear Junior Champion and now can compete against the big boys. 909's yearling still has many years of fishing the Falls ahead of her, so we are sure to see her in future Fat Bear Week competitions.
To read more about each bear and see all of the brown bear competitors, click here.