[In a rare event, a powerful winter storm dropped snow in parts of the Southeastern U.S. in January 2018. The Operational Land Imager (OLI) on Landsat 8 captured an image of snow (ground areas in white) covering Savannah, Georgia, on January 4, 2018, shown above. The Savannah airport received 1.2 inches of snow on January 4, the most since 1989.]
From
NOAA
Depending on your location, January brought a warmer or colder start to the year. Data show that much-above-average temperatures in the West offset below-average conditions in the East and made for a slightly warmer-than-average January for the nation as a whole.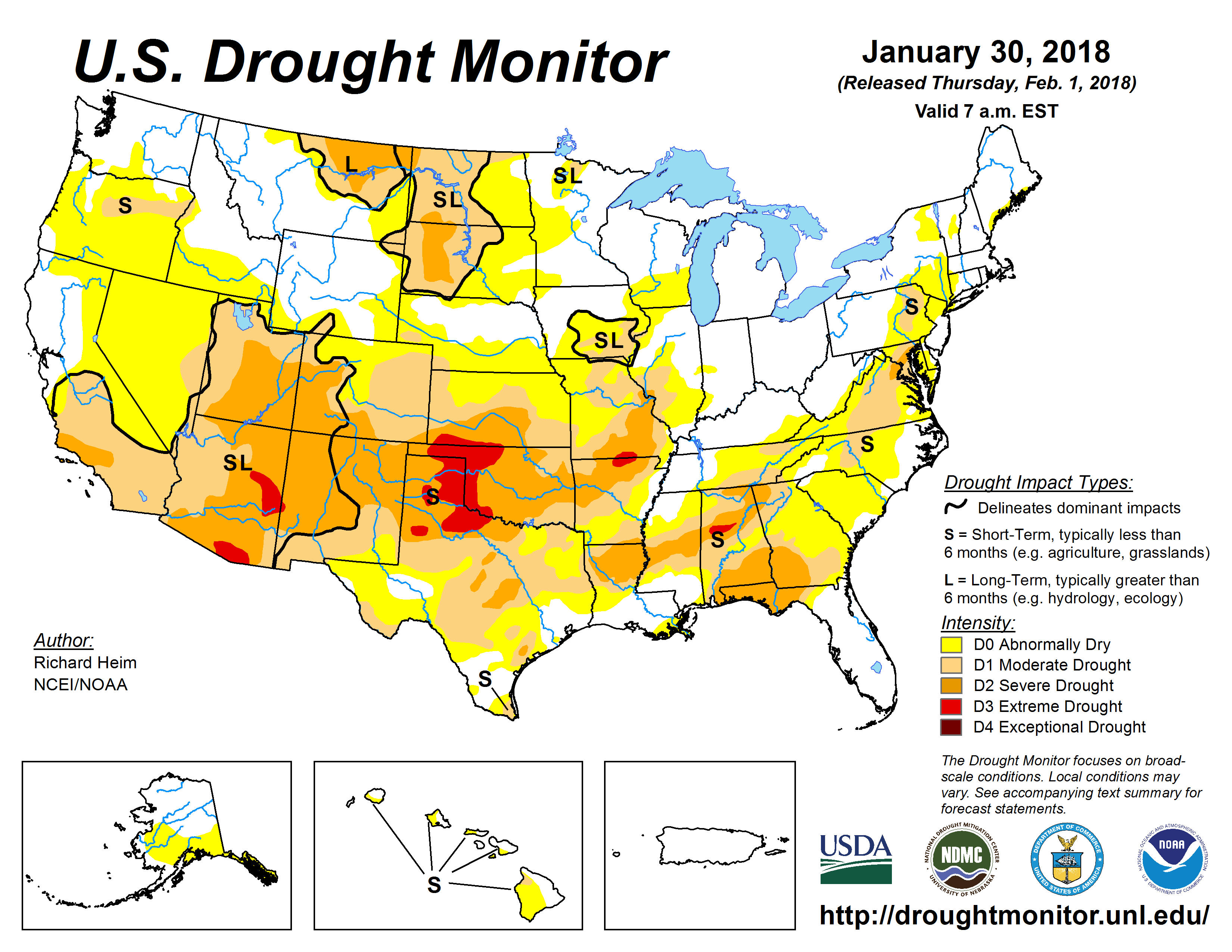 Perhaps the bigger news: The U.S. drought continued to expand and intensify to its largest area in nearly four years (May 2014). As of January 30, 38.4 percent of the contiguous U.S. was in drought, up from 27.7 percent at the beginning of January.
Climate by the numbers
January 2018
During January, the average temperature for the contiguous U.S. was 32.2 degrees F, 2.1 degrees above average, ranking among the warmest third in the 124-year record, according to scientists from NOAA's National Centers for Environmental Information.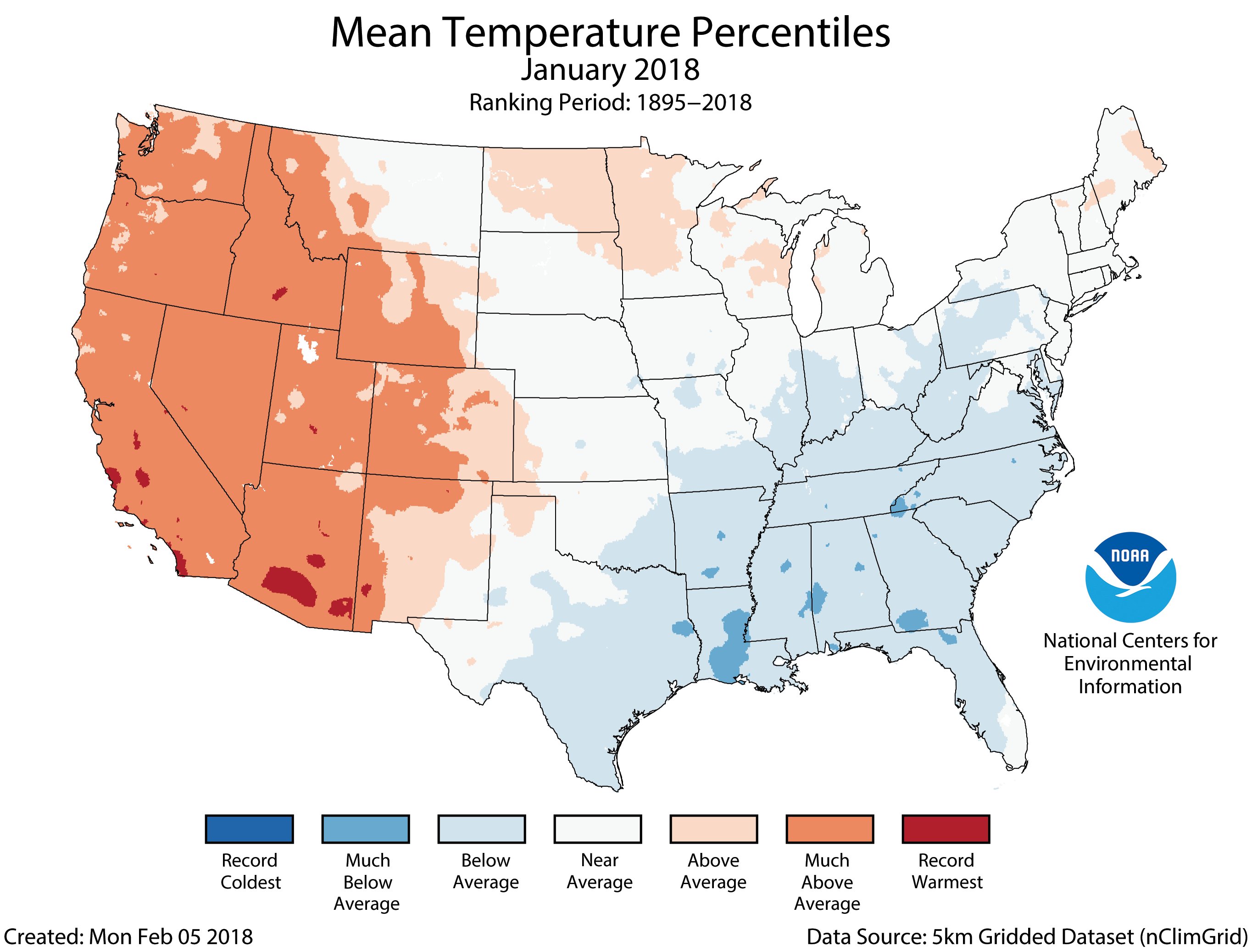 Most locations from the Rockies to the West Coast were warmer than average in January, where nine states had monthly temperatures that ranked among the 10 warmest on record and more than 2,000 daily warm temperature records were broken or tied.  Below-average temperatures stretched from the Southern Plains to the East Coast. Several significant cold waves impacted the eastern half of the nation with more than 4,000 daily cold temperature records broken or tied.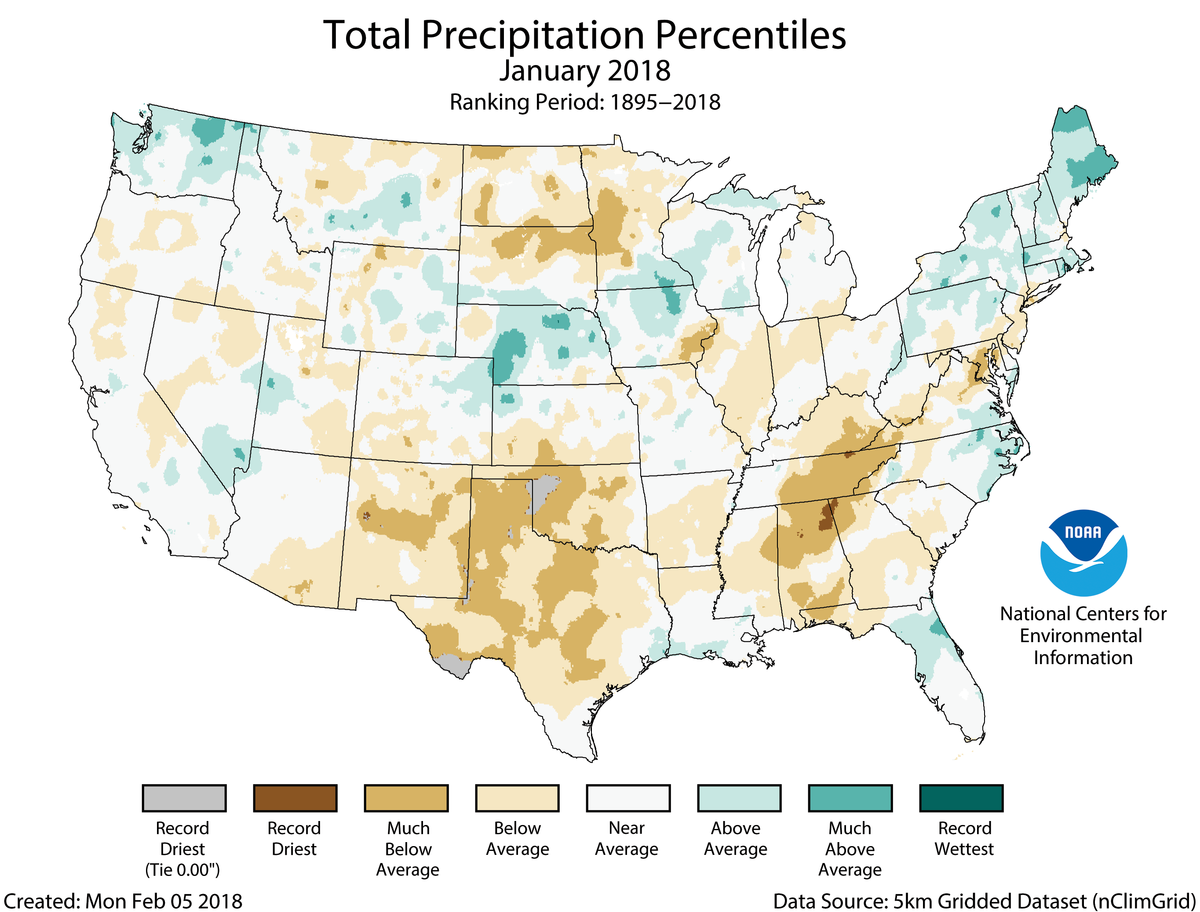 The precipitation total for the month was 1.81 inches, 0.50 of an inch below average, making it the 21st driest January on record. Below-average precipitation was observed across large areas of the country, including parts of the Southwest, Southern Plains, Northern Plains, Midwest, Southeast and Mid-Atlantic. Above-average precipitation was observed across parts of the Northwest, Central Plains and Northeast.
Other notable climate events for the month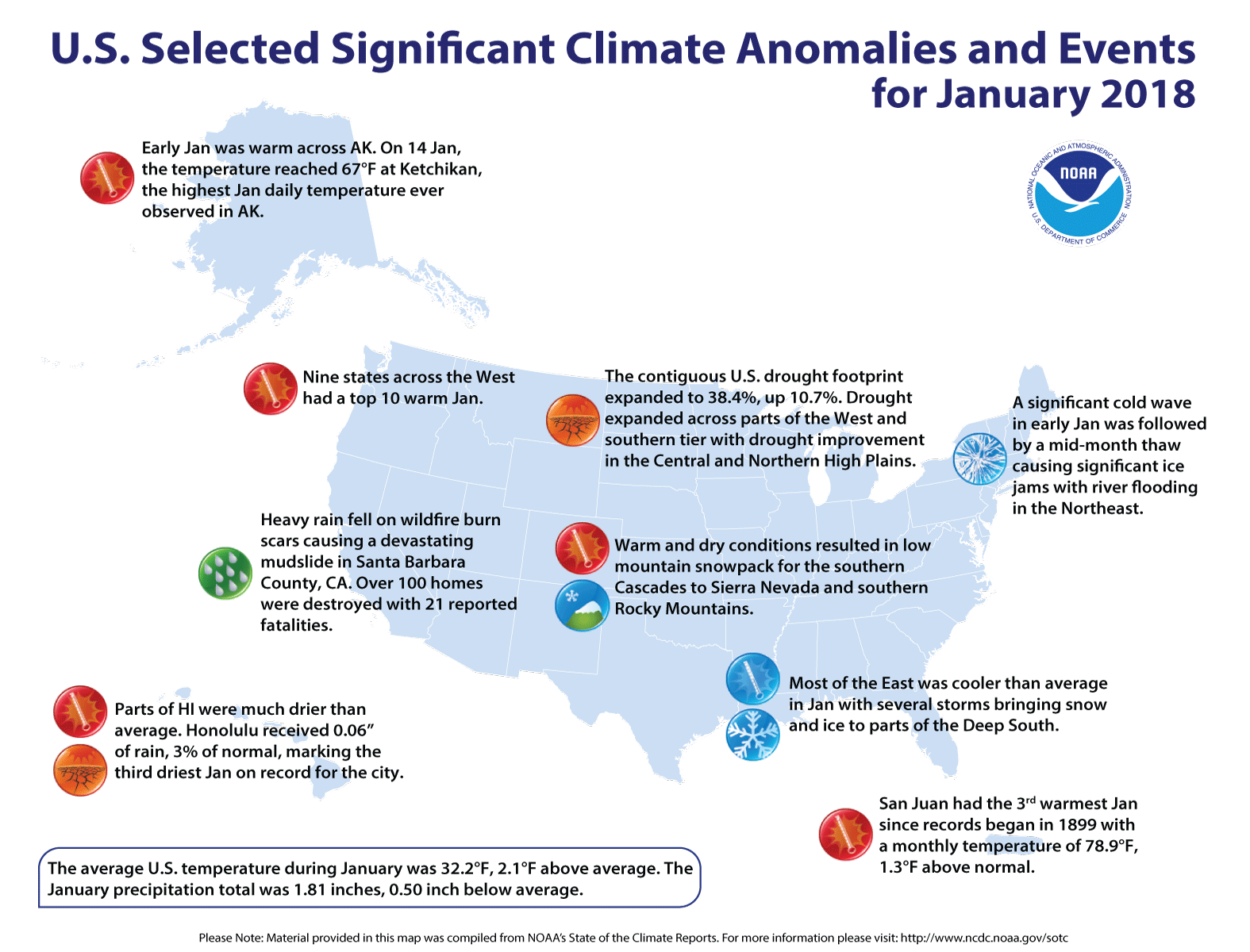 Snowfall impacted the South, spared the West: During January, numerous snow storms impacted the eastern U.S. The Savannah, Georgia, airport received 1.2 inches of snow on January 4, the most since 1989 (See NASA's satellite image above of Savannah area). Conversely, mountain locations in the Southern Cascades, Southern Rockies and Sierra Nevada Mountains had snowpack totals that were less than 25 percent of average.

Alaska experienced the warmest January temperature on record: On January 14, the temperature at a NOAA tide gauge at Ketchikan reached 67 degrees F, the highest January daily temperature ever measured in Alaska, besting the previous record of 62 degrees set in January 2014.

Pacific Islands were record-dry: Drought conditions spread and intensified into the U.S. Pacific Islands during January. Honolulu received 0.06 inches of rain, only three percent of normal, marking the third driest January on record. Guam record only 0.94 inches of rain, making it the driest January since records began in 1957.
Edited for WeatherNation by Meteorologist Mace Michaels