Summertime in the Great Lakes region often involves heading to the beach, jumping in the water for a swim, and taking the boat out for a cruise, among many other fun activities.  Unfortunately, for the western basin of Lake Erie, it also means the annual occurrence of a harmful algal bloom (HAB).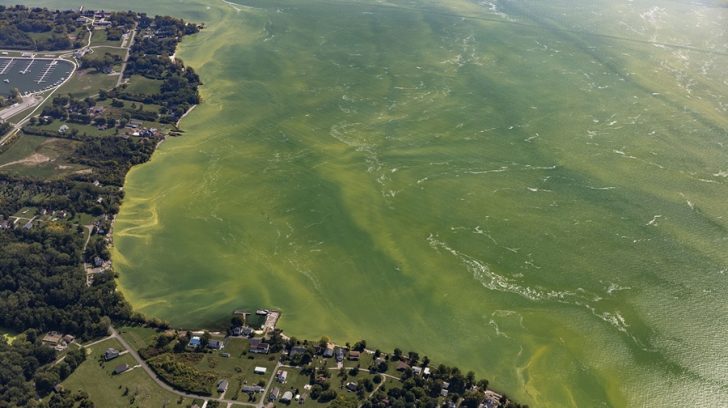 Photo Credit: research.noaa.gov The algae blooms in western Lake Erie are caused by runoff pollution.  This occurs when rainfall washes manure, fertilizer, and other nutrients from farm fields into the rivers and creeks that flow into the lake.  According to the
National Oceanic and Atmospheric Administration (NOAA)
, Lake Erie's algae blooms "consist of
cyanobacteria
---also called 
blue-green algae
---capable of producing the liver toxin microcystin which poses a risk to human and wildlife health.  Such blooms may result in higher costs for cities and local governments that need to treat drinking water, prevent people from enjoying fishing, swimming, boating, and visiting the shoreline, and harm the region's vital summer economy." In 2020, the Lake Erie algal bloom is expected to develop in late July.  Its severity is forecast to be moderate, which would be less than 2019 and well below the peak years of 2015 and 2011.  The reason it should be less intense is because of less rainfall (lower amount of nutrient runoff) during the spring and cooler lake water temperatures through June.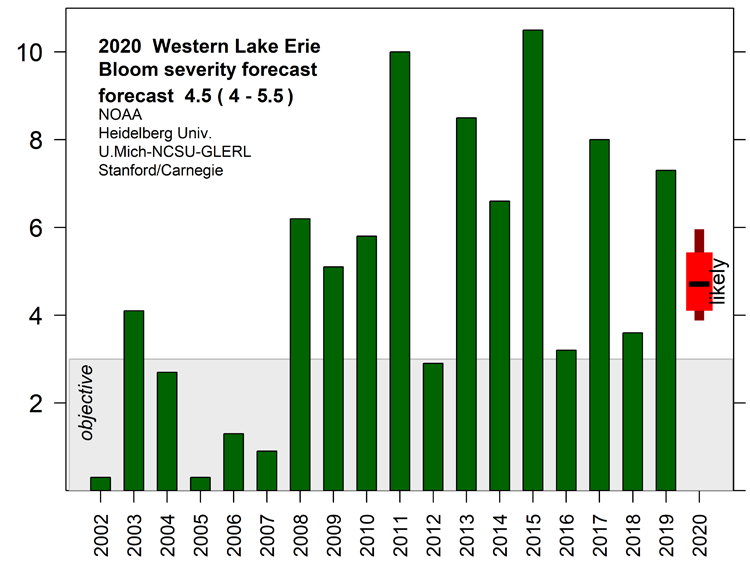 Western Lake Erie 2020 Algal Bloom Forecast vs. Years Past According to
NOAA
, "while the bloom typically produces some toxins, it is too early to predict how toxic the bloom will be when it starts.  However, calm winds tend to allow the algal toxins to concentrate near the lake's surface.  The duration of the bloom depends on how windy September may be, which cannot be predicted this far in advance.  The bloom will remain mostly in some areas of the western basin, and most of the rest of [Lake Erie] will not be affected."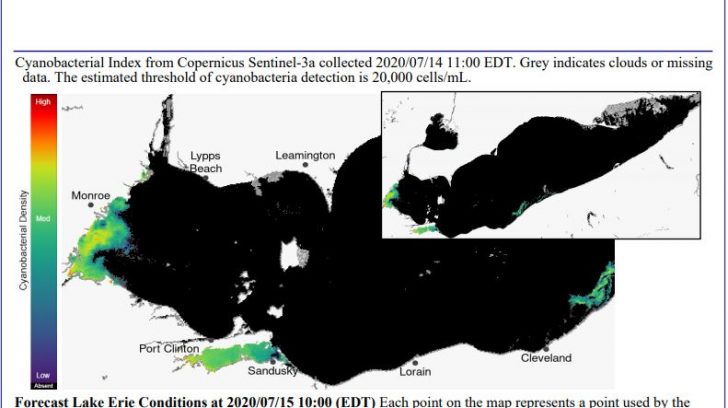 Sample of Real-Time Data from NOAA For real-time data and the latest forecast information, be sure to click
HERE
.
NOTE:
  Credit to NOAA for the full report, which can be read
HERE
.  A summarized fact sheet for the 2020 Lake Erie Harmful Algal Bloom (HAB) forecast can be found
HERE
.