Most of us have a story about the "winter that never seemed to end in 2018." First, there were four nor'easters in three weeks. Then, April began with the coldest temperatures some cities have ever recorded (for weeks). But now Caribou, Maine joins the story with this simple tweet from the National Weather Service. https://twitter.com/NWSCaribou/status/986801532250263552 So if you think *your* winter was bad, let that statistic sink in! Imagine waking up 115 times in a row to find at least a foot of snow outside your bedroom window! Plus the fact that this season's 115 days in a row was 2nd only to *last* season's record of 132 straight days! We know, Caribou is a notoriously snowy place.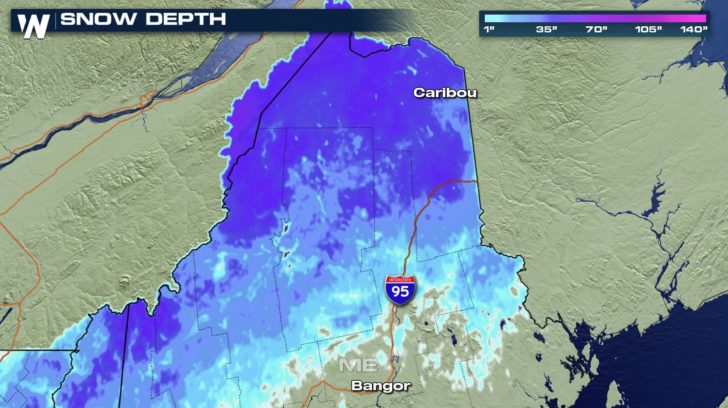 Snow depth in Maine as of Wednesday, April 18 It sits as one of New England's northernmost cities (roughly 47 degrees north latitude, similar to Duluth, Minnesota but slightly south of Seattle, Washington) and averages a whopping 108.6 inches of snow each season.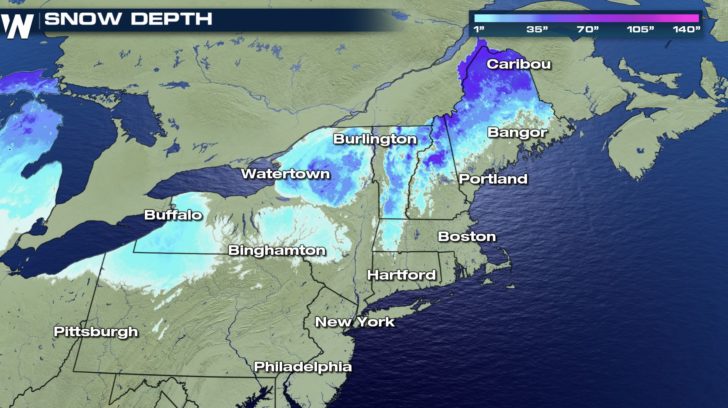 Northeast snow depth as of Wednesday, April 18 Here's what lead up to this grand statistic.
December 23, 2017: Caribou wakes up to a snow depth (amount of snow on the ground) of 10 inches
December 23, 2017: Caribou gets 8" of new snow
Christmas Eve 2017: Caribou has a snow depth of 18"
February 11, 2018: Caribou reaches its max snow depth of 36"
April 18, 2018: Caribou's snow depth drops below 12" for the first time in 115 days
So was it the cold air that made the snow stick around, or new snow that continued to fall?
January 2018: Caribou records a temperature for the month of
+1.9° to average
February 2018: Caribou records a temperature for the month of
+5.2° to average
March 2018: Caribou records a temperature for the month of
+4.2° to average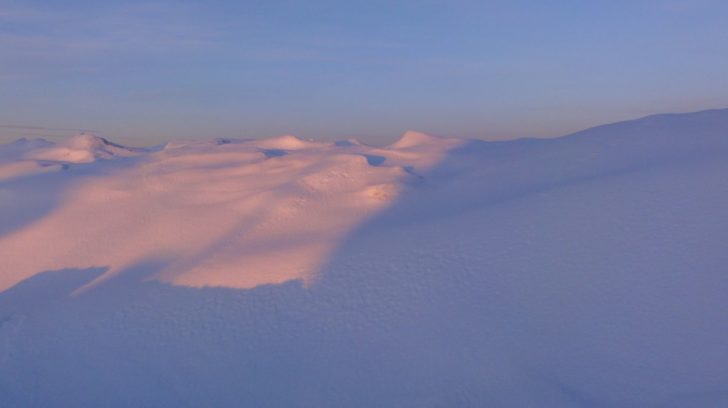 Caribou, ME earlier this season (courtesy NWS Caribou) That's remarkable! To be two to five degrees warmer than average and keep a snow depth of at least a foot is very impressive. Thus, it must have been the fresh snow that fell.
January: 38.9" (+13.7")
February: 25.3" (+3.3")
March: 26.1" (+18.3")
As of Wednesday, April 18 Caribou had received the 11th-most snowfall on record and sat at 137.1" for the season. Any more snow coming? Well, maybe a little bit through the weekend of April 21-22.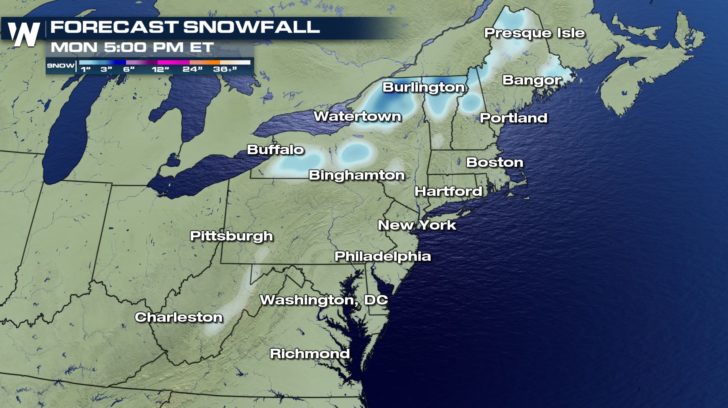 For those wishing to put these numbers behind them, let's end the story with a glimmer of hope from the National Weather Service. (How does 63° sound, Caribou?) https://twitter.com/NWSCaribou/status/986866560726945792 (Cover picture of Caribou courtesy the National Weather Service) For WeatherNation, Meteorologist Steve Glazier