Related: Click here to look LIVE at Kaua'i here on Earthcam
After a weekend of record rainfall, parts of Hawaii are recovering from severe flooding. Hawaii's Governor David Ige issued an emergency proclamation, declaring Kauai County a disaster following heavy rain and landslides. https://youtu.be/CwfI9tTL26c The National Weather Service reports more than 2 feet of rain fell in a 24 hour period, causing  major flooding, water rescues, and landslides on the island of Kauai. https://twitter.com/NWSHonolulu/status/985545964793552897 Over the entire storm duration from April 13-April 15, Wainiha received the most rainfall, with an incredible 32.35" . Hanalei and Mount Waialeale also added up more than 20" of rainfall over the 2 day period. The reports below are from the
National Weather Service in Honolulu
.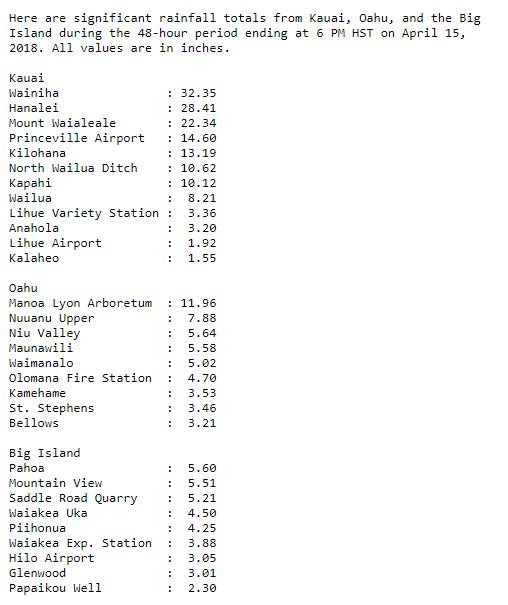 According to the state Governor's office, more than 270 people had been evacuated or rescued as of Monday afternoon. Some home were destroyed by flood waters and landslides. No fatalities were reported, but there were injuries. The
NWS reports
that some communities west of Princeville were cut off from the rest of the island due to the extreme flooding. Local news stations have documented incredible images from the devastation. https://twitter.com/HawaiiNewsNow/status/985684210915659776 The forecast continues to show a wet pattern with rain showers likely over the islands through this week.
Check the forecast in our Alaska/Hawaii regional forecast here
.