If you live in the northeast, chances are you've seen plenty of rain lately.  Most of last weekend was a wash-out.  And check out the rain totals since June 1st in Baltimore and New York City.  Baltimore has picked up over 23 inches.  New York City has received over 17 inches.  Those totals are significantly above average for both cities.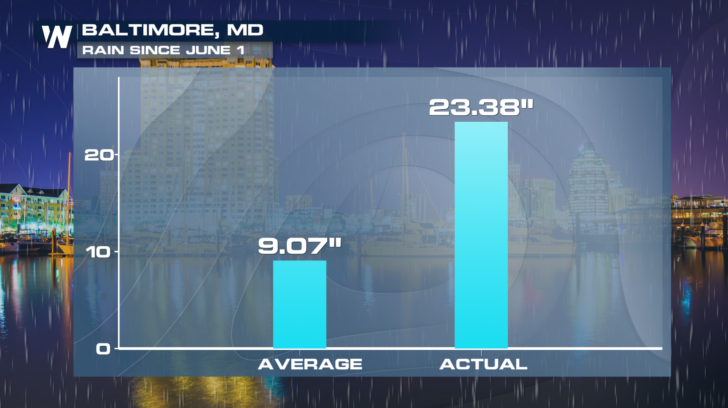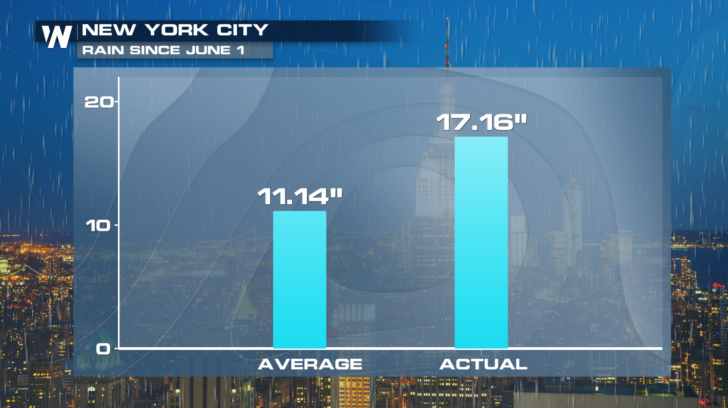 And it looks like another round of soaking showers moves through on Friday and Saturday.  As of Thursday afternoon, a cold front is kicking up a line of showers and storms from Detroit and Cleveland, down to Kentucky and Tennessee.  This is the line that will move into the northeast.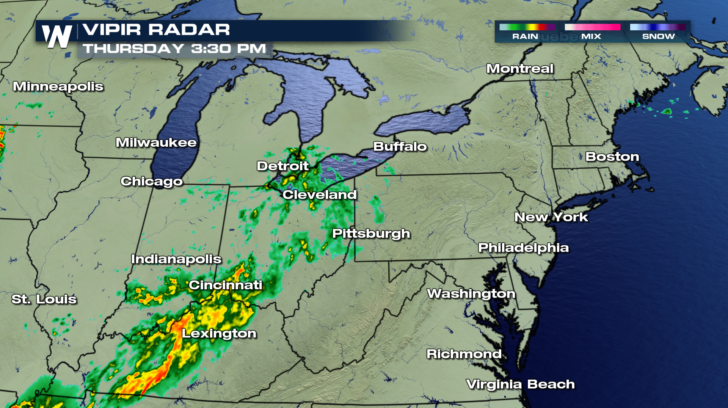 By early Friday morning, rain will move into western Pennsylvania and upstate New York.  Buffalo, Syracuse, and Pittsburgh will all have rain chances very early on Friday.  The rain-maker is a frontal system, anchored by low pressure.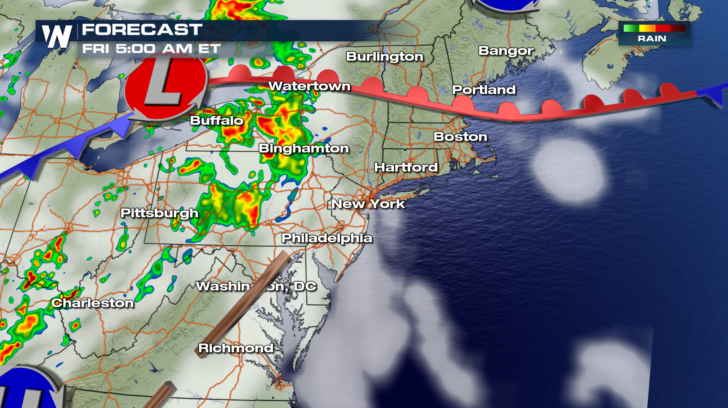 As the system moves eastward, rain coverage will also spread eastward.  Boston, New York, Philadelphia, and Washington D.C. will all see rain move in during Friday afternoon.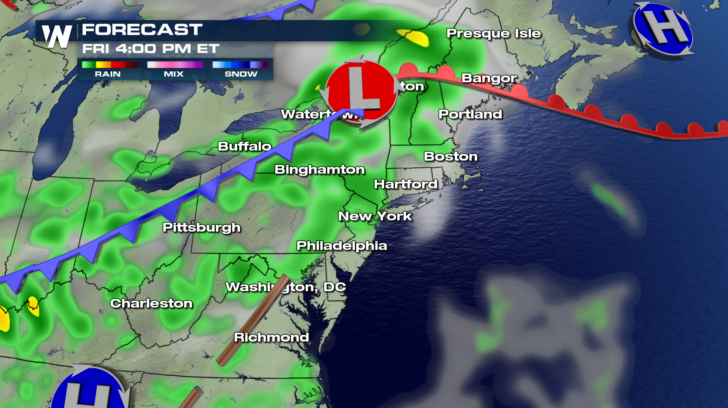 The front will also bring severe weather chances.  The dark green shaded areas are under a Marginal Risk.  There is a higher probability of severe weather in the yellow shaded area.  This Slight Risk area includes the Hudson River Valley, western Massachusetts and Connecticut, and southern Vermont and New Hampshire.  The primary threat will be damaging straight line winds of at least 58 mph.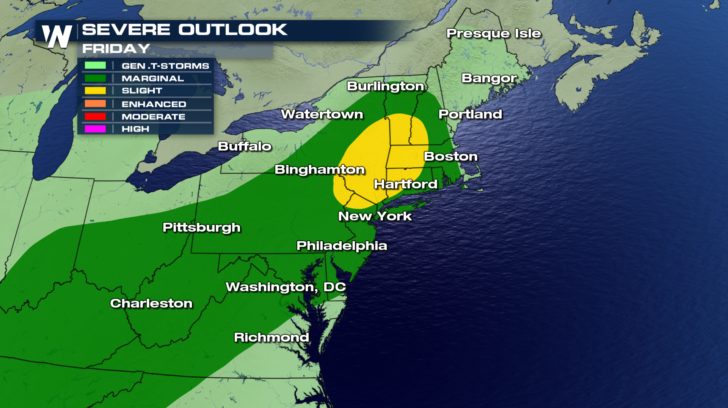 The threat of severe weather diminishes on Saturday.  In fact, most of the rain will be out to sea.  However, showers and thunderstorms will still be possible throughout the day along the tail end of the front.  There could still be some heavy rain and gusty winds from New York, down the Jersey Turnpike to Philadelphia, and from Richmond and Baltimore westward to Charleston, West Virginia.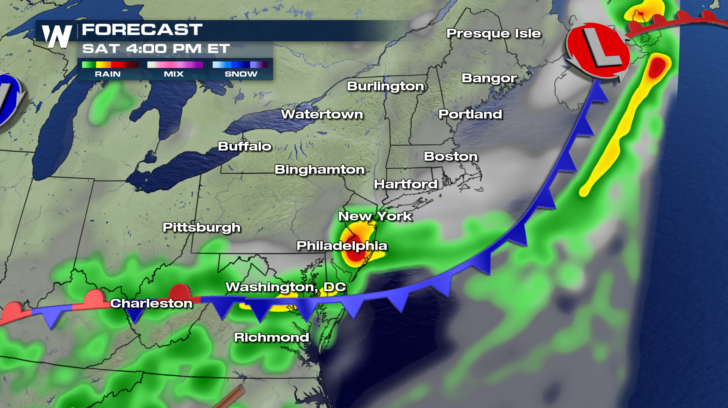 Between Thursday night and Saturday night, almost the entire northeastern region will see at least some amount of rain.  But the models are indicating that the heaviest rain will fall in southern Pennsylvania, West Virginia, and southern Ohio.  This region could receive between 3 and 5 inches of rain.  Localized flooding will be possible.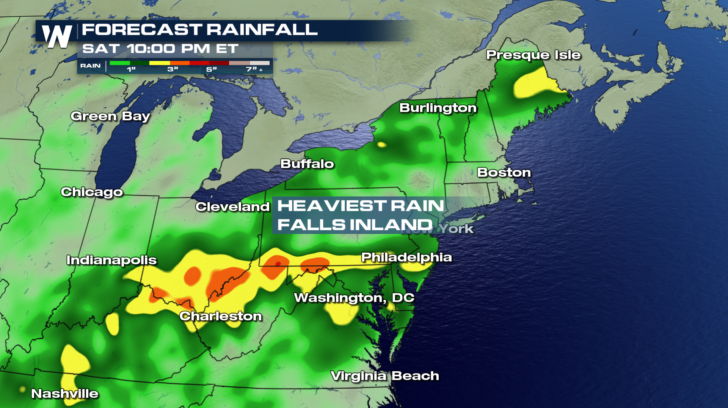 New York will see rain move through on Friday, taper off on Saturday, with Sunday being the pick day of the weekend.  And look at the temperatures cool off behind the front.  Mid 70's are on the way for Sunday, Monday, and Tuesday.  That's a real treat for August!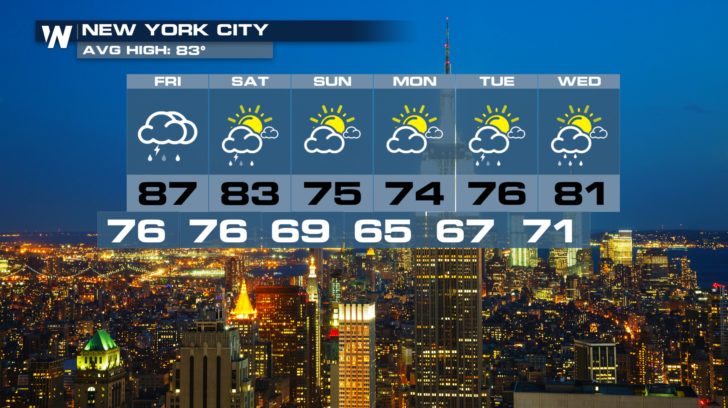 And Washington will have big rain chances on Friday, with scattered showers possible on Saturday and Sunday.  Temps will cool down from the lower 90's on Friday, into the lows 80's by Sunday.  That's a nice improvement!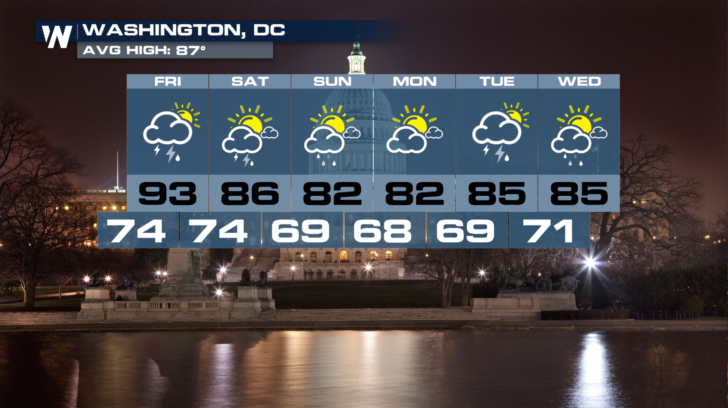 For WeatherNation:  Meteorologist Matt Monroe