The southeast just had numerous rounds of severe weather earlier this week, as a powerful cold front tracked through the region.  Much of the weekend will remain fairly quiet.  But the threat of damaging straight-line winds, hail, and tornadoes returns on Monday and Tuesday. Another cold front is expected to cause weather problems across the southeast.  The front will be draped across Missouri, Oklahoma, and Texas on Monday.  Severe storms are expected to form along and ahead of the cold front.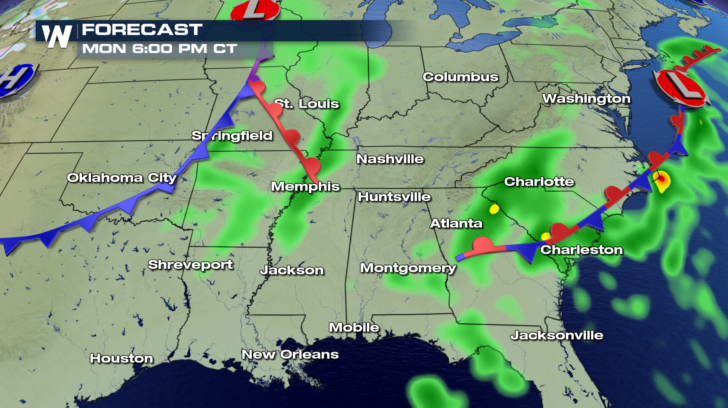 The severe weather outlook covers a large area.  Strong storms will be possible from Indianapolis down to New Orleans.  And from east Texas all the way into northern Georgia and eastern Kentucky and Tennessee.  The highest probability of severe storms will be in the "Enhanced" zone.  This is the area shaded in orange.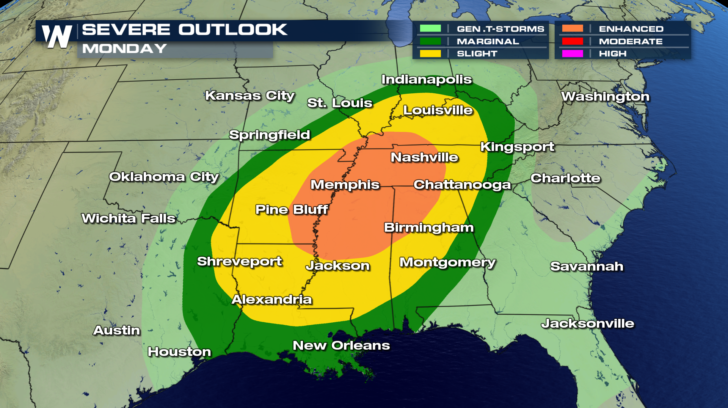 All modes of severe weather will be possible on Monday.  Damaging winds and hail, along with isolated tornadoes will all be possible.  Again, these weather threats will be most likely in the Enhanced Risk Area.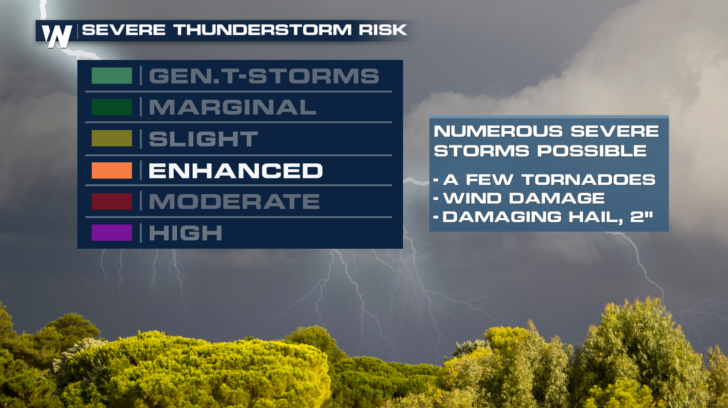 All of the atmospheric ingredients will be in place on Monday needed for severe weather.  Wind shear will be created by a jetstream bringing westerly winds over surface winds from the south.  Winds changing direction and speed with height is called shear, and often is the component that can cause storms to rotate, forming supercell thunderstorms.  These are the storms that can spawn tornadoes, and often very large hail.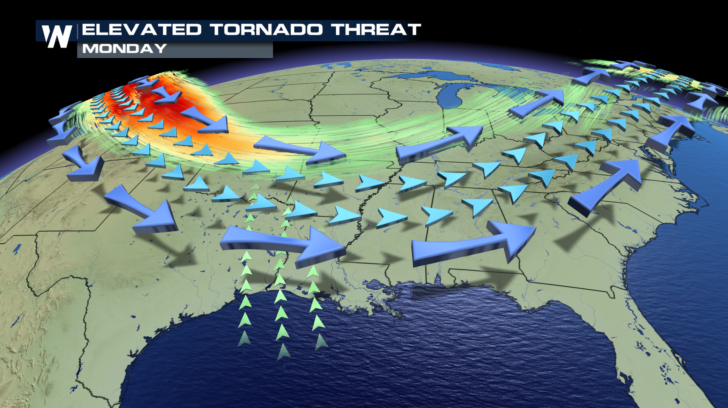 To have severe storms, moisture has to be present.  And early next week, moisture coming out of the Gulf of Mexico is going to be plentiful.  Certainly enough to fuel powerful storms.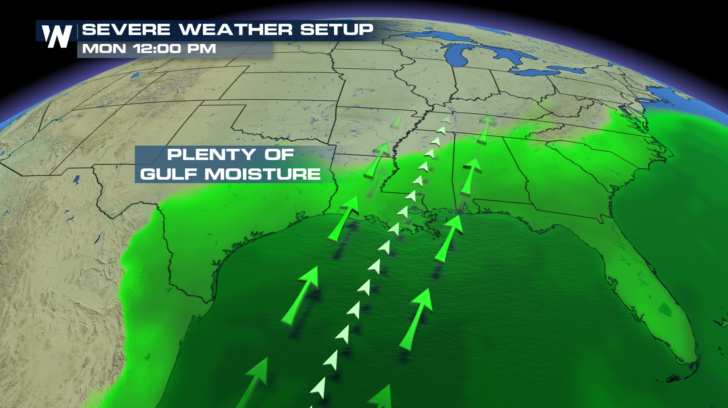 And with any severe weather event, instability has to be present.  This is rising, warm, buoyant, unstable air in the atmosphere.  This too will also be located in the region expecting severe storms.  When a strong cold front enters a region of moist, unstable air, with wind shear, severe weather is almost a certainty.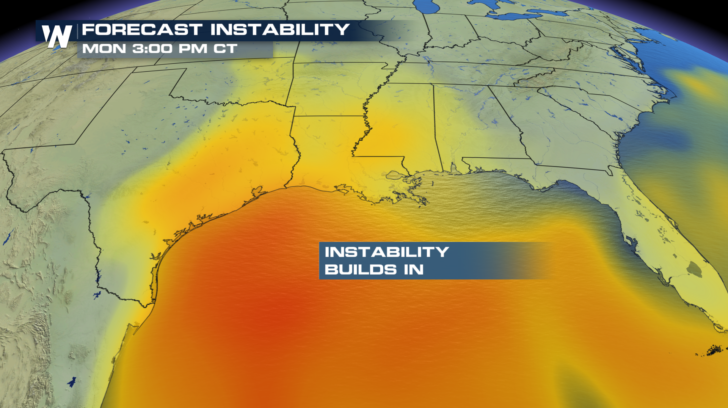 On Tuesday, the entire system slides to the east.  And the severe weather threat will slide with it.
Severe storms will be possible from Philadelphia, all the way down I-95 into the Carolinas and into Georgia.  It's another large area that will be under the threat for powerful storms.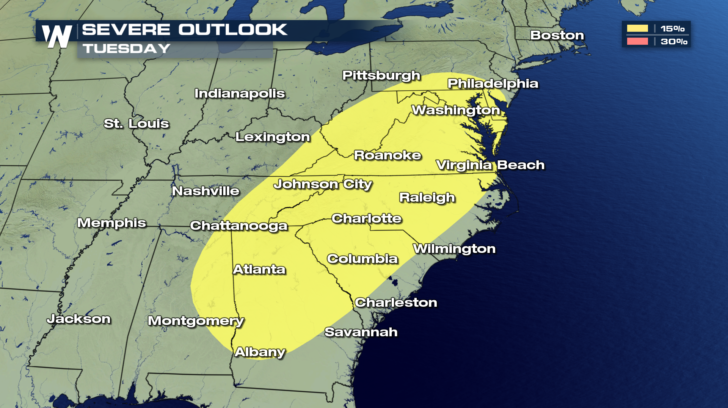 Towns like Memphis will enjoy gorgeous weather today.  Rain builds in tomorrow.  Severe weather will be possible Monday.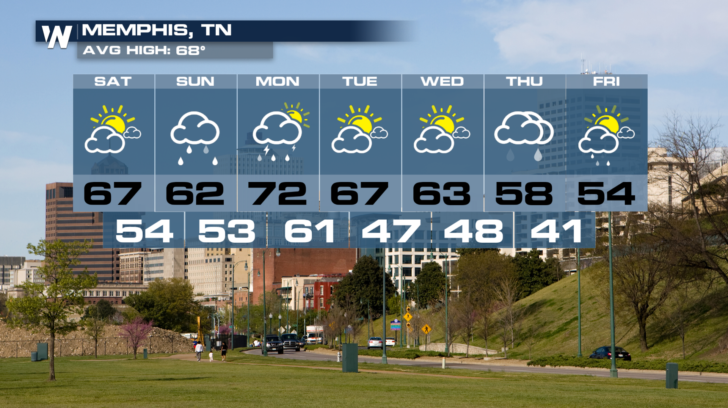 Charlotte will enjoy a wonderful weekend.  Rain will begin to move in on Monday.  Severe storms will be possible Tuesday.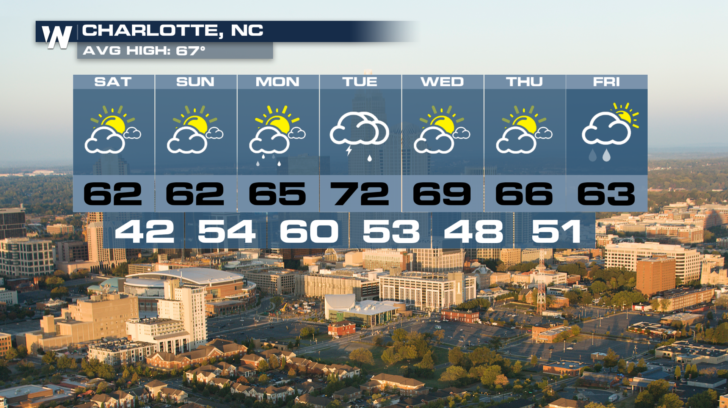 Stay tuned to WeatherNation for more information on severe weather.  You can watch on-air on the Dish Network.  You can also watch on Roku, Amazon Fire Stick, and Apple TV. For WeatherNation:  Meteorologist Matt Monroe