Within the last decade, significant improvements have been made to our Geostationary Operational Environmental Satellites (GOES), watching over the Western Hemisphere from 22,300 miles above the Earth.  The GOES-R series includes four satellites in the program with two already operational, GOES-East and GOES-West.  GOES-East (formerly known as GOES-16), keeps watch over most of North America, including the contiguous United States and Mexico, as well as Central and South America, the Caribbean, and the Atlantic Ocean to the west coast of Africa.  GOES-West (formerly known as  GOES-17), watches over the western continental United States, Alaska, Hawaii, and the Pacific Ocean to New Zealand. https://youtu.be/2lOUkJzhfXM The remaining two satellites in the series, GOES-T and GOES-U, will complete the fleet and after rigorous testing will be launched into orbit between now and 2024.
READ MORE: Up Close And Personal With NOAA's GOES-T

The current GOES Fleet in space as of January 2021.  Courtesy:  GOES-R.Gov
According to
current projections
, the majority of the
GOES-R series
will take us through the next decade with GOES-U forecast to be operational into 2040.  So, what happens after that?  The
National Oceanic and Atmospheric Administration
(NOAA) is already hard at work on the next observing system that will help advance even further observations on Earth.  NOAA's Geostationary Extended Observations (GeoXO) satellite system would be the next ground-breaking mission that will supply vital information to address major environmental challenges of the future in support of U.S. weather, ocean and climate operations.  "Right now, NOAA is working to ensure these critical observations are in place by 2031, as the GOES-R Series nears the end of its operational lifetime," said John Leslie with
NOAA's Office of Communications for Satellites.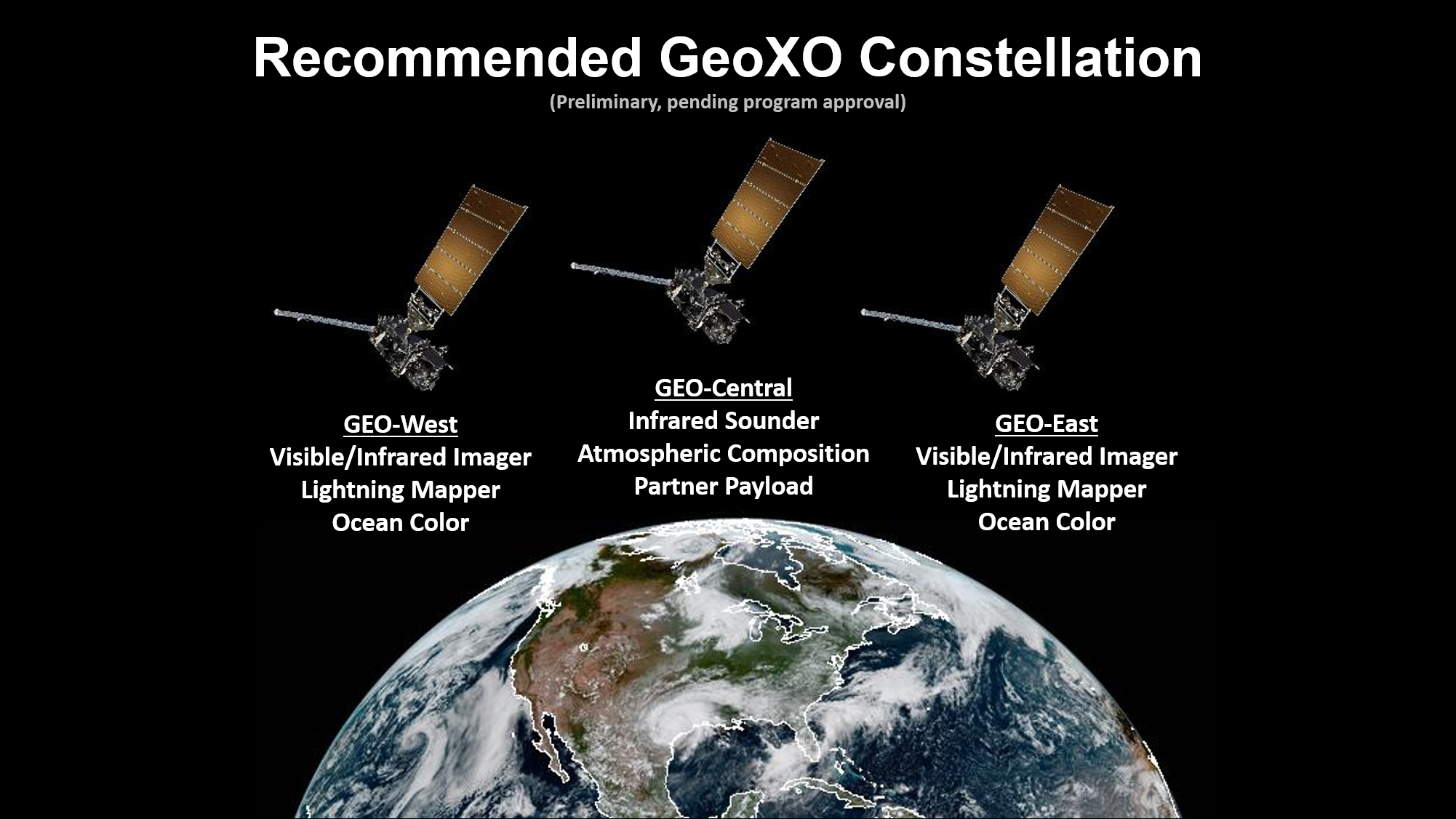 NOAA is currently planning, pending approval, a three-satellite GeoXO operational constellation.   Courtesy: NOAA
The satellites will continue the work of the GOES-R series but also move up another level with observations to assist with collecting information on the environment that will support long-term planning as well as short-term response.  "Not only do we get to continue the weather operations that we're currently making, but we need to expand beyond the current observations to improve observations for weather but also to add observations of our atmospheric composition and also our ocean," said Pam Sullivan, NOAA's GeoXO Program Director. https://twitter.com/i/status/1348796838288175112 According to NOAA, this observing system will power increasingly sophisticated models that forecast climate-change-driven weather patterns never seen before.  These new capabilities will include improvements in visible/infrared imagery, solar and Space Weather monitoring and advancing even further the geostationary lightning mapper.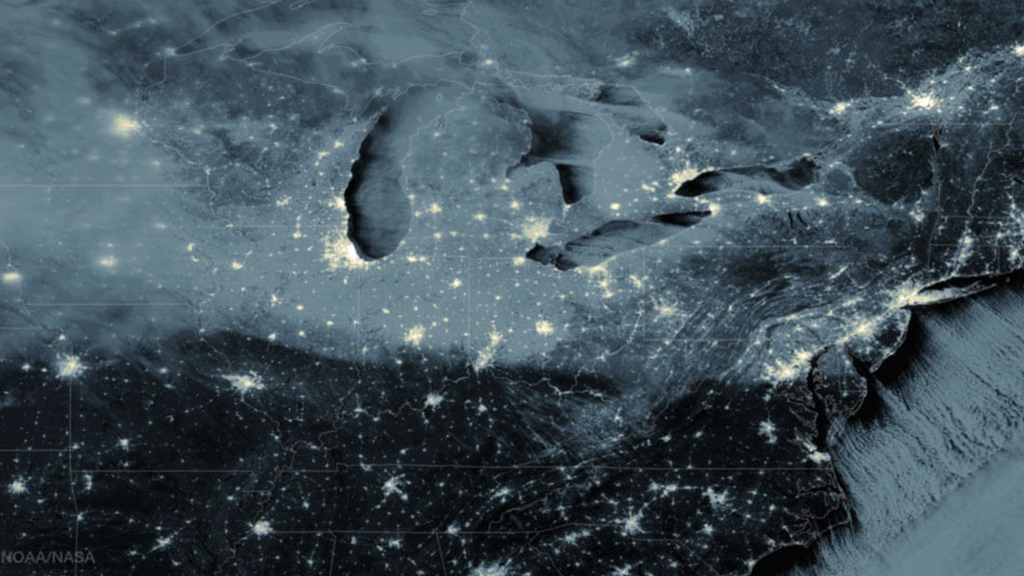 Nighttime visible imagery from geostationary orbit will dramatically improve the ability to detect and track fog at night, characterize the formation of tropical storms, monitor power outages/recovery in real-time, provide a new lights-based search and rescue utility, and introduce the ability to detect and track air quality and visibility hazards such as smoke and dust at night.  Courtesy:  NOAA
These advanced observations will include brand new technology to help take the imagery to the next level.  This will include even higher resolution for the imagers on the satellite, even more spectral channels, and more advanced movies of the planet with the newest instruments. "You can see diurnal changes in the ocean conditions along our coasts and in the Great Lakes," Sullivan said.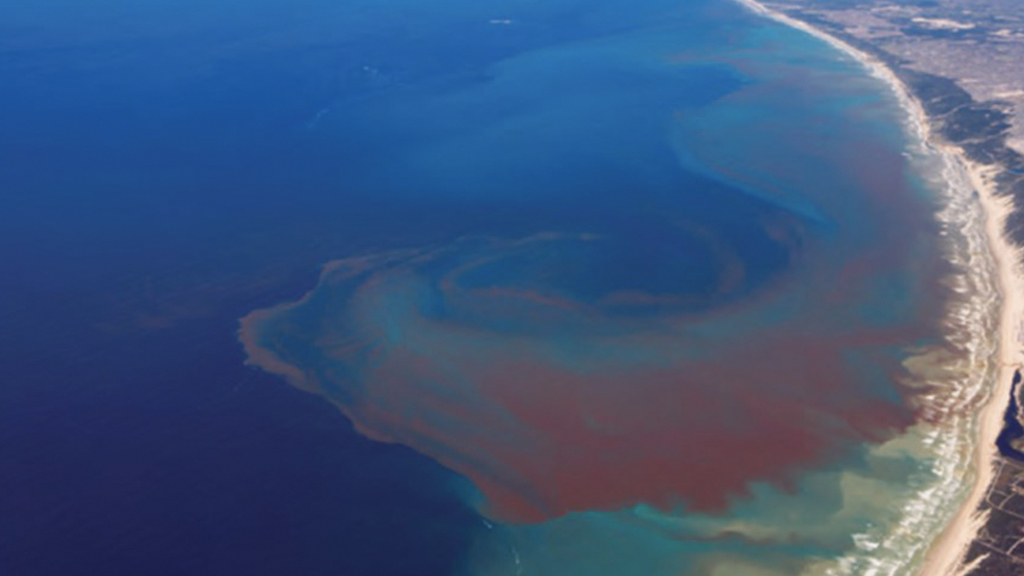 A GeoXO ocean color imager will provide observations of ocean biology, chemistry, and ecology to assess ocean productivity, ecosystem change, coast/inland water quality, and hazards like harmful algal blooms.   Courtesy: NOAA
Within the next decade, scientists hope that we will also be able to receive data from these satellites in a more cloud and internet based format versus from a dish. "We hope to expand our user base by having the data more accessible,"  Sullivan said.  "Not only easier to get to but easier for people to take our data and combine it with data from other places." Want to learn more about the GeoXO program? Check out
NOAA's overview of the mission and the different ways it will impact our forecasts in the future!