From
NOAA
As California chokes on thick wildfire smoke, emergency responders look to a combination of powerful new NOAA satellite sensors and advanced NOAA weather models to provide accurate forecasts of smoke movement. Wildfire smoke can spread thousands of miles from its source, affecting visibility and weather. Smoke from a wildfire is made up of microscopic particles that can penetrate deep into a person's lung and eyes, and exposure can lead to a range of health problems, from burning eyes to aggravated chronic heart and lung diseases and even death.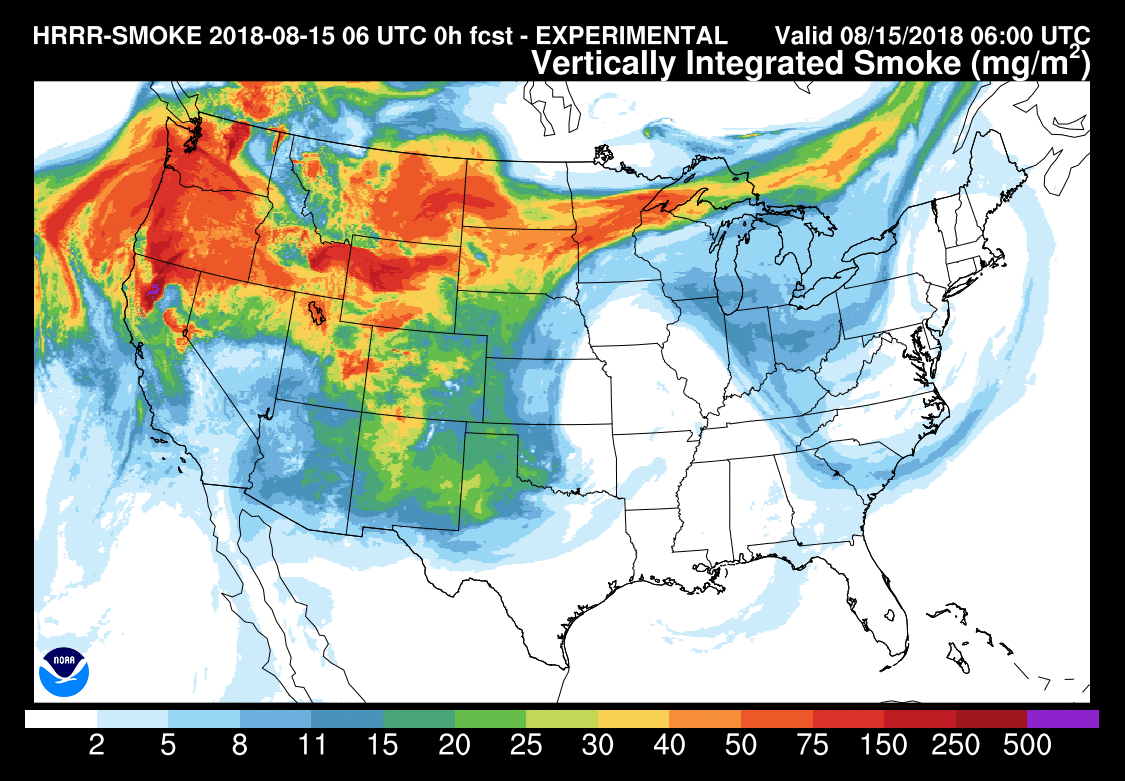 A fire can spark and spread quickly, and the resulting smoke can spread for thousands of miles beyond the blaze. Winds have lifted the West Coast smoke over 3,000 miles across the United States to New York and into the Atlantic Ocean. The smoke from the recent Canadian and California wildfires, which as of this week covered 600,000 acres of the state, are also creating dangerous conditions for the thousands of passengers who travel by train in the area. Correctly observing and predicting changes in wildfire locations and intensity over a widespread area is important to understanding how much smoke is generated from a wildfire. NOAA's new experimental "HRRR(High-Resolution Rapid Refresh)-Smoke" model is a major advancement in predicting the direction and height of wildfire smoke plumes. During the July 2018 Carr fire, detailed forecasts about smoke movement allowed Amtrak to make informed decisions about suspending part of their Coast Starlight service, which runs between Sacramento, California and Klamath Falls, Oregon, until visibility conditions improved.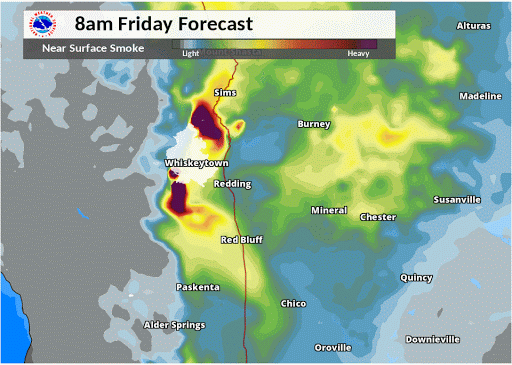 The HRRR-Smoke model simulates the emissions and transport of smoke from wildfires to help NOAA NWS forecast offices provide core partners and the public information about the severity and movement of wildfire smoke.  The mountainous terrain out west is complex and wildfire behavior can be erratic, but by combining satellite-based wildfire detection capabilities with a high-resolution atmospheric model, accurate forecasts about  about the movement of smoke are now possible. The advanced technical capabilities on the new NOAA-20 satellite provide data allowing scientists to pinpoint wildfire location and intensity. This data is used by the HRRR-Smoke model to make the smoke predictions. These smoke movement predictions extend to 36 hours, allowing community leaders and transportation companies to anticipate threats.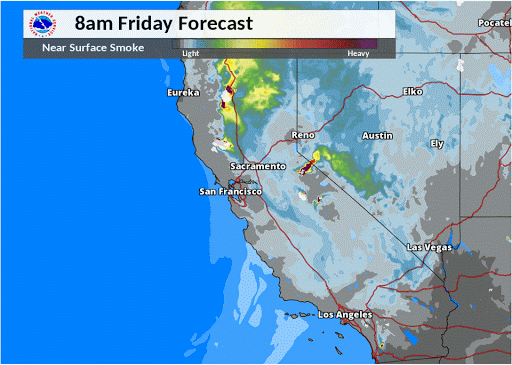 This information has played an important source of planning information to the California State Emergency Services, like the National Park Service who used the model data to inform their decision to close Yosemite National Park. While the fires remained outside park boundaries, the smoke caused such poor air quality that emergency managers were forced to evacuate and close areas. The closure was the longest for Yosemite National Park in nearly two decades (photo below showing smoke plume taken from ~25,000 feet on Aug. 5, 2018).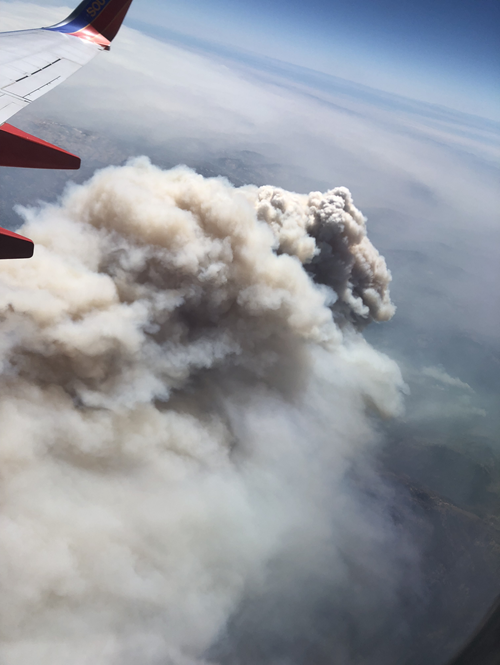 The ideas behind the HRRR-Smoke model begin in "Proving Ground' working groups where scientists collaborate to test new theories and innovations with the aim of improving forecasts and warning "products". The idea to combine the satellite smoke and fire radiation products, used in the HRRR Smoke model, was born in one of these Proving Grounds and is under future consideration to be transitioned into NWS operations. NOAA's experimental HRRR-Smoke model was developed by the Earth System Research Laboratory's Global Systems Division. Smoke model data:
visualization
,
HRRR model data
Edited for WeatherNation by Meteorologist Mace Michaels