Tuesday evening, around 7 p.m. local time, the National Weather Service issued a tornado warning for Jefferson Parish to the south of New Orleans. A severe thunderstorm was quickly developing and racing to the northeast. About 20 minutes later, the severe thunderstorm intensified as it crossed into the New Orleans, Louisiana metro area. https://twitter.com/WeatherNation/status/1506436528557461509 National Weather Service crews surveyed the damages and have identified this tornado as an EF-3. The full survey has been completed and the track of the tornado was 11.5 miles long with peak winds of 160 mph, just 6 mph shy of being rated an EF-4.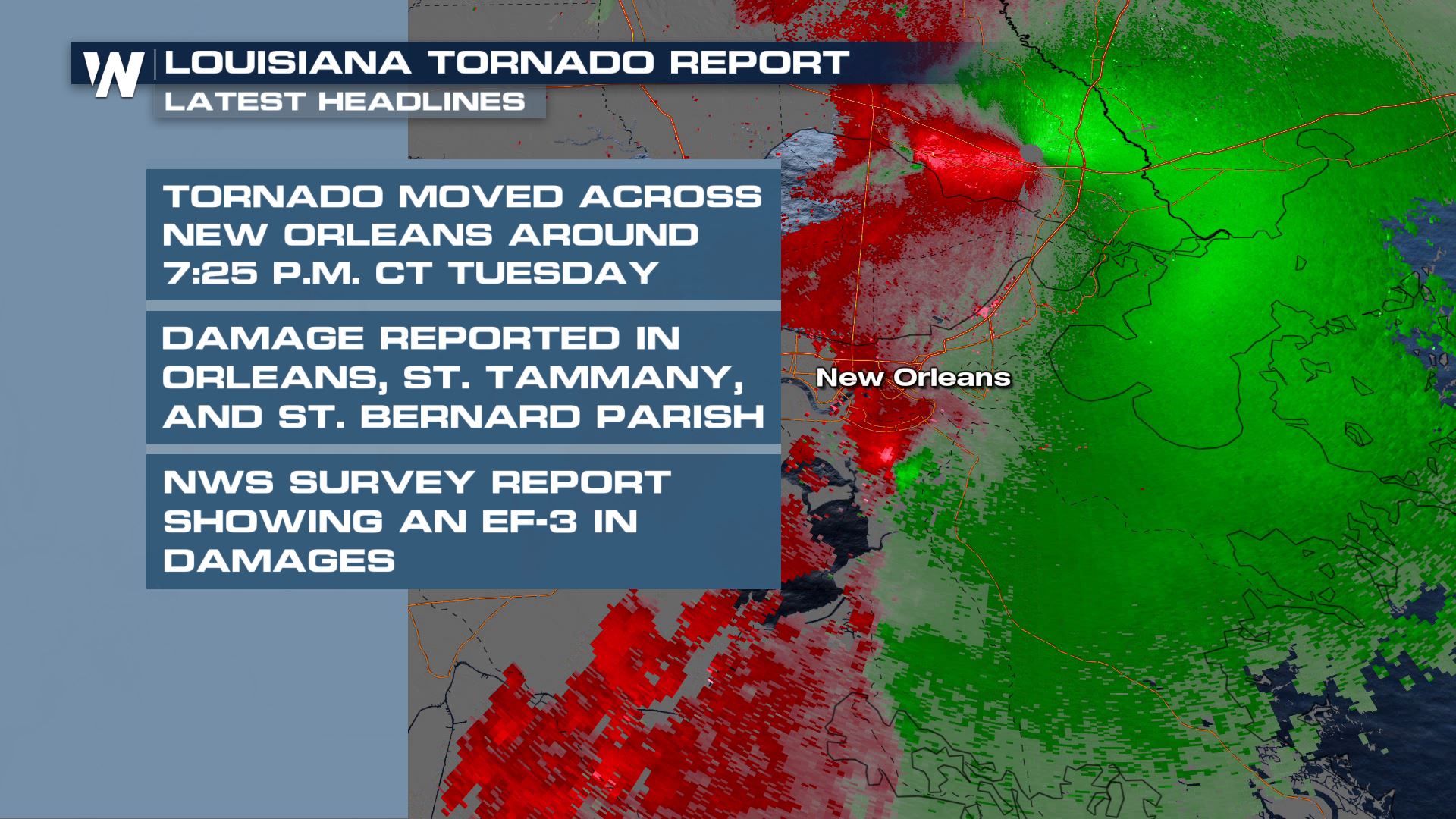 The National Weather Service in New Orleans shared local NBC affiliate WDSU's tweet, showing a large and dangerous tornado moving through the city. https://twitter.com/NWSNewOrleans/status/1506429457761980421 Just as quickly as the tornado spun up and moved through the city, it exited to Lake Ponchartrain and to the northeast. By 8 p.m. CT thunderstorms were clearing the city to the east. https://twitter.com/NWSNewOrleans/status/1506433383471226885 Trees were reportedly knocked down across Interstate 12 in St. Tammany Parish in Louisiana. This tornado was part of a larger complex of thunderstorms that sparked severe winds and tornadoes across the South on Tuesday. This is a view of the devastation that was left behind... [embed]https://twitter.com/WeatherNation/status/1506631855126290444[/embed] The severe thunderstorm threat will continue to move to the east.
For the latest forecast click/tap here.