The 2020 Atlantic Hurricane Season was one for the record books. Building on lessons learned from last year, the National Oceanic and Atmospheric Administration (
NOAA
) has turned their focus to 2021 and
released their forecast on what to expect for the season
. In combination with scientists at the Climate Prediction Center (
CPC
) and the National Hurricane Center (
NHC
), they expect this year to be an active season for the number of tropical cyclones. Compared to an "average" season where there are 14 named storms, 7 of which become hurricanes, and 3 of
those
which become major hurricanes (category 3 or higher), this season's outlook calls for a above normal season with 13-20 named storms,  6-10 of which will become hurricanes, and 3-5 of which could become major hurricanes. Forecasters predict a 60% chance of an above-normal season, a 30% chance of a near-normal season, and a 10% chance of a below-normal season. However, experts do not anticipate the historic level of storm activity seen in 2020. https://youtu.be/cU0ljJ4v-XA The main factor contributing to the outlook is the lack of El Niño. Last year saw a predominant La Niña pattern, which reduced wind shear, favoring Atlantic tropical development. While the La Niña has officially ended, without El Niño conditions to suppress development, the Atlantic could remain active. El Nino Southern Oscillation (ENSO) conditions are currently in the neutral phase, with the possibility of the return of La Nina later in the hurricane season.
"ENSO-neutral and La Nina support the conditions associated with the ongoing high-activity era," said Matthew Rosencrans, lead seasonal hurricane forecaster at NOAA's Climate Prediction Center. "Predicted warmer-than-average sea surface temperatures in the tropical Atlantic Ocean and Caribbean Sea, weaker tropical Atlantic trade winds, and an enhanced west African monsoon will likely be factors in this year's overall activity."
Regardless of the forecast, NOAA and
WeatherNation
want to remind you that "
it only takes one". 
No matter what the forecast calls for, it is so important to
be prepared for the season ahead
. Even if just one storm makes landfall where you are it will be "a bad season" for you. Always take steps to prepare for the worst case scenario.
CENTRAL PACIFIC OUTLOOK
https://www.youtube.com/watch?v=K2Xe0SiQbQc&ab_channel=NWSHonolulu NOAA, NWS Honolulu and the Central Pacific Hurricane Center have also posted their
hurricane outlook for the central Pacific basin
. They are predicting that this hurricane season will be near or below normal with the amount of Tropical Cyclones to develop, with 2-5 anticipated. An "average" season has 4 or 5 tropical cyclones.
"This year we will likely see less activity in the Central Pacific region compared to more active seasons," said Matthew Rosencrans, NOAA's lead seasonal hurricane forecaster at the Climate Prediction Center. "Less activity is predicted since ocean temperatures are likely to be near- to below average in the central and eastern tropical Pacific Ocean where hurricanes form, and because El Nino is not present to increase the activity."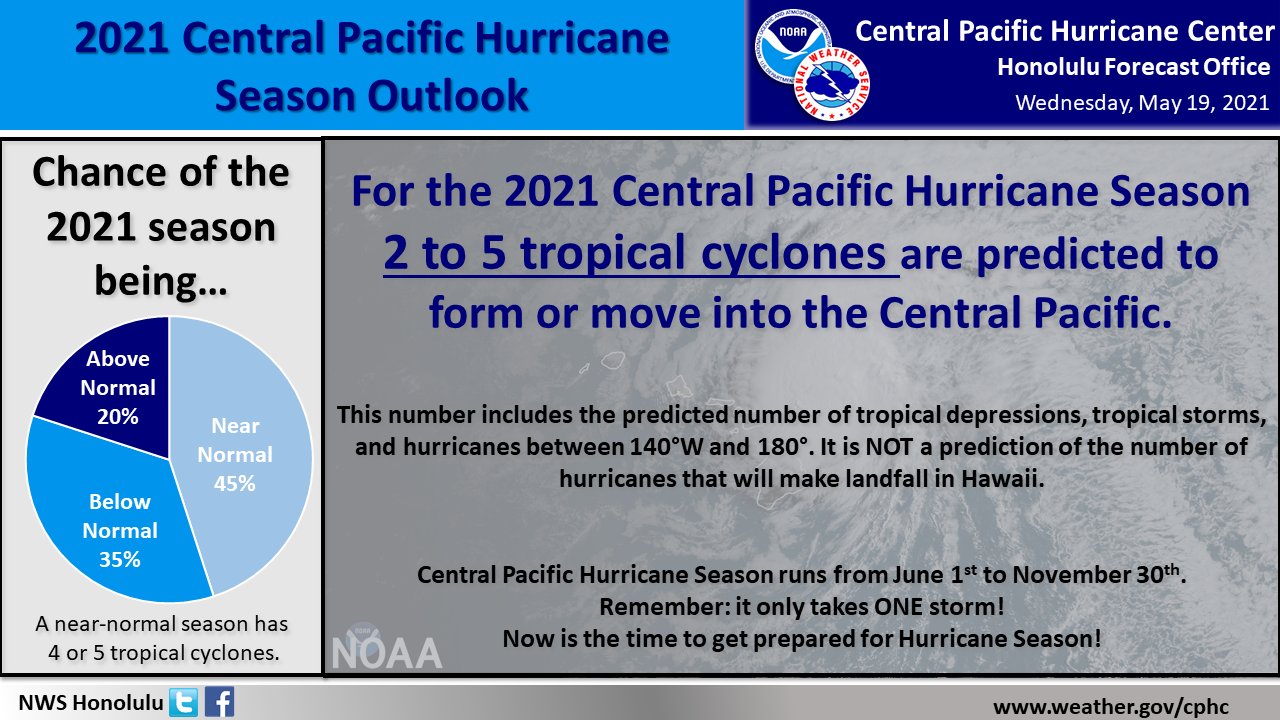 For more information on Hawaii's wet and dry season and how to be prepared for this hurricane season, you can follow this
link
to the NWS Honolulu and CPHC Facebook page.
"As we have experienced in previous hurricane seasons, it only takes one direct hit, or even a close call, to have a major impact on daily life here in the Hawaiian Islands," said Chris Brenchley, director of NOAA's Central Pacific Hurricane Center. "Take time to prepare now.  Make a preparedness plan so that you and your family stay healthy and safe."