[
NOAA
]  If you were one of the more than 2.5 million people who flew safely through a U.S. airport today, you might want to thank your flight crew and a specialized team of meteorologists working behind the scenes. Aviation weather forecasting is important business: At any given time there are 5,000 aircraft crossing the skies over the U.S. According to the Federal Aviation Administration (FAA), inclement weather is by far the 
leading cause of flight delays
, and delays cost airlines and passengers billions of dollars each year.
From the 1970s through the 90s, more than 10 commercial planes in the U.S. crashed due to severe weather. Since the last weather-related crash in 1994, NOAA's National Weather Service advances in forecasting downbursts — a particularly dangerous part of thunderstorms — have helped keep fliers safe. Over the years, NOAA has significantly increased the amount and types of data used in forecasting, such as inputs from environmental satellites, while also improving communication with the FAA and expanding pilot education about the weather.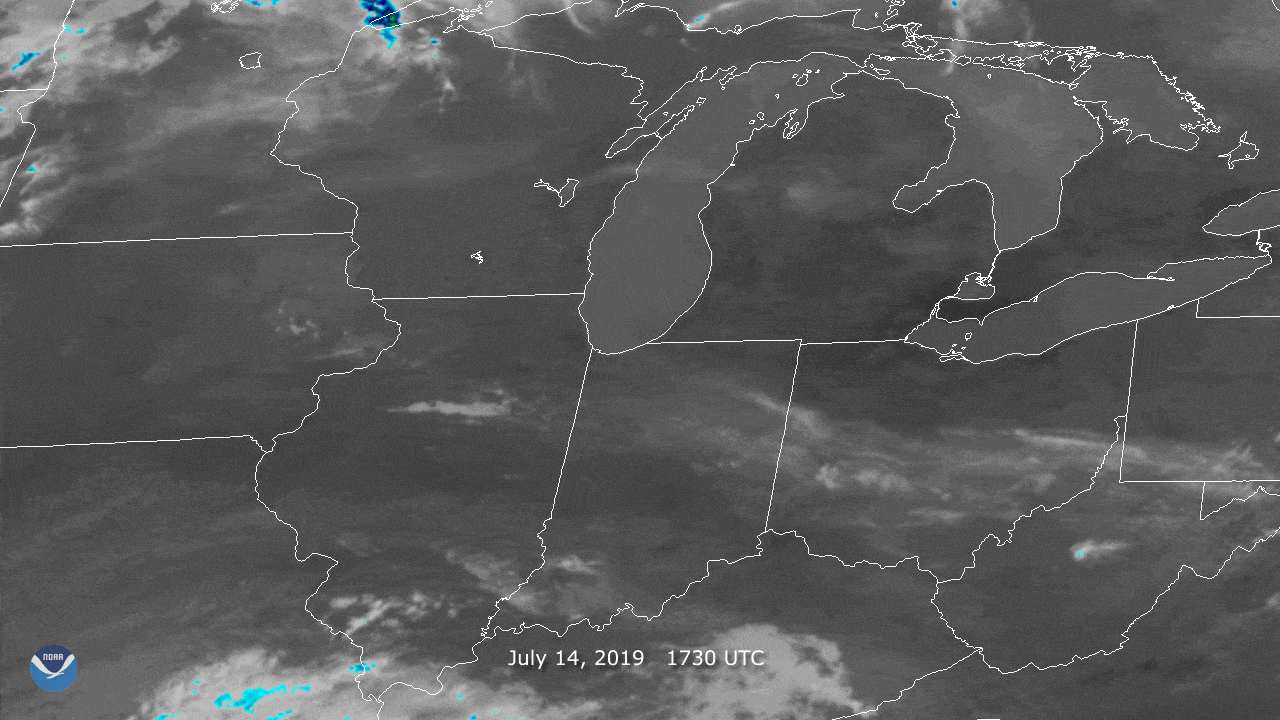 [Thunderstorms and severe weather around the Chicago area on July 14, 2019, resulted in nearly 70 diverted flights. All those flights all landed safely, without incident. The storms are visible above in infrared via an instrument onboard NOAA's GOES-East satellite. (NOAA)]
Behind the scenes of aviation weather forecasting
NOAA delivers tailored weather forecasts for both the commercial and private aviation industries, who route the planes around dangerous weather every day. NOAA aviation meteorologists work alongside FAA colleagues to ensure that any rapid changes in weather are quickly communicated to pilots in the sky. Aviation forecasts cover North America and extend off the coast of the U.S. into the middle of the Atlantic and Pacific oceans. Forecasts also extend into the Gulf of Mexico and the Caribbean Sea where many general aviation pilots and helicopter services operate. Working with international partners, 
NOAA's Aviation Weather Center (AWC)
 provides a worldwide database of graphical forecast fields such as potential turbulence, thunderstorm activity, and jet stream intensity. This database is extremely valuable for international flights to and from countries that might not have the same robust meteorological services as the U.S.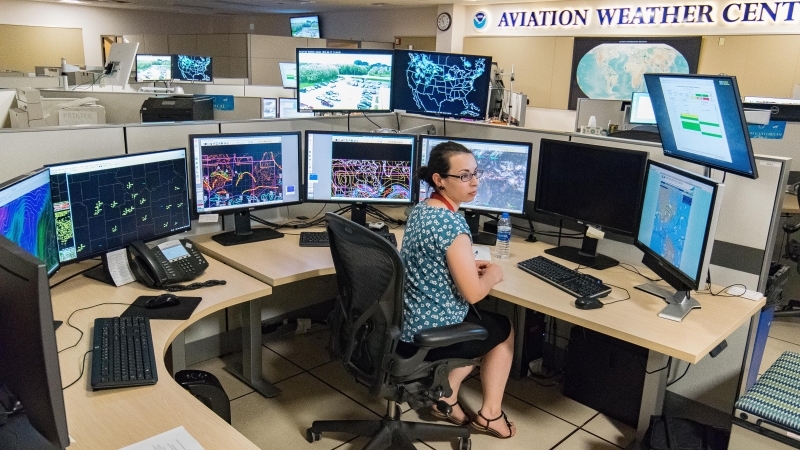 [
NOAA Aviation Weather Center senior meteorologist Amanda Martin monitors weather conditions and air traffic in real-time from several computer monitors. (W. Scott Olsen/NOAA)
]
New forecast products available today
NOAA's AWC is now extending new 
graphical aviation forecasts
 into the Gulf of Mexico, Caribbean and across the Pacific Ocean. These graphics provide a one-stop-shop for aviators to find weather conditions and warnings up through the atmosphere over hurricane-prone regions from Hawaii to the U.S. Northeast to the Lesser Antilles.
The forecasts include current weather conditions/warnings, wind direction and speed for every 3,000 ft up into the atmosphere, turbulence and icing forecasts.
Are you a general aviation pilot or flying enthusiast? These resources are for you:
Meteorologist Mace Michaels