As we look to t
emperatures taking a tumble during the first half of September
, it's an important reminder of what is ahead of us this season.
Meteorologists track the seasons
in groupings of three months. Because these months share common temperature and precipitation characteristics, it becomes much easier to calculate seasonal statistics from the monthly statistics. This is useful for agriculture, commerce, and other applications. Meteorological Fall encompasses September, October and November. To help people get prepared for the hazards that are climatologically likely to strike, the
National Weather Service
launches their
seasonal safety campaigns. 
 The theme of this year's
Fall Safety Campaign
, beginning September 1, is, "Small Decisions Can Have a Big Impact." Especially when it comes to the following weather phenomenon:
DROUGHT
FLOODS
FOG
HURRICANES
TSUNAMIS
WILDFIRE
WIND
WINTER WEATHER
To learn more about how to stay safe and prepare ourselves for Fall, we spoke with Michelle Mead, the Warning Coordination Meteorologist at
NWS Sacramento
. Their County Warning Area has many microclimates that experience several of the different threats above. Watch the full interview below, or follow them on
Facebook
and
Twitter
for frequent safety updates. https://www.youtube.com/watch?v=MW1lSvNGbm4&t=168s
DENSE FOG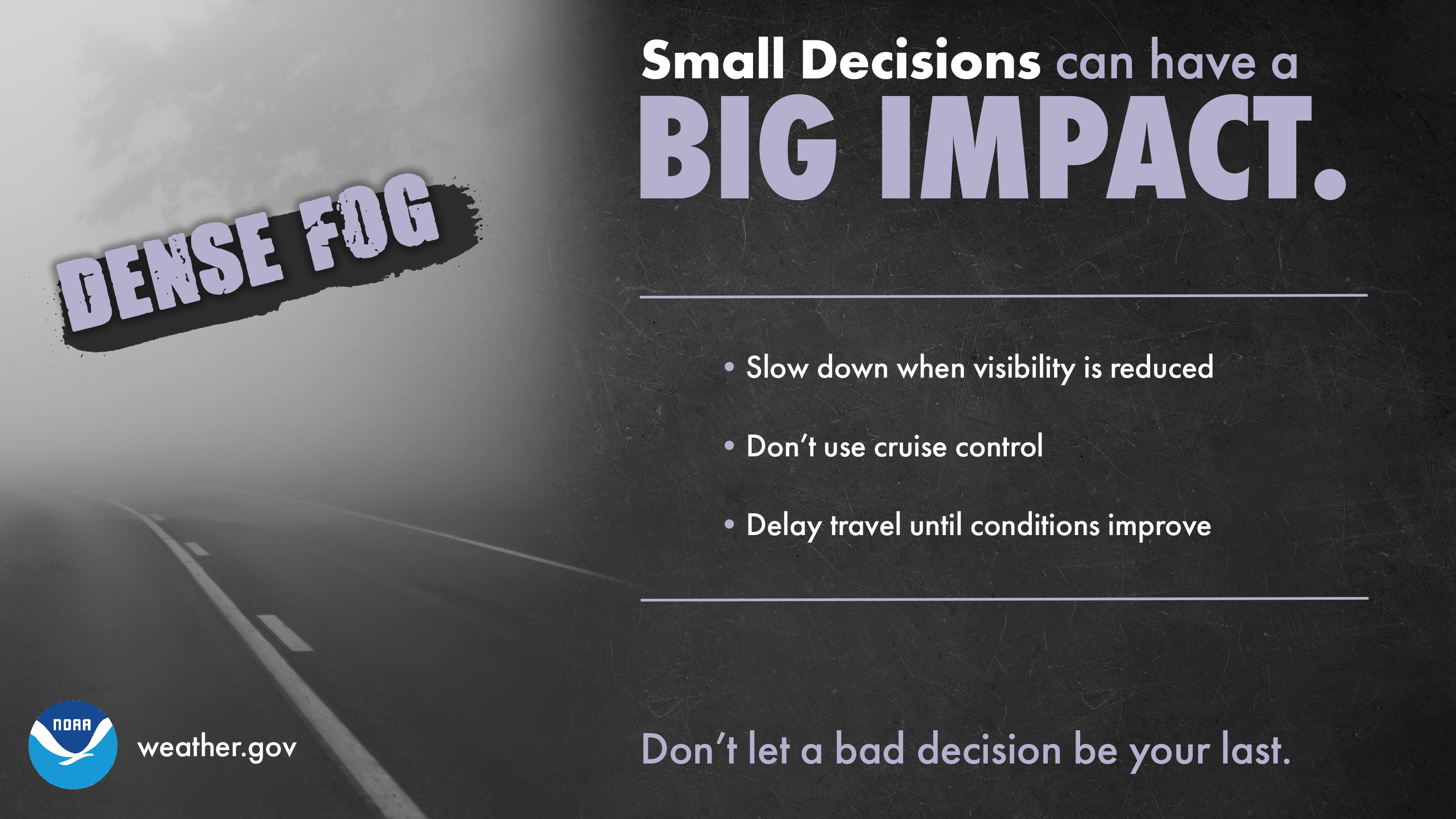 Dense fog can quickly and unexpectedly reduce visibility to a quarter mile or less. If you find yourself on the road during a dense fog event, the small decisions you choose to make could end up saving your life. Small decisions like slowing down, not using cruise control, and delaying travel until conditions improve can make a big impact...or save you from one.
HURRICANES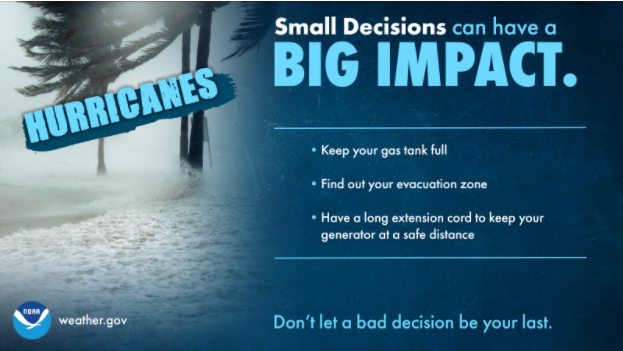 Some hurricane preparations, such as strengthening your home, can be significant efforts. But there are also small decisions that, if made, could save your life. Small decisions like keeping your gas tank full, looking up your evacuation zone, or having a long extension cord for your generator, can end up making a big impact when the storm hits.
WILDFIRES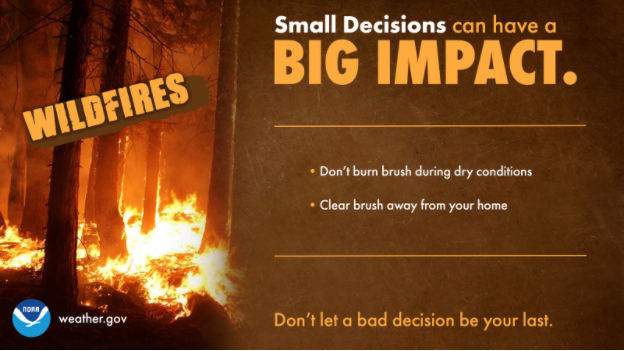 There are aspects of wildfire preparation, like using fire-resistant landscaping around your home, that aren't possible for everyone. But there are also small, potentially life-saving decisions, that anyone can make. Small decisions like not burning brush during dry conditions, and clearing brush away from your home, can make a big impact in not only your life...but in the lives of those around you.
FLOODING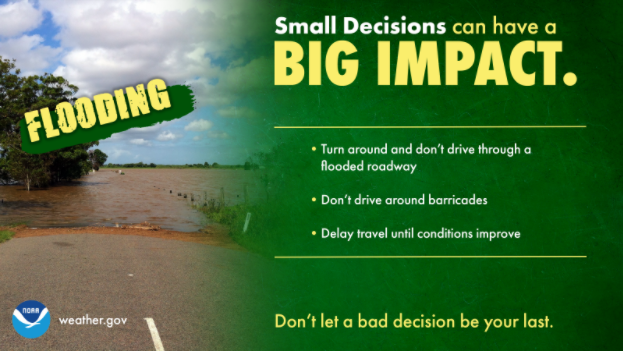 Most flood fatalities occur in vehicles, and it only takes 12 inches of water to sweep a car away. Sometimes the difference between life and death are small decisions. Small decisions like turning around and not driving through a flooded roadway, not driving around barricades, and delaying travel until conditions improve, can make a big impact on whether you keep your car...or even your life. Turn Around, Don't Drown.
WINTER WEATHER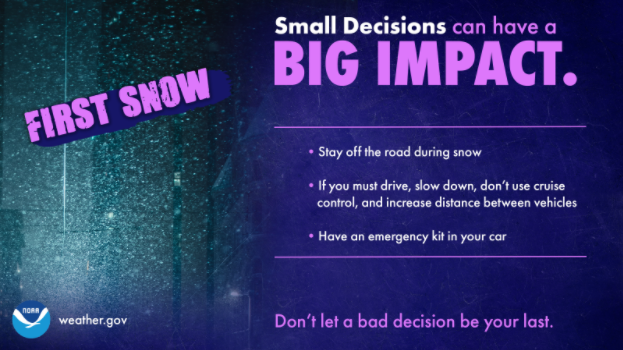 Sometimes, late fall snow storms can be deadlier than expected. The small decisions you make when encountering even light snow can save your life, especially when it comes to being behind the wheel. Small decisions like choosing to stay off the road if possible, or slowing down, and increasing the distance between vehicles, could end up having a big impact.
Want to get involved? Click
here
for more information on how you can help build a
Weather Ready Nation
. Credit:
NWS