[Ken Graham at the hurricane briefing desk on May 26.]
From
NOAA
Ken Graham
 became the 11th official director of NOAA's National Hurricane Center in Miami. Florida, on April 1st. It's one of the most demanding positions in the National Weather Service. Here, we sit down with Ken to discuss his new position.
Has it sunk in yet? 
It's sunk in, but there are times when I come out of that a little bit and go "Wow- is this real"?
What do you have in common with previous directors?
Without a doubt, it's the passion for the tropical program. We absolutely love it. Not just the hurricanes, but all the aspects - the heavy rain, the tornadoes, and the storm surge.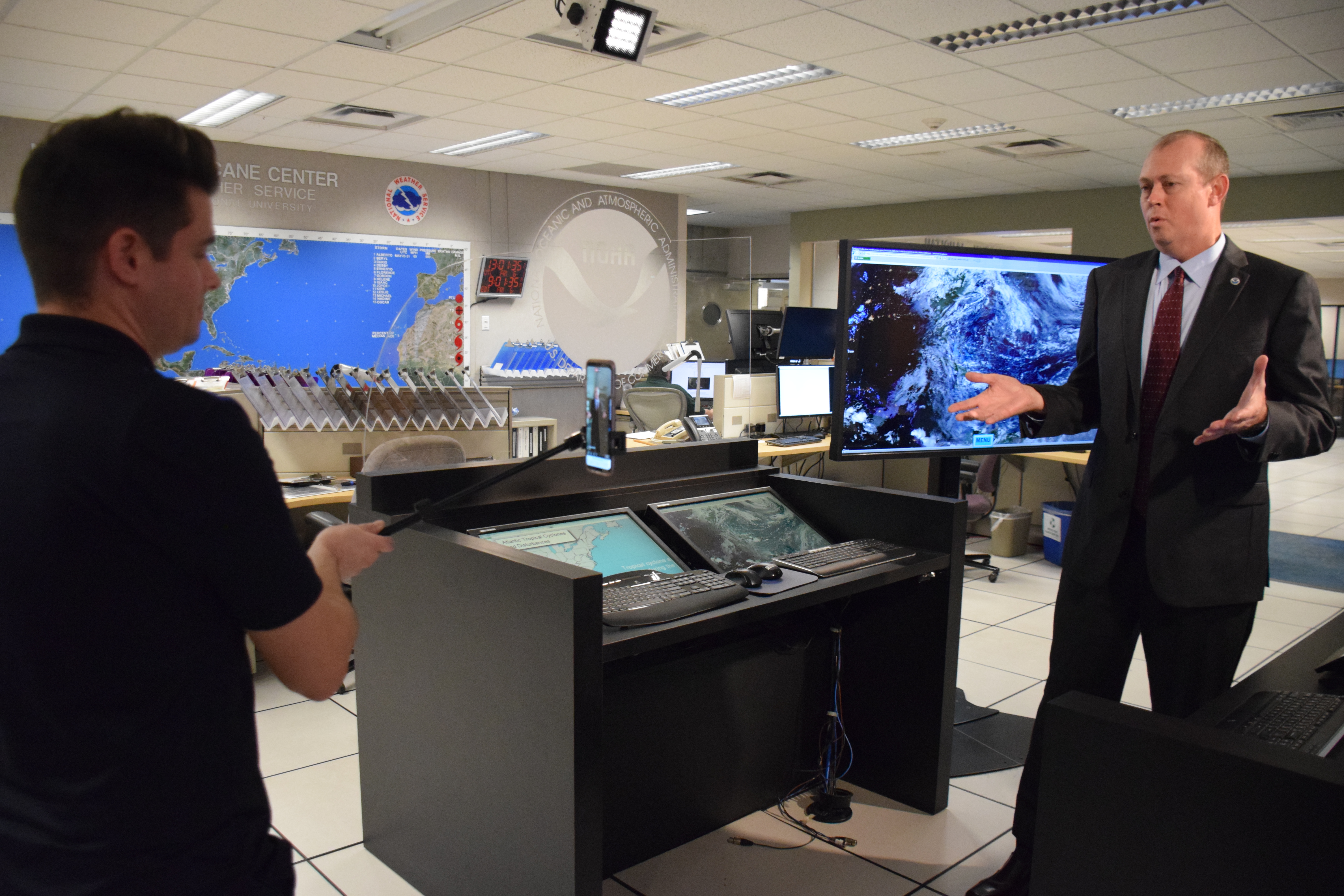 [Ken Graham provides a FB Live tour of the hurricane operations area during the annual media day on June 1, 2018]
What to you bring that's different?
It's the experience that I have throughout this agency, spending so many years in the field as an MIC, as a forecaster. I've worked in the region, I've worked at headquarters; I've worked all over this agency and understand how it works. And, being so close with the emergency managers, being deployed for hurricanes to the EOC. I've worn the ICS vest, I've done those briefings. And being eyeball to eyeball in that EOC for 18 hour shifts hearing all the nuances and logistics of what they have to deal with.
What was your weather trigger?
It was the whole family being evacuated out of our house when I was seven, because a flood was coming. And this was in Arizona! Having a situation where someone who loves tropical weather is from Arizona is not very intuitive, but not when you normally get six inches of rain in a year and the forecast is to get six inches of rain from one storm. All that moisture coming up from a tropical system from the eastern Pacific that tracked over Baja California into Arizona. We were evacuated and I didn't understand why. So I went into my grandfather's encyclopedias and read about hurricanes. Every day after that, I took weather observations and put them on the calendar.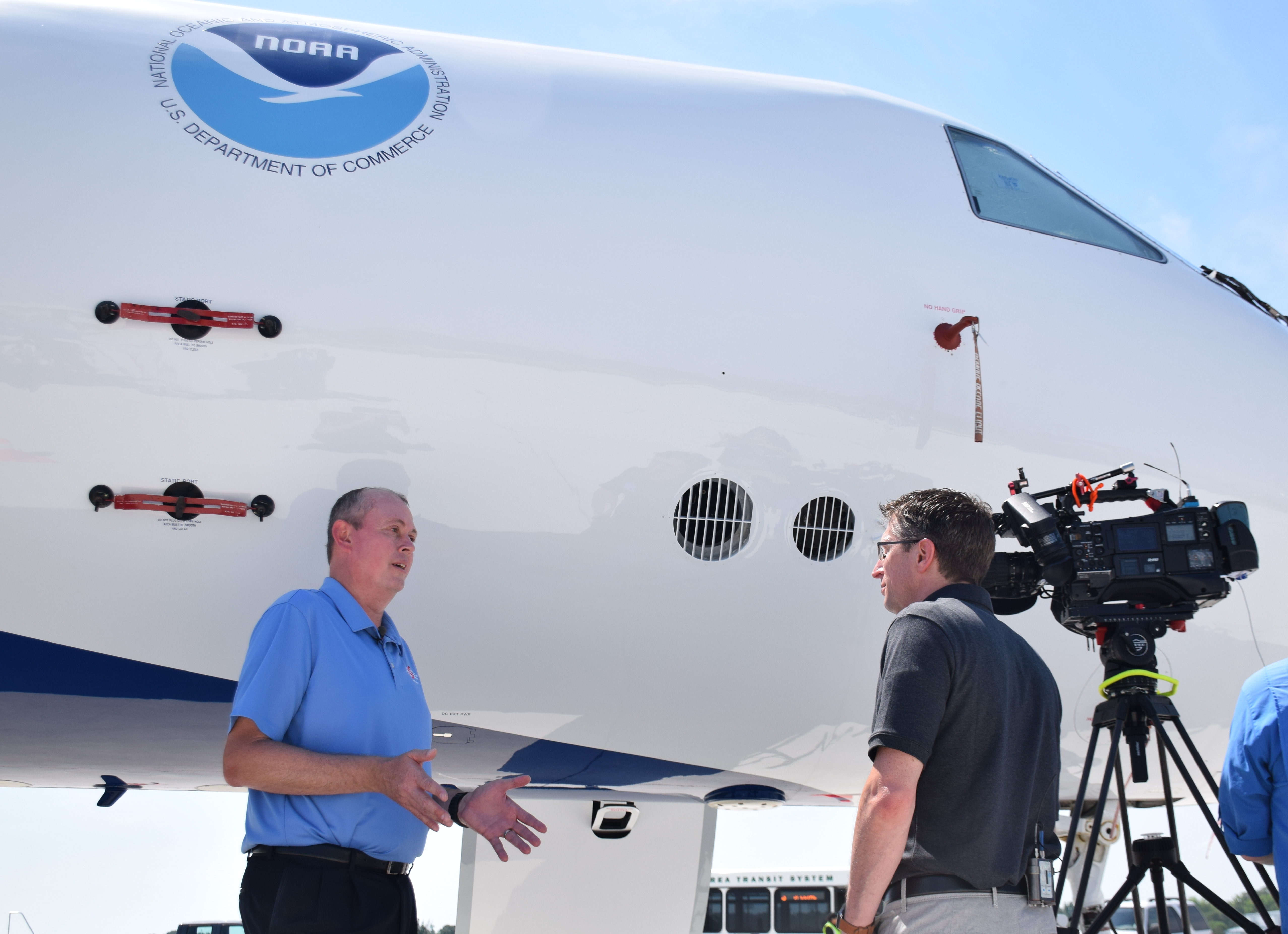 [Ken Graham is interviewed by former NHC director Rick Knabb at the Hurricane Awareness Tour in Baton Rouge, La. on May 9, 2018]
What is your perception of the NHC staff and operation?
Part of my humbleness is working with such brilliant people, some of the best tropical scientists on earth. I can help bring all of that brilliance together – where we are going to go, their vision for the future of the hurricane center – and help them get there. My job is to support them. I don't look at myself as being on top at all.
How do you balance the job with family? 
I am so happy to get this job being a little older. If it were 10 to 15 years ago, I'd already be stressed out. A lot of the stuff I'm seeing I've seen before, so I can draw on that experience. And, being blessed with so many amazing people, I'm a good delegator. There's going to be a lot of spreading of the wealth in the building with the issues we have. The other part is I get here early and I need to leave on time. My three daughters are in high school, in softball, in the band. The next three years while they're still in the house, I don't want to miss any of that. My only hobby is my kids. Edited for WeatherNation by Meteorologist Mace Michaels