Meaningful precipitation is on the way for the Western U.S. as an upper level trough starts pulls in moisture. Scattered showers and some thunderstorms will set up over the next few days. along with some snow in parts of the Sierra Nevada. A few severe thunderstorms are possible Sunday as well!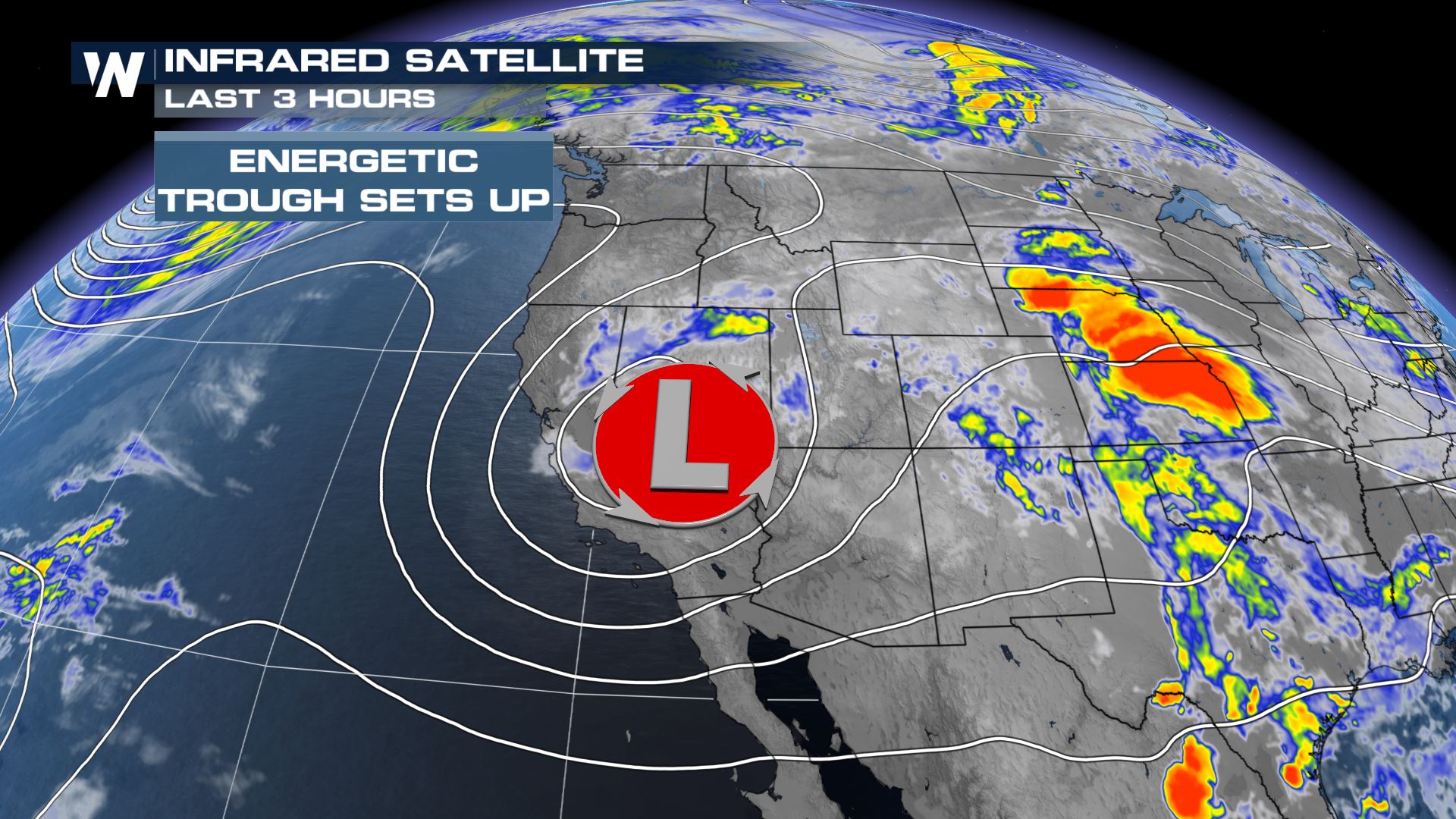 Current Impacts
The strong trough is creating gusty northwesterly winds near the west coast. High waves and increased rip current risk continues through today.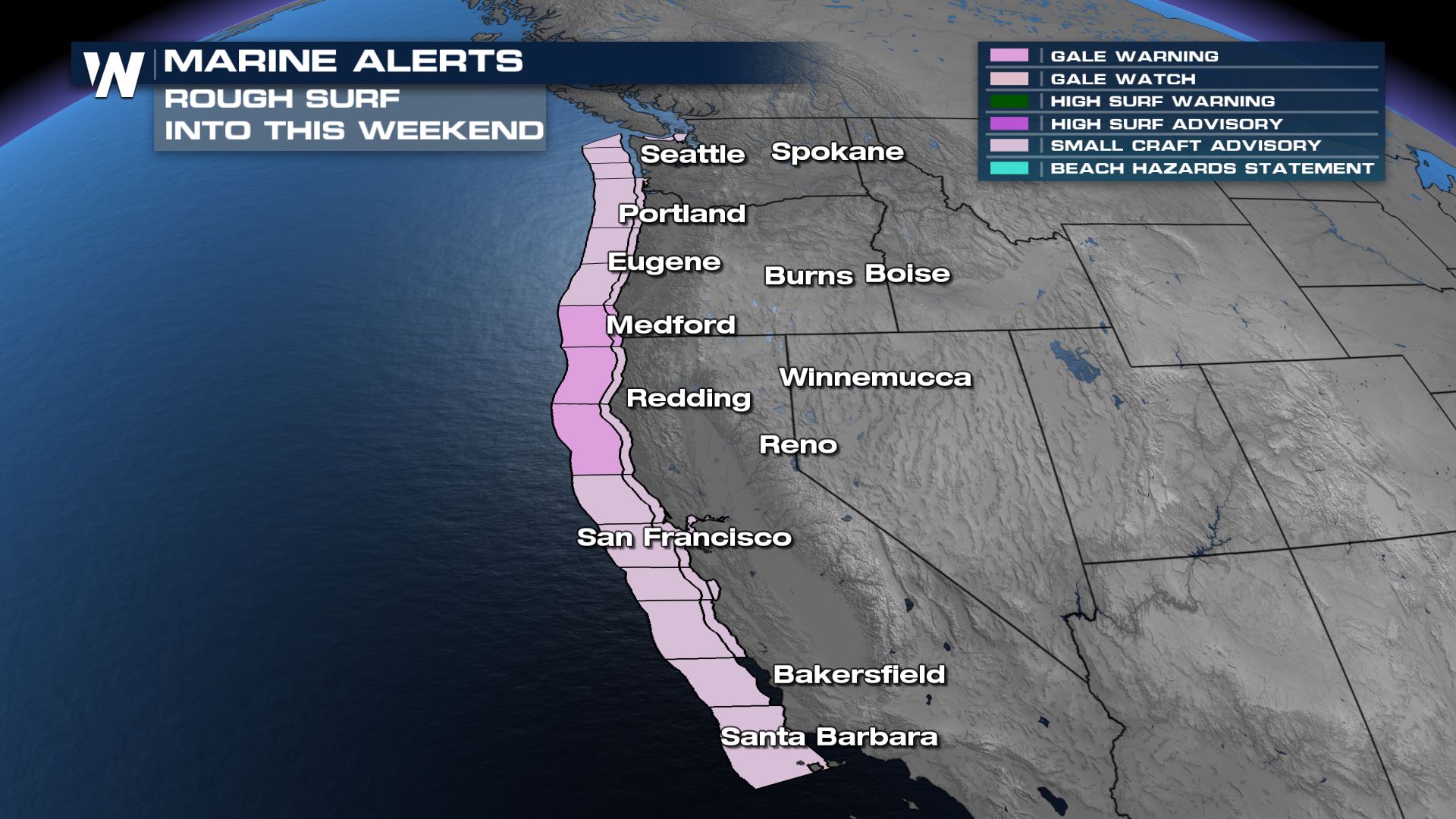 Outlooks
While general thunderstorms with heavy rain and large hail will be possible region-wide Sunday, a few strong to severe thunderstorms will be possible in northern Nevada. This is as energy and moisture is focused along a stalling surface boundary and upper level energy feeds storm updrafts. Heavy rain is also likely.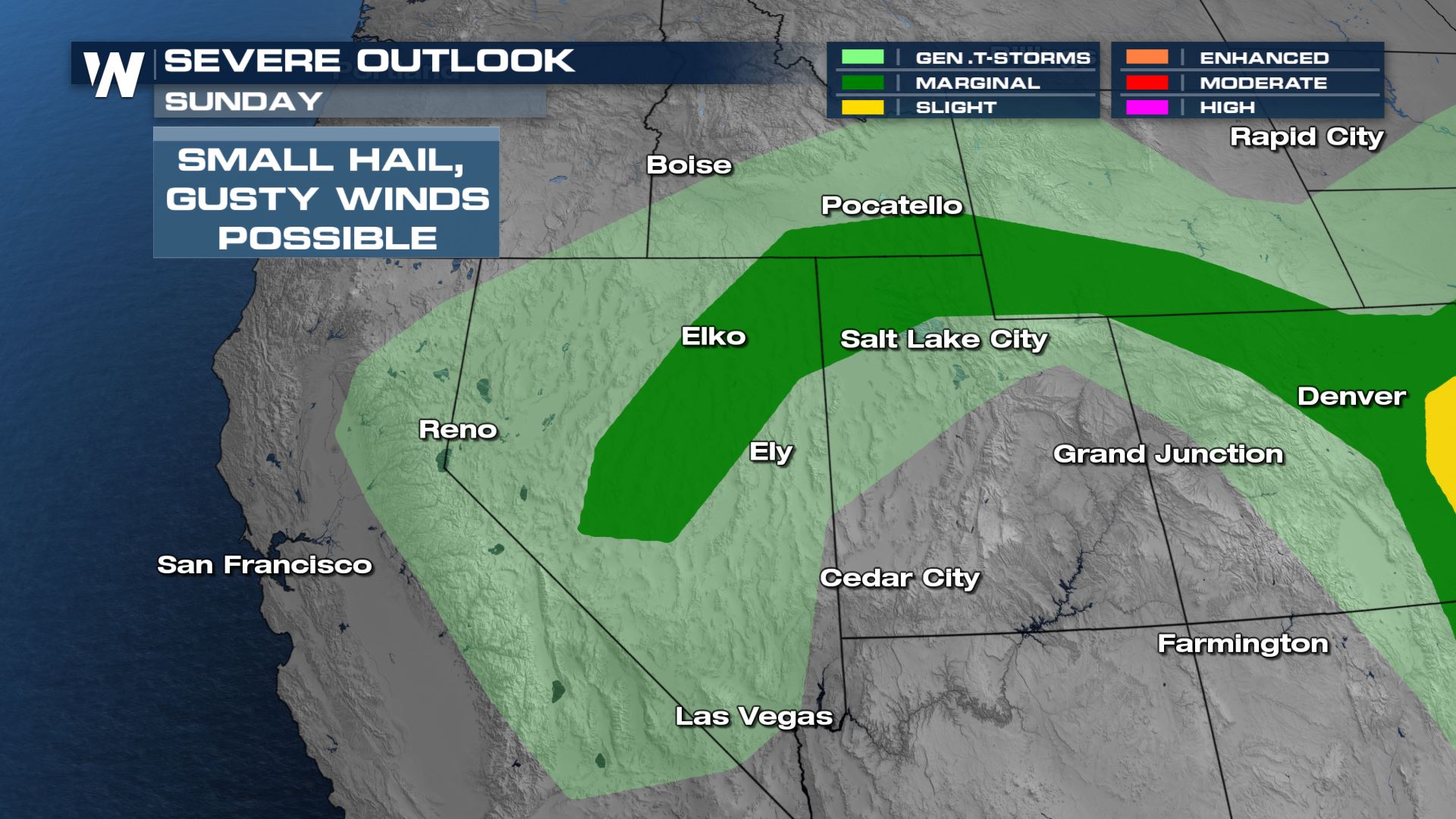 Even with storm chances, there could be evaporation leading to dry thunderstorm risks. The elevated fire regions into Nevada, Utah, and Arizona follow where gusty wind becomes problematic but the storm chances are lower.
Forecast
By Sunday, some areas are looking at 0.10" to 0.25" of rainfall accumulation. Our in-house forecast model is suggesting snow in the higher elevations of the Sierra Nevada. This would have a low chance of accumulation but snowpack is around 5% of average in the Sierra Nevada. Any snow will help recharge reservoirs.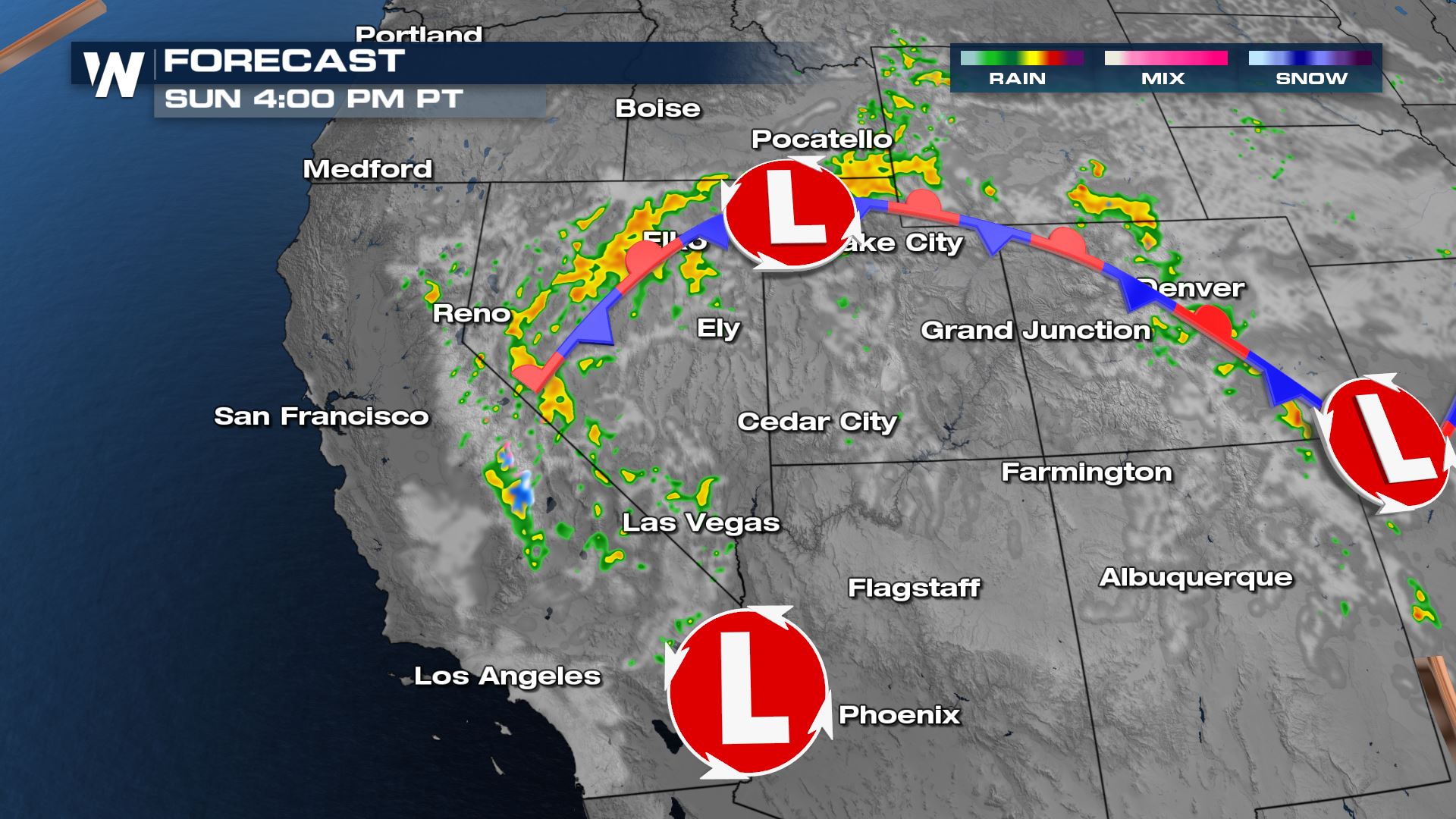 Rain and snow will ramp down into the evening as energy decreases, but a few light showers will persist in California and Nevada.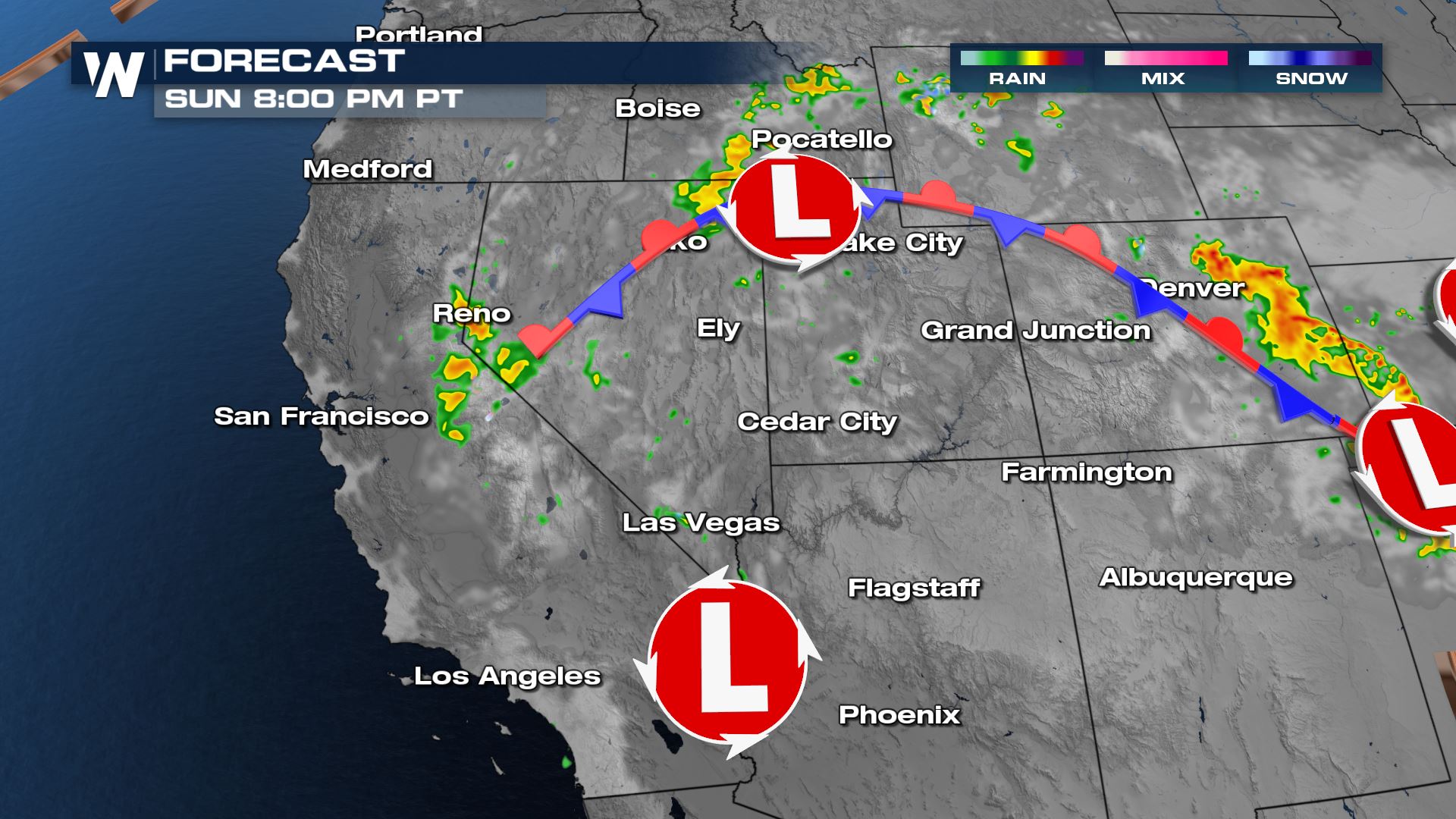 Showers will move gradually east through the day Monday but the stalled upper level energy will contribute to more heavy rain pockets in spots.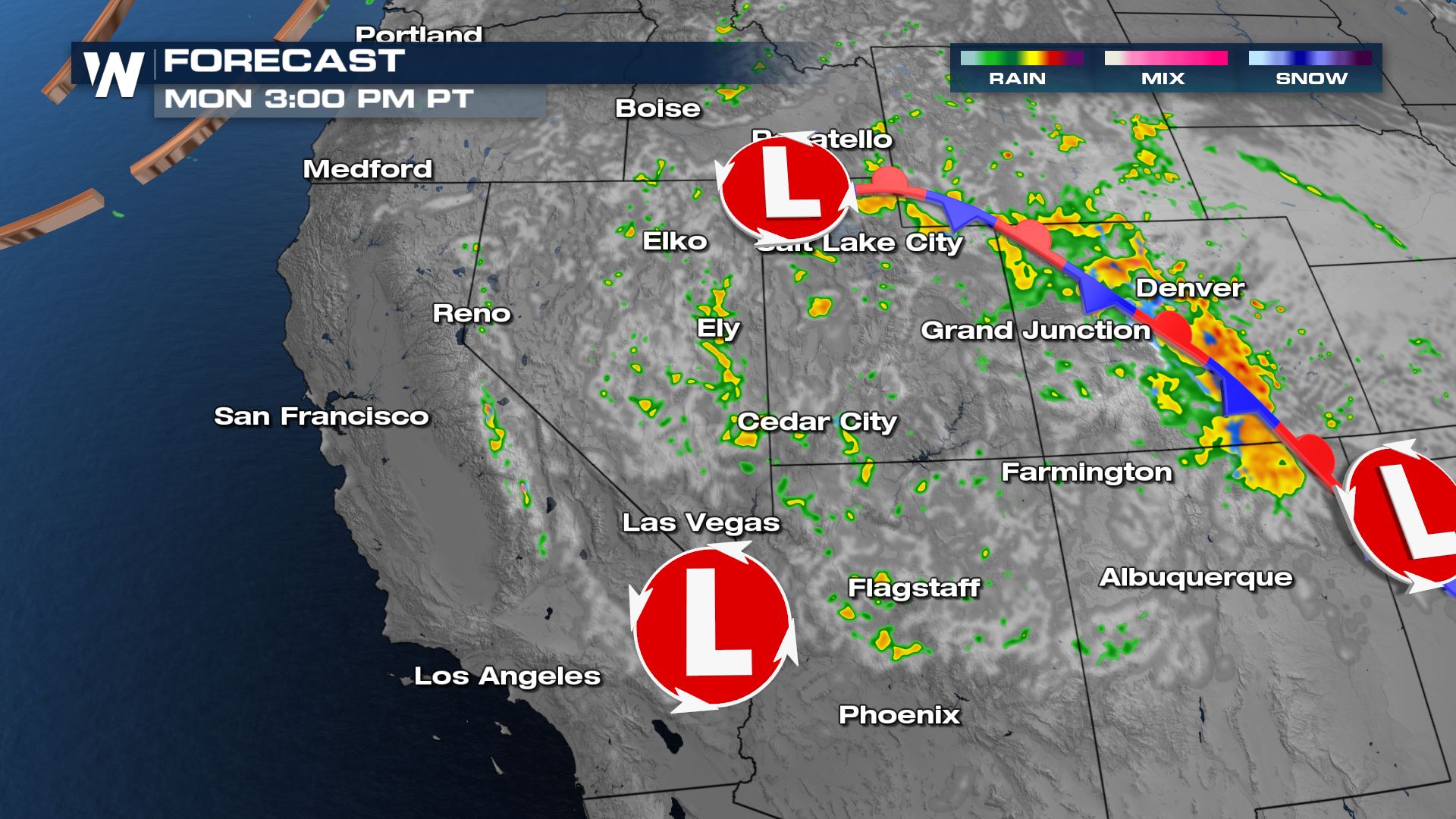 Severe storms aren't anticipated, but don't be surprised if you run across some small hail.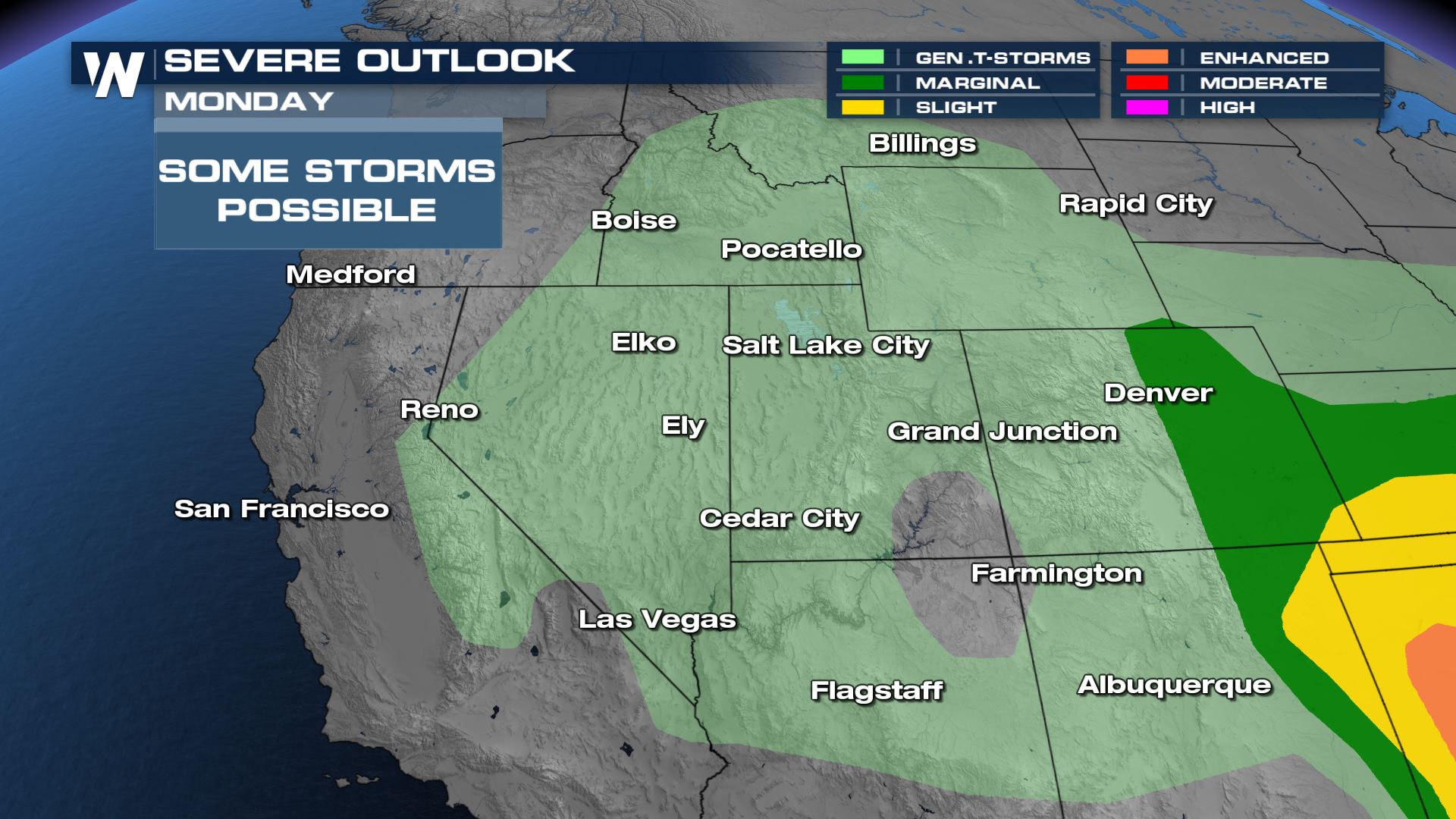 By Tuesday most of the meaningful moisture will be moving into the Four Corners and western Colorado.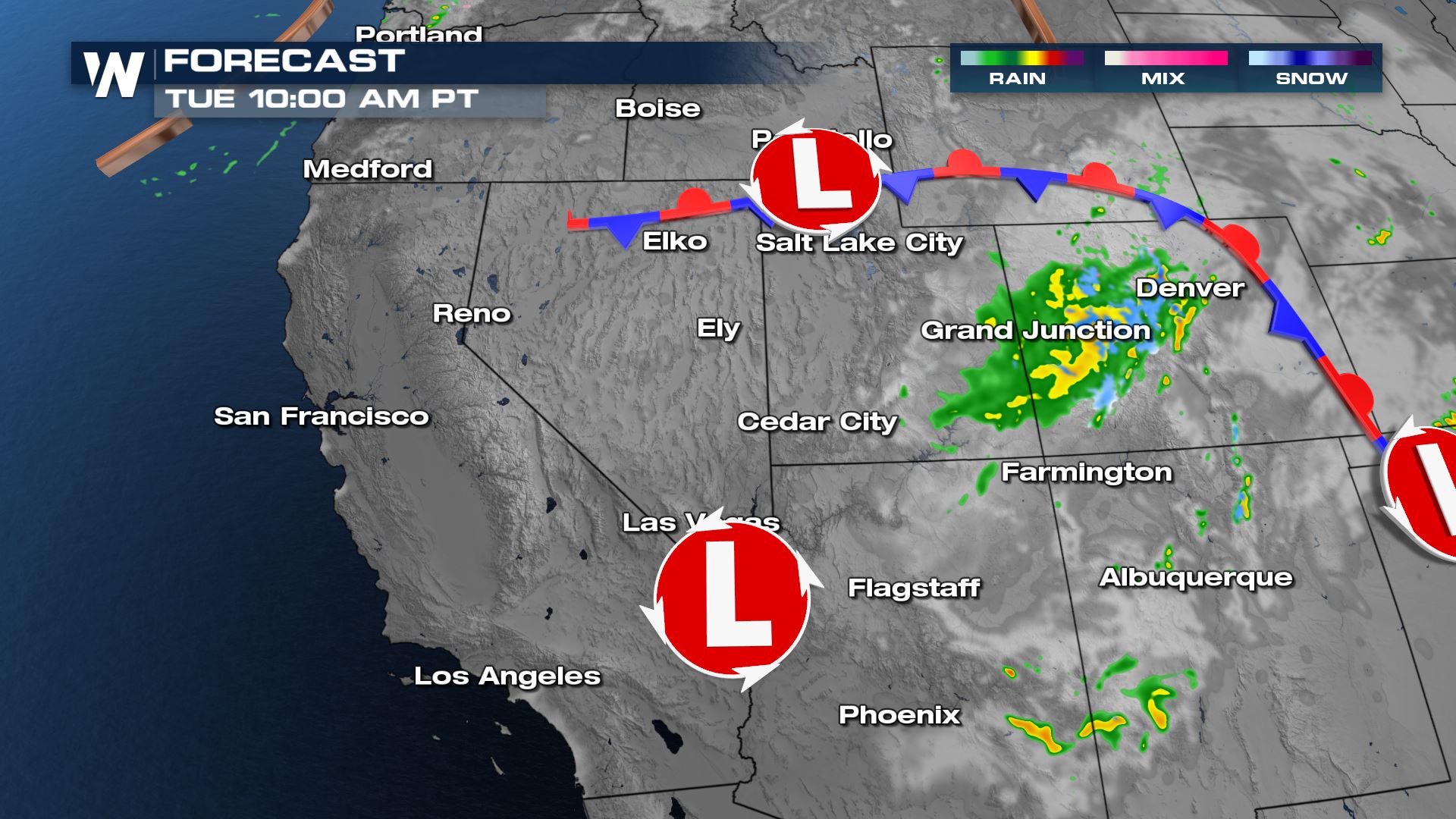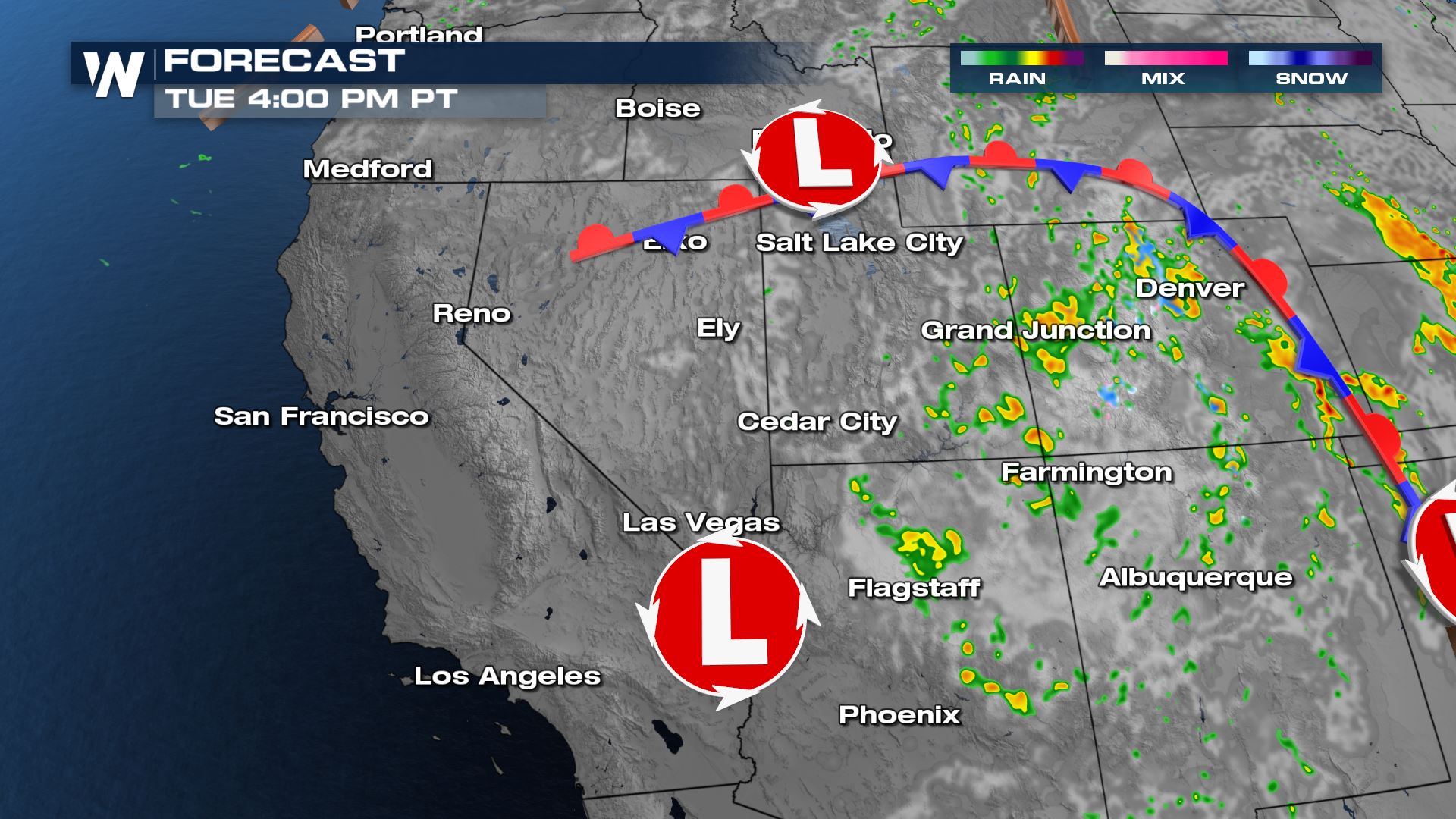 Rain accumulations could be as high as 1-2" in spots through Monday. While the flooding risk is not especially high, pockets of heavy rain could lead to brief ponding on the roads before draining. The amount of accumulating snow in the Sierra Nevada may be overdone on this model, but picking up a few inches of snow on the highest mountain peaks is not out of the question!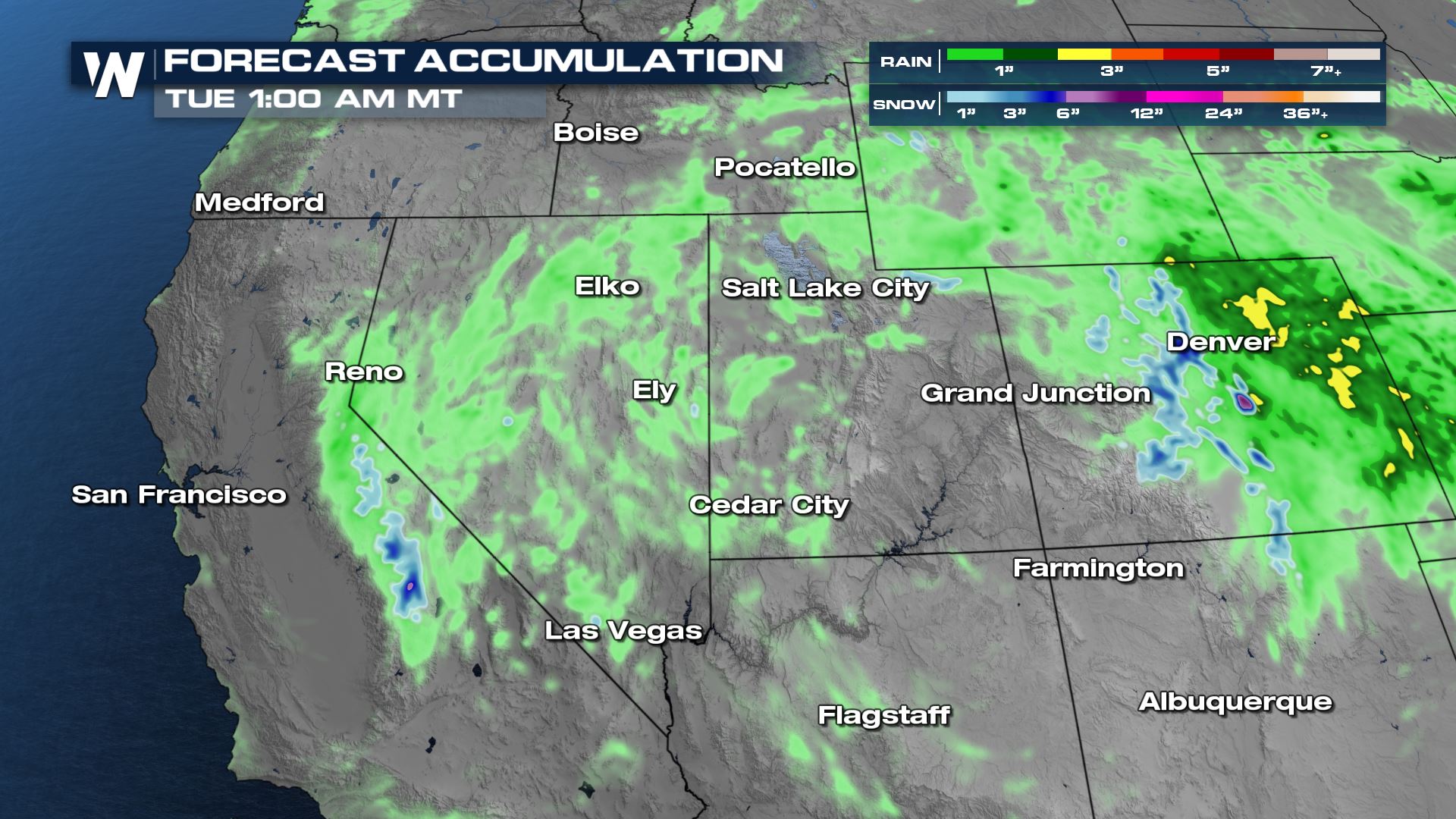 Temperatures
Over the next few days, the temperatures swing a few degrees. It will be a little cooler as rain and clouds hang around, but then warm up again into the middle of next week as rain departs. Most of the forecasted days ahead will look to be above or near average for the middle of May, but there are indications that through the end of May there will be a small cooldown.