From Oklahoma to Colorado, wildfires popped up very quickly Thursday afternoon within hot, windy and dry weather conditions. https://www.facebook.com/WeatherNation/videos/10156422289784874/ Firefighters found it quite difficult to get a handle on these flareups due to the weather conditions. For one, very windy weather was blowing through Thursday afternoon with wind gusts up to 40 miles per hour at a number of reporting weather stations. Secondly, record heat was in place across parts of Colorado, Texas and Oklahoma where the air was not only hot, but very dry. https://twitter.com/ounwcm/status/984546338162569219
Above picture: A closer look at western Oklahoma Thursday afternoon where red is the temperature, green is dew point temperature, and pink lines are the wind 'barbs.' Long story short: Hot, dry, and windy!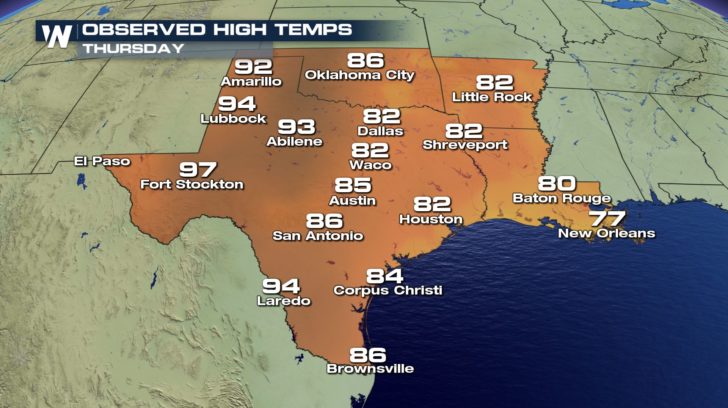 These observed high temperatures were well above average for Thursday, April 12 and in some cases record-breaking. https://twitter.com/WeatherNation/status/984550584593166336 The wildfires in Oklahoma were clearly visible from space courtesy NOAA's GOES East weather satellite. https://twitter.com/WeatherNation/status/984570952494149632 Windy, dry, and hot conditions will prevail along the southern Plains and Desert Southwest at least through Tuesday of next week. That will lead to a higher fire danger for several of those days. For now, we know the rest of Thursday and all of Friday will still feature 'extreme' fire weather conditions.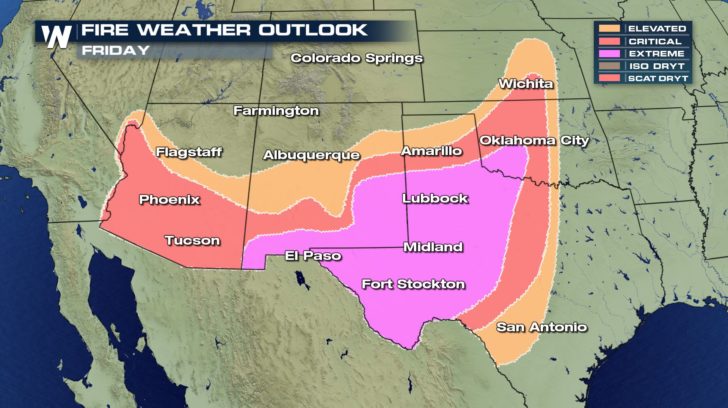 Any fires that do flare up can spread very quickly and wildly given these weather conditions. Please report any smoke/wildfires to officials. Obey local burn bans. Use caution with your daily activities and chores to avoid sparking any wildfires. https://twitter.com/NWSNorman/status/984430086370754560 For WeatherNation, Meteorologist Steve Glazier