https://www.facebook.com/WeatherNation/videos/vb.129524519873/3120156951348539/?type=2&theater Severe storms led to at least 46 tornado reports on Sunday into early Monday,
according to the Storm Prediction Center (SPC)
. Unfortunately, multiple fatalities were reported from several states, including 11 in Mississippi, nine in South Carolina, eight in Georgia, and one each in North Carolina and Arkansas. At least 46 tornadoes had been confirmed, as of Tuesday afternoon. That included at least 15 strong tornadoes, or those of an EF rating of EF-2 or above. https://twitter.com/McWeather1989/status/1250168104103051272?s=20
The Associated Press reported
that at least 30 people had died in Sunday's storms, including several fatalities in an EF-4 tornado near Bassfield, Mississippi. https://twitter.com/NWSJacksonMS/status/1249869779780788224?s=20 https://twitter.com/MSEMA/status/1249663198770475010 An EF-3 tornado near Livingston, SC was rated as an EF-3, with maximum winds of 140 mph. This took place early on Monday morning.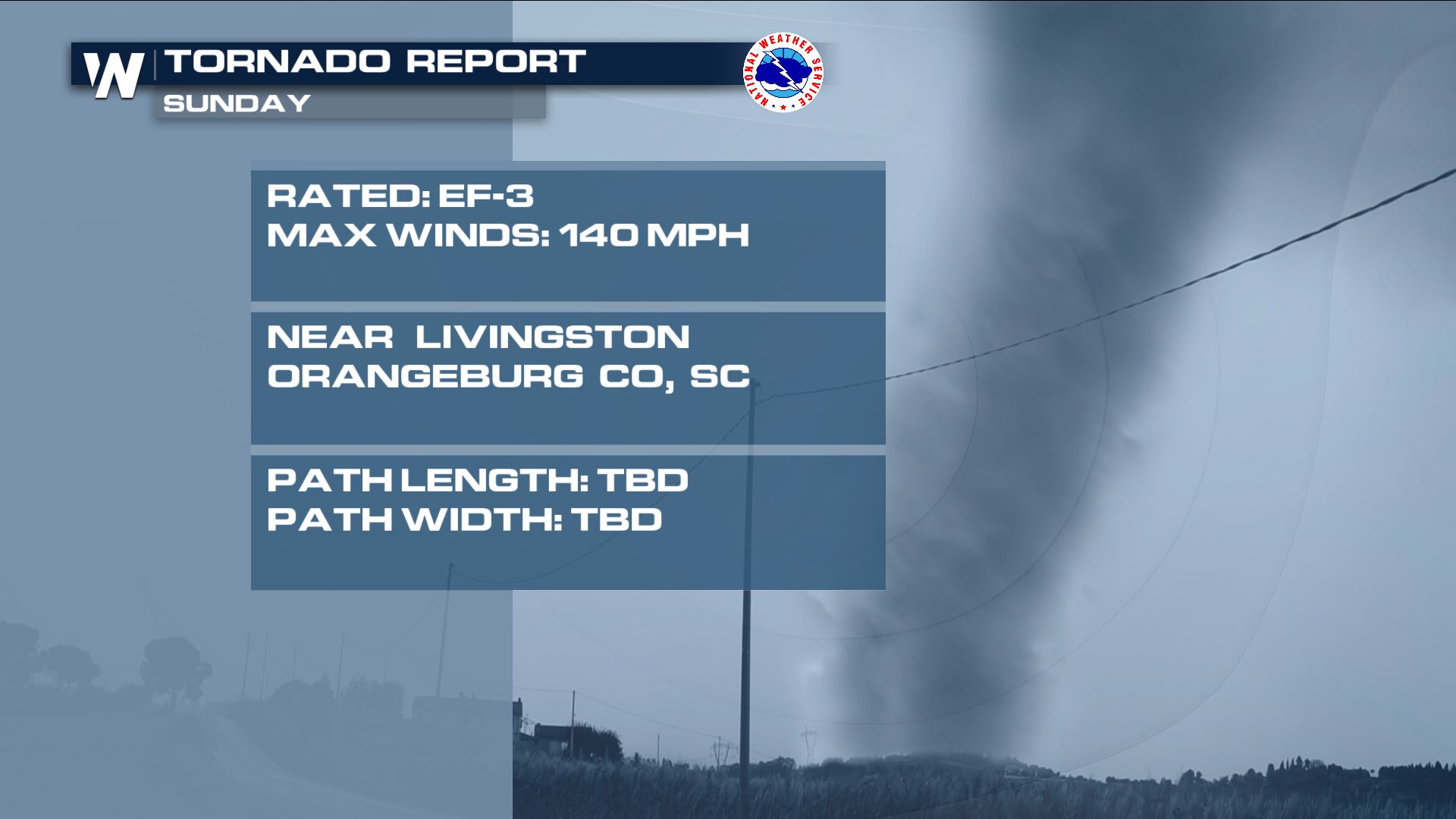 One of those tornadoes was a preliminary EF-3 tornado near Chattanooga, Tennessee that led to two fatalities. The National Weather Service estimated winds up to 145 mph with the nighttime tornado.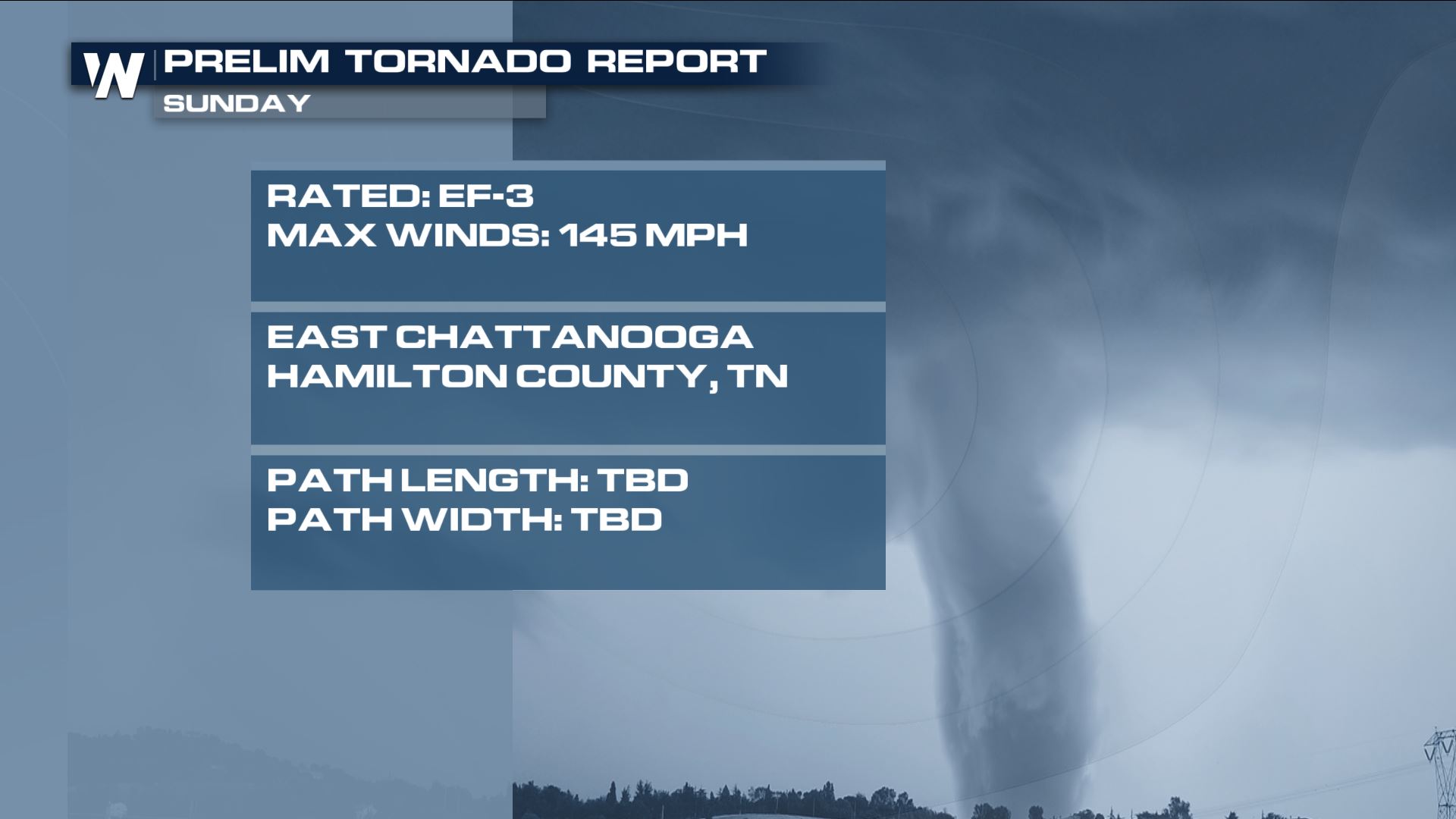 https://twitter.com/ChattFireDept/status/1249582401291943937 And early in the day on Sunday, an EF-3 in Monroe, Louisiana led to considerable damage in city, particularly at the city's regional airport.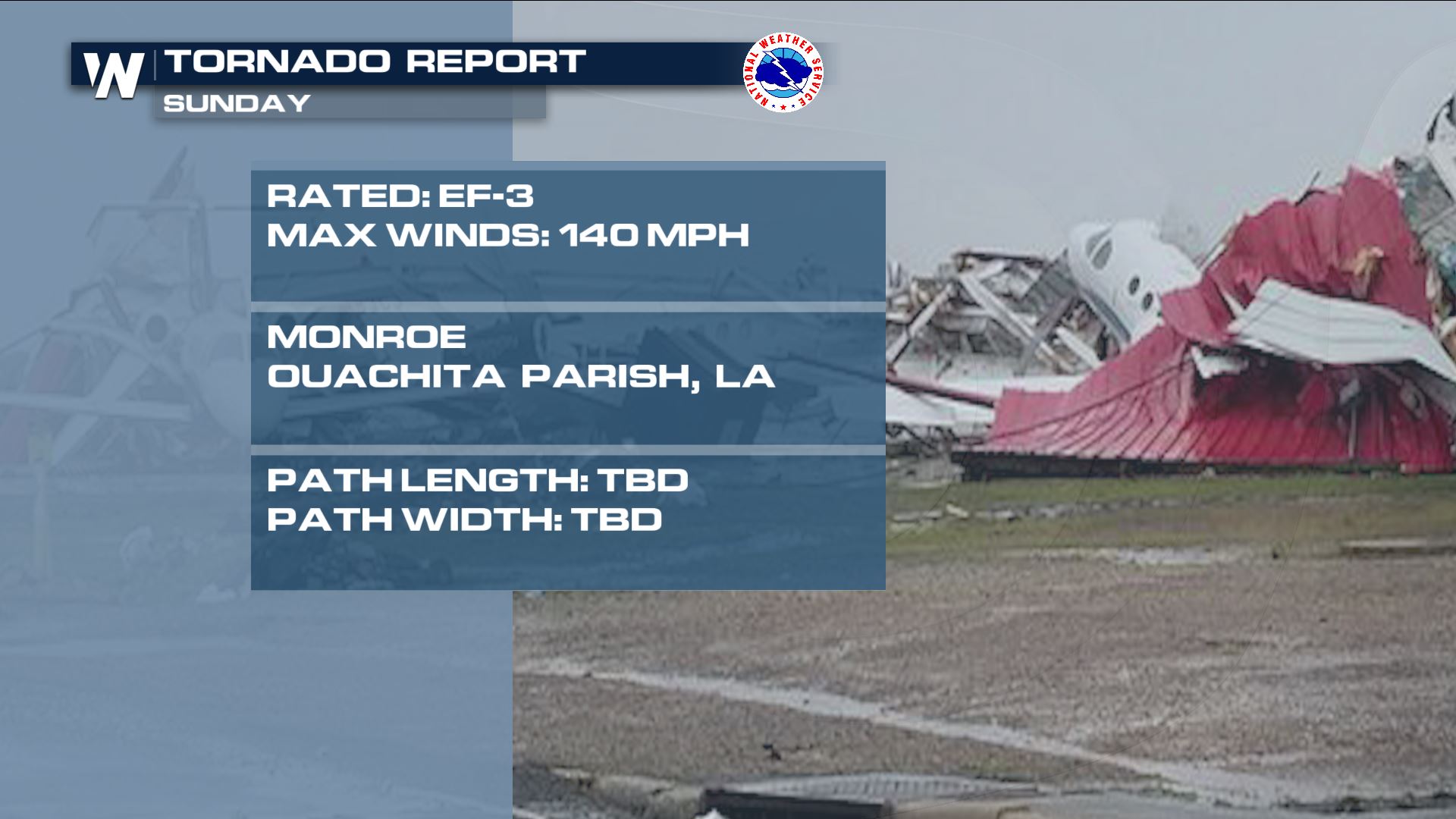 A deadly tornado in southern Mississippi received a preliminary rating of EF-2, as well. https://twitter.com/NWSNewOrleans/status/1249742486437691401?s=20 The National Weather Service office in Birmingham, Alabama confirmed an EF-1 tornado took place on Sunday in Walker County, Alabama as well. https://twitter.com/NWSBirmingham/status/1249743818007576582?s=20 More tornado ratings from the National Weather Service are likely to come in during the day on Monday and through the rest of the week. Easter Sunday brought a long lasting, intense severe threat across the southeast. An abundant supply of moisture to funneled in from the Gulf of Mexico and fueled the rain showers and thunderstorms. The energy needed for the strong storms will continue to move across the southern US into Monday. The severe threat persisted into Monday up the east coast. Early morning tornadoes did damage in the Carolinas. Including the town of Seneca, SC where extensive damage was done to homes. https://www.facebook.com/WeatherNation/videos/vb.129524519873/668980343926916/?type=2&theater Heavy rain will also be in the forecast so make sure to be on the lookout for flooded roadways. Stay safe, and remember to always "Turn around, don't drown." Stay tuned to WeatherNation for the latest updates on the severe threat for the remainder of the week.