Several frontal systems are expected to move across the Plains over the weekend and early next week. Scattered showers and thunderstorms are expected to develop at times along these frontal boundaries and, combined with warm surface temperatures and moderate wind shear, could produce damaging winds, large hail, and isolated tornadoes.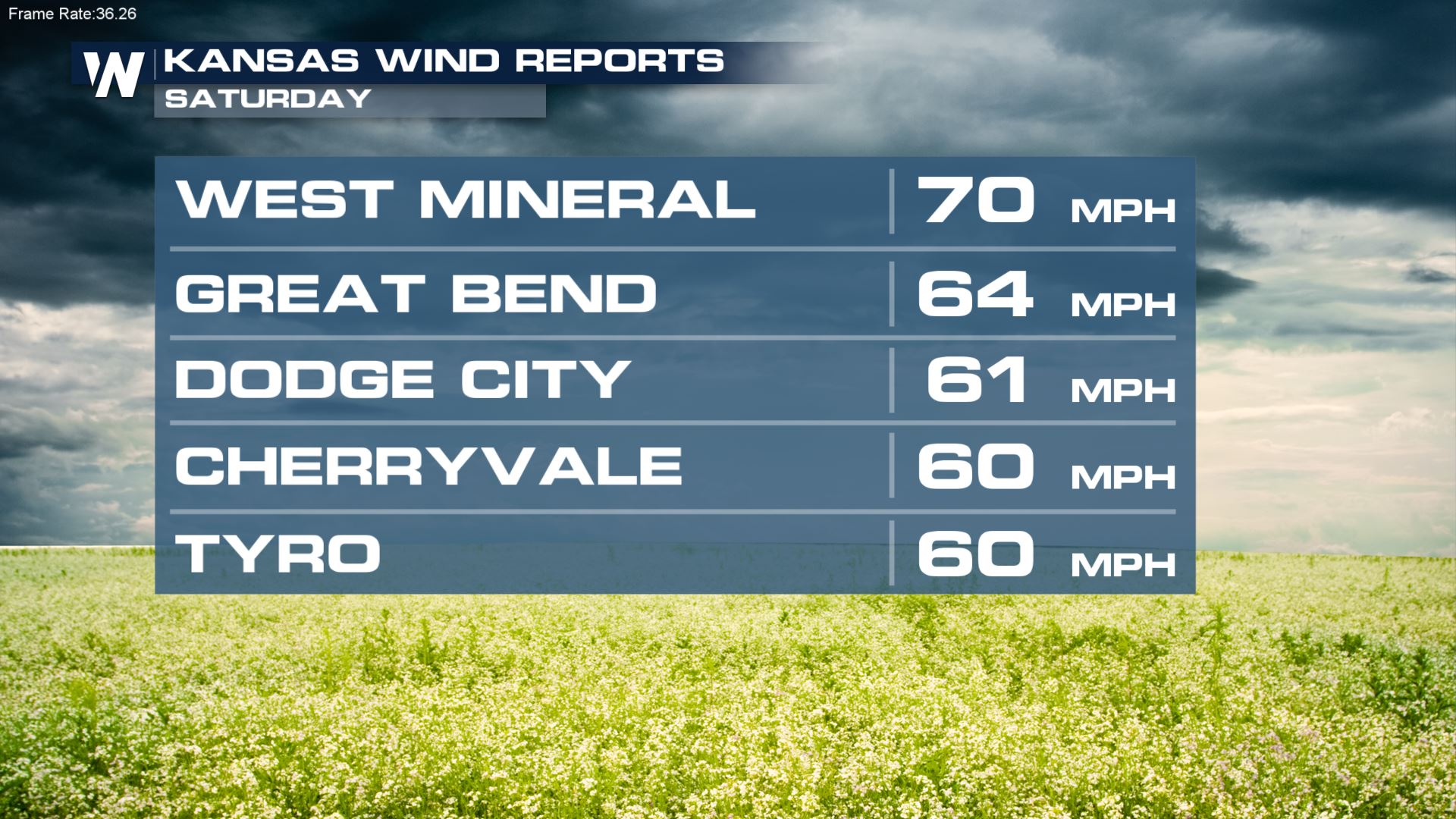 A complex of storms produced damaging wind gusts early Saturday across portions of Kansas and Missouri. Some gusts topped 70 mph.
Saturday
The first of several frontal systems is expected to continue to tap into deep moisture pulled north from the Gulf of Mexico, producing heavy rain across portions of Oklahoma and Missouri, but Northern Arkansas is expected to see the heaviest accumulations into early next week, leading to the potential for flash flooding.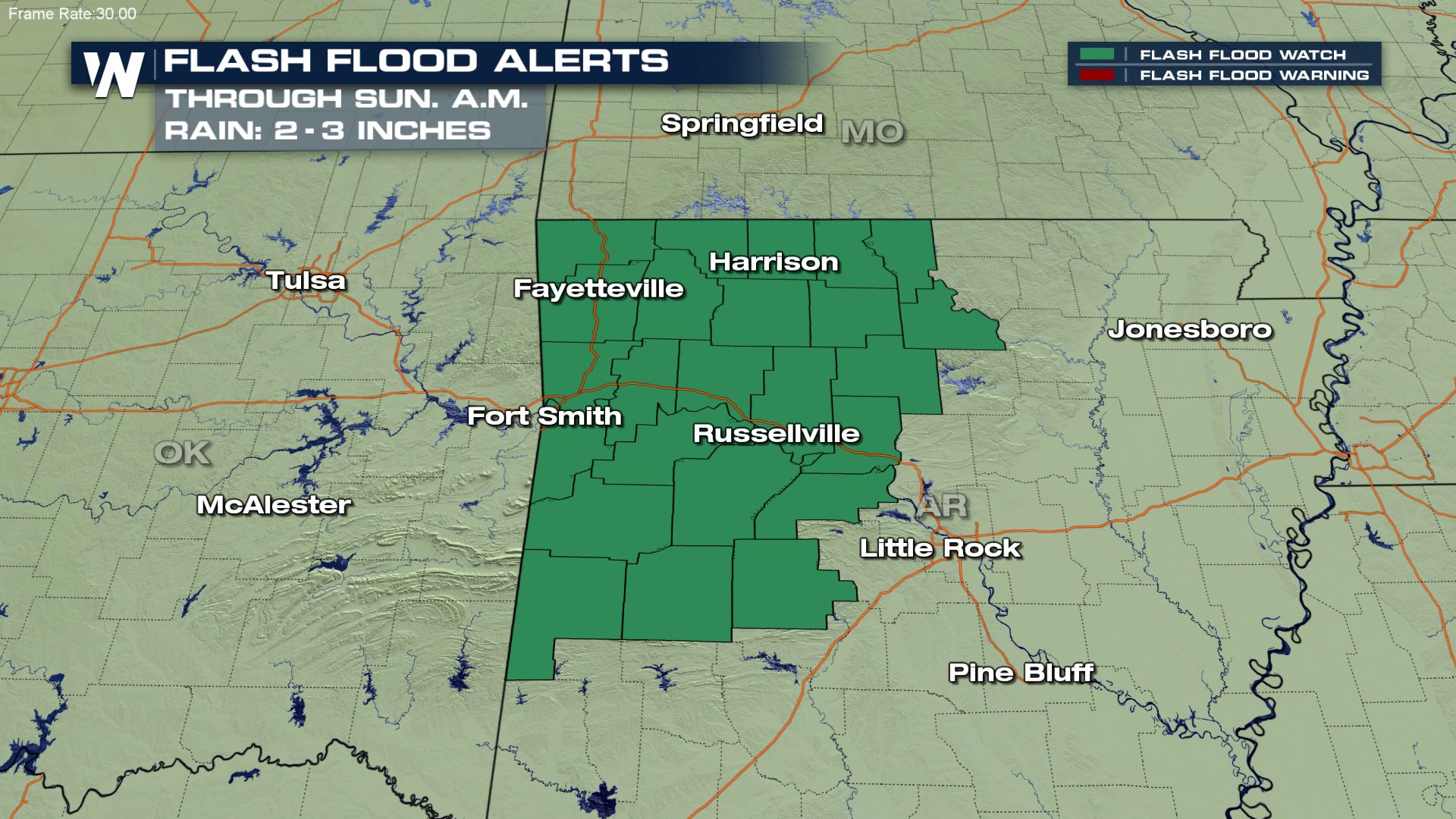 Severe thunderstorms will be possible in the same area, as well as across much of the Southern Plains and east of the Rockies.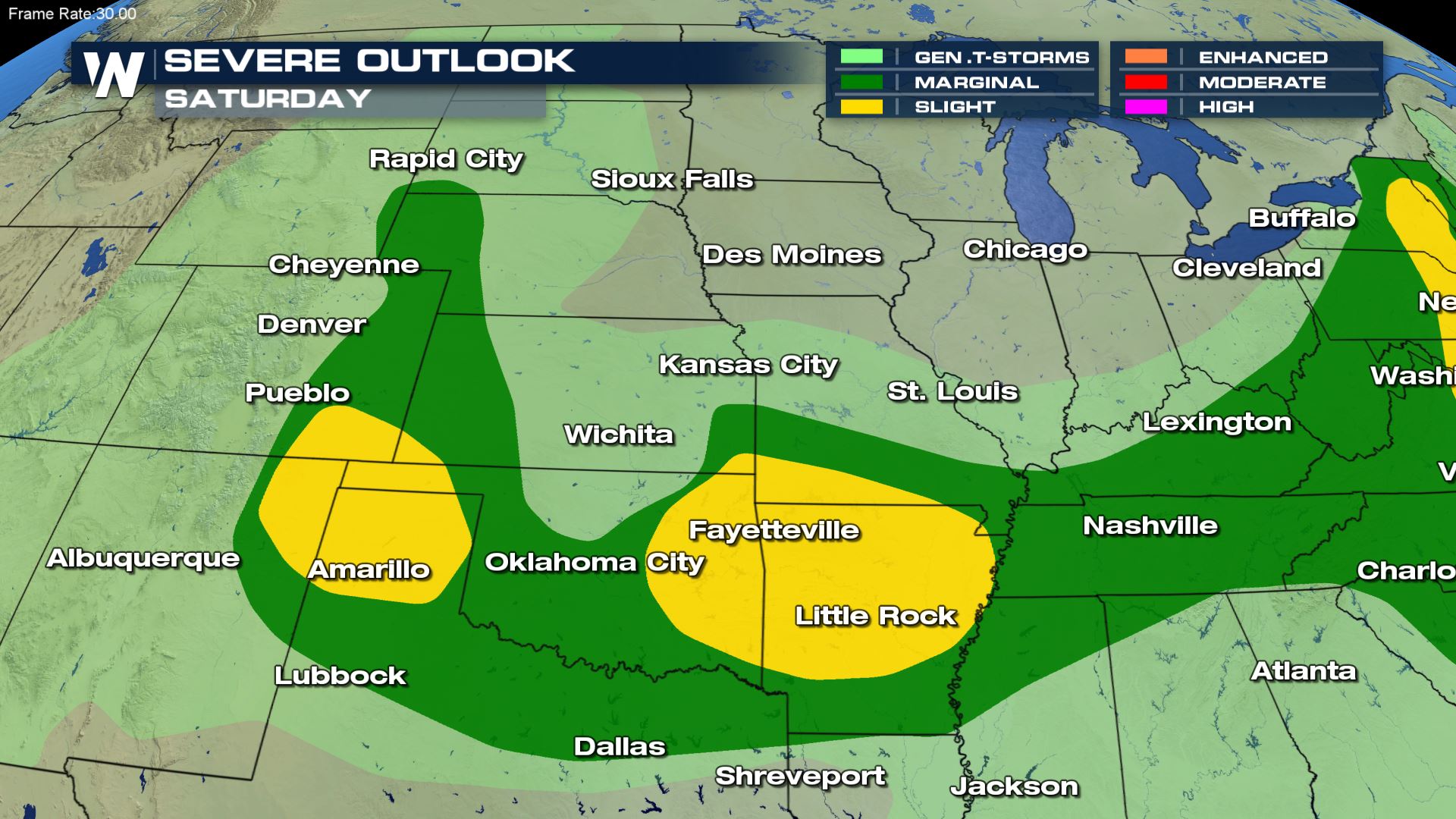 Two areas (in the yellow regions) have a better chance to see severe thunderstorms on Saturday, according to the Storm Prediction Center, with the primary threat being damaging wind gusts and large hail. Isolated tornadoes are also possible, mainly for the regions below in New Mexico, Oklahoma, Missouri, and Arkansas.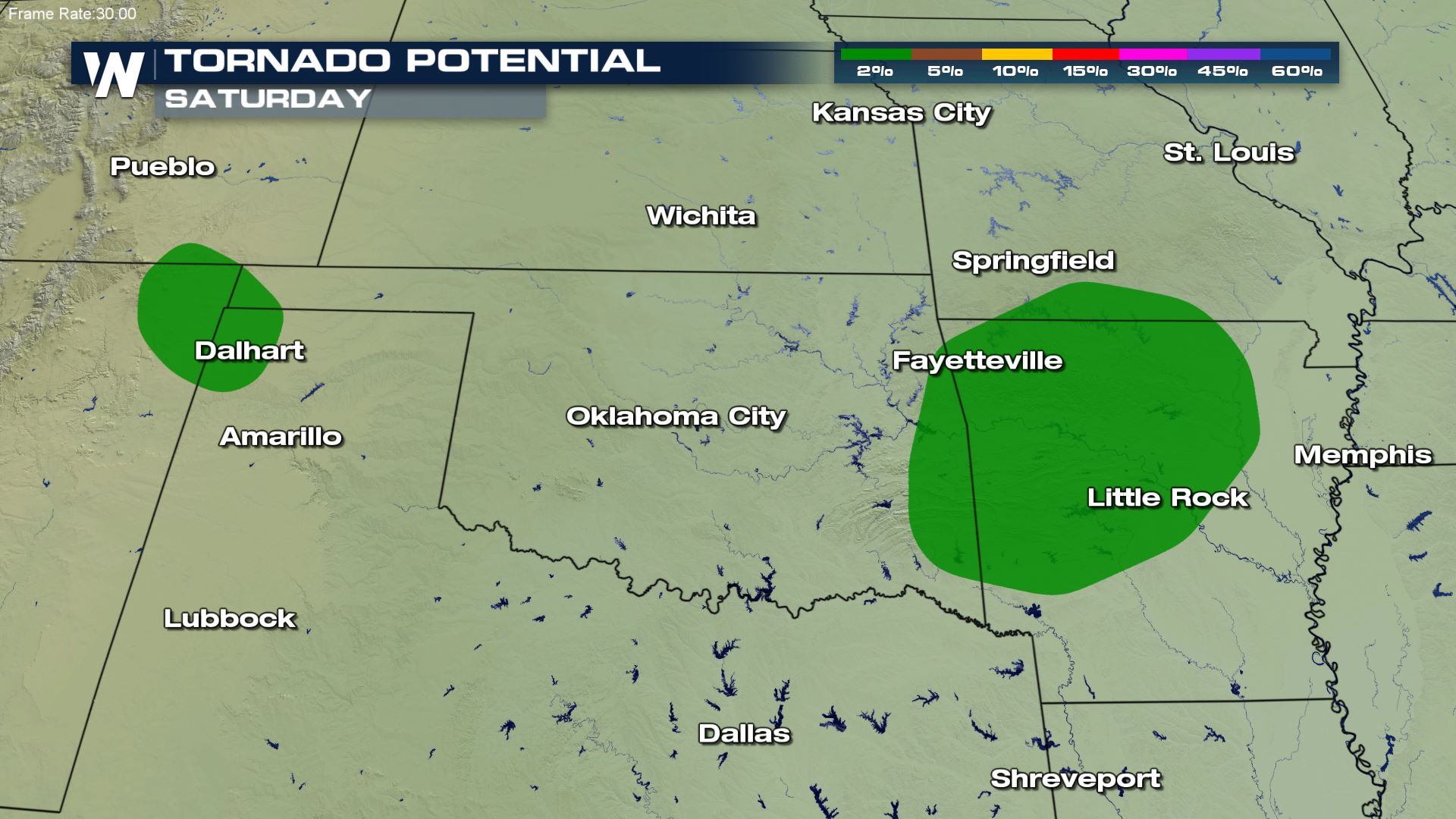 The follow images show simulated radar for the aforementioned region to show the potential timing and extent of thunderstorm coverage. Most locations will experience the greatest threat for severe storms during peak heating hours, but some locations like Arkansas and Oklahoma, will have potential for storms to persist overnight.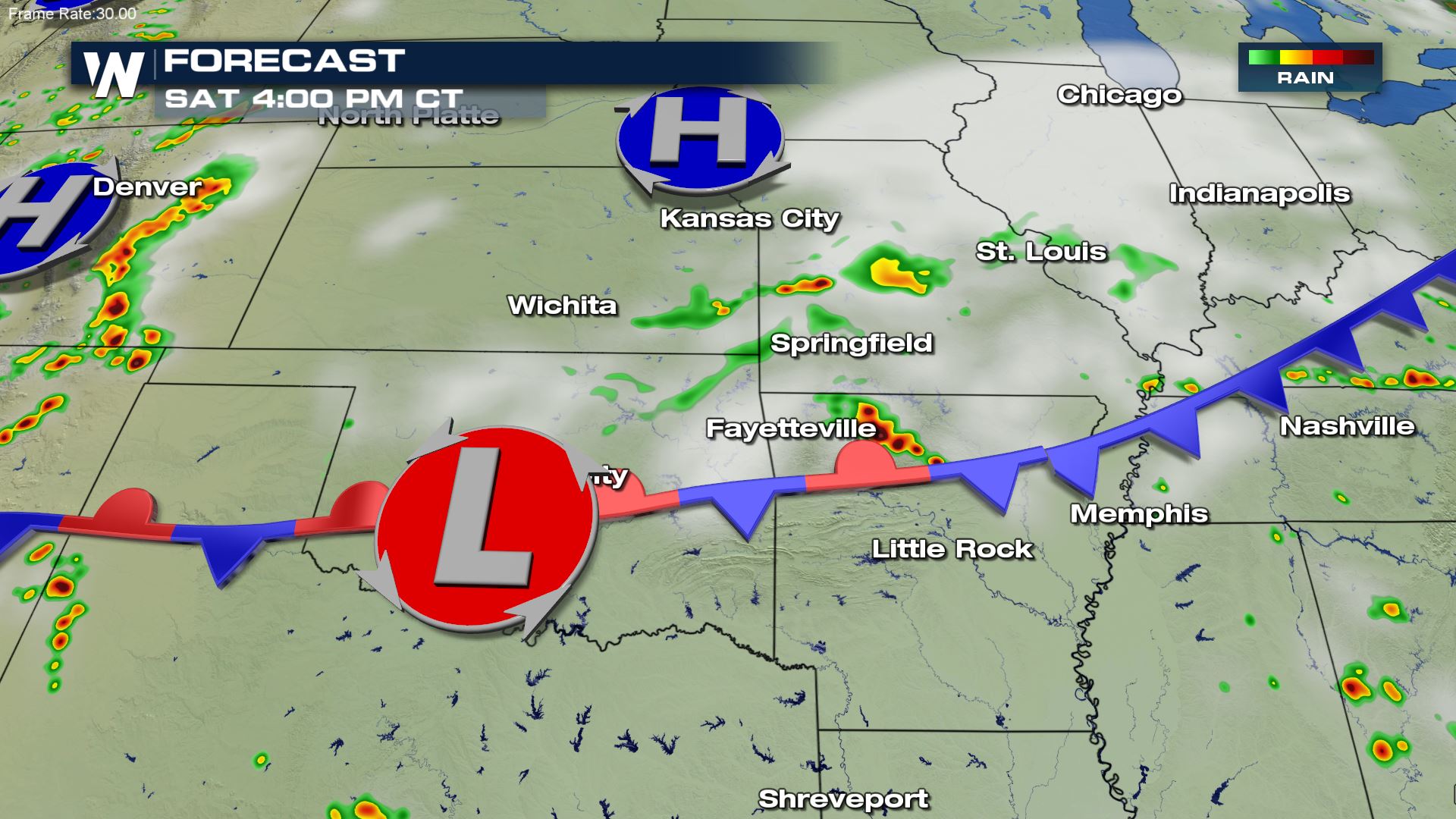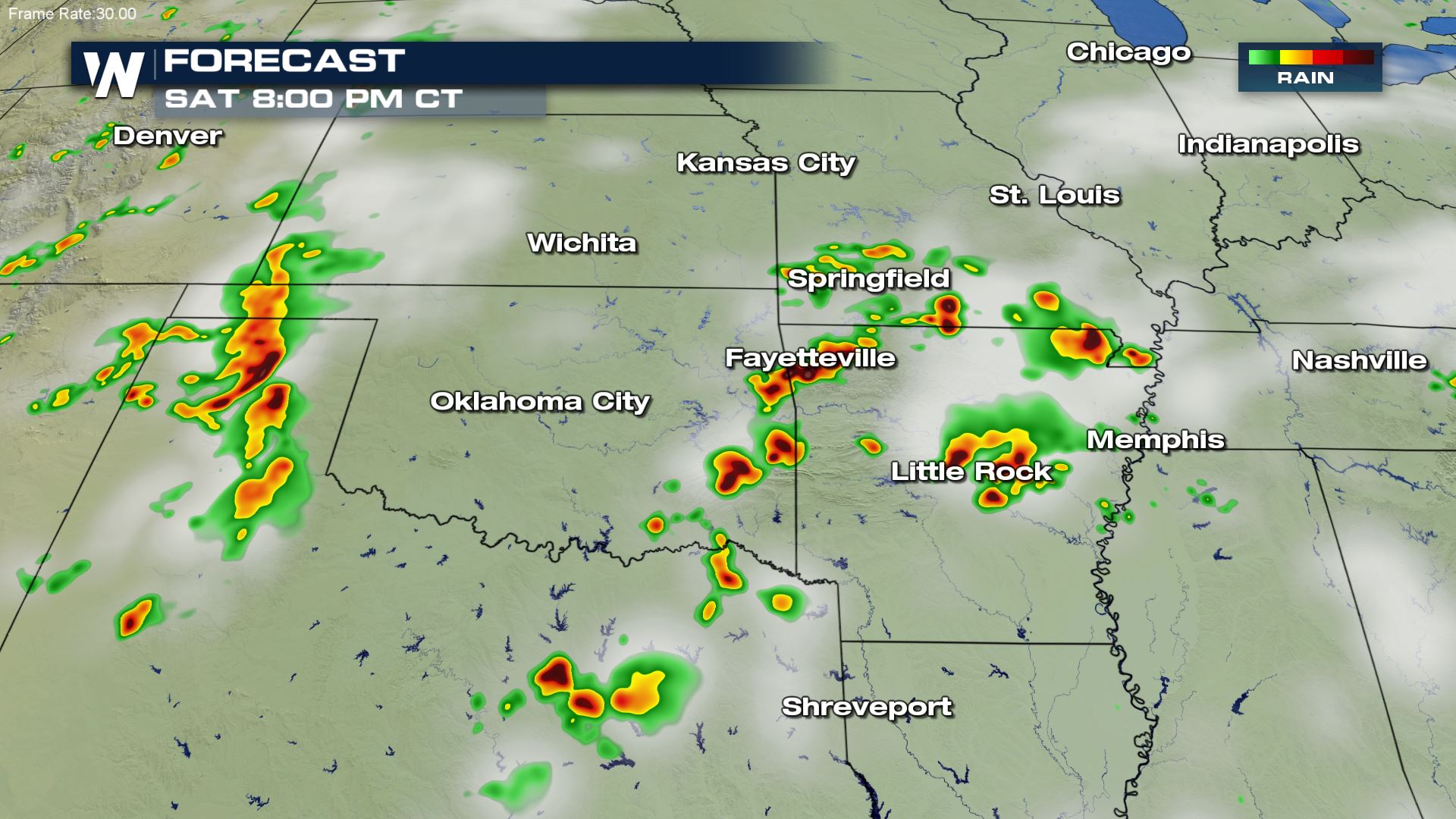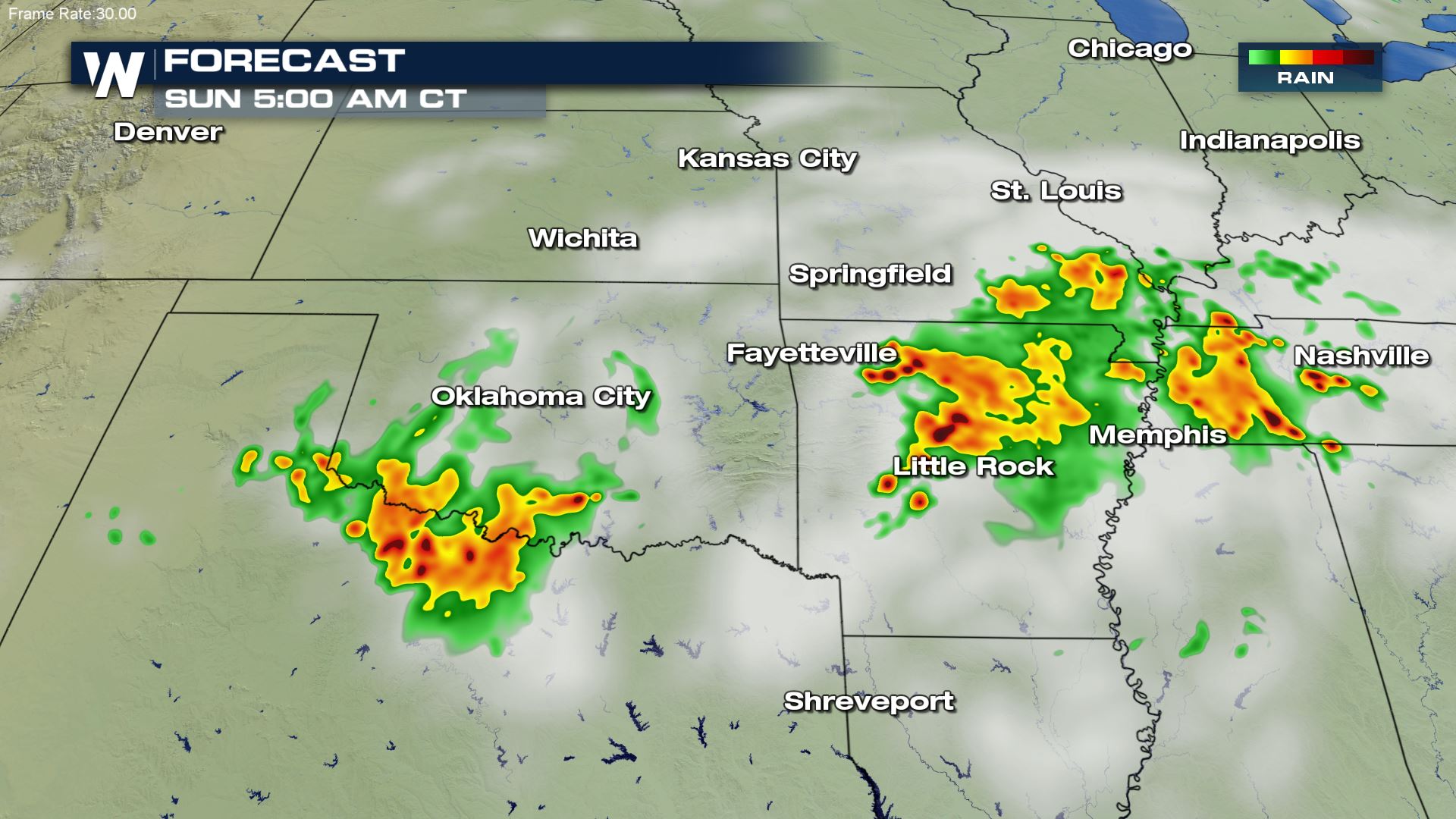 Sunday & Monday
Another cold front moves into the Central and Northern Plains on Sunday while the stationary front draped across the Southern Plains will continue to produce showers and storms near its boundary. A slight risk, category 2 out of 5, has been issued by the Storm Prediction Center for Sunday from Central Kansas into South Dakota. Isolated severe storms are possible for the regions in green.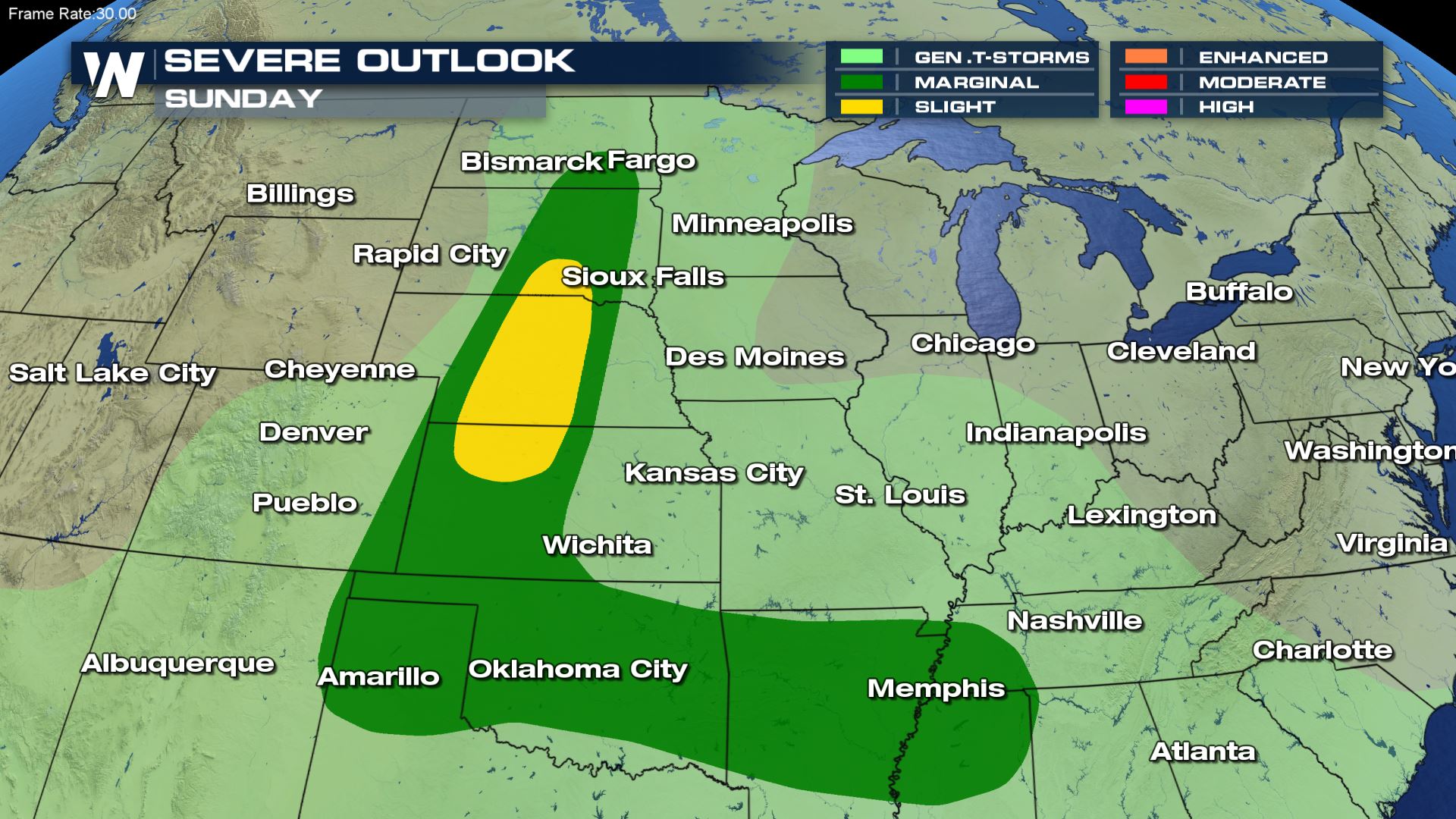 The cold front pushing across the Central and Northern Plains will likely create more numerous storms and potentially stronger thunderstorms by the middle to late afternoon hours, while isolated storms are expected along the stationary front to the south.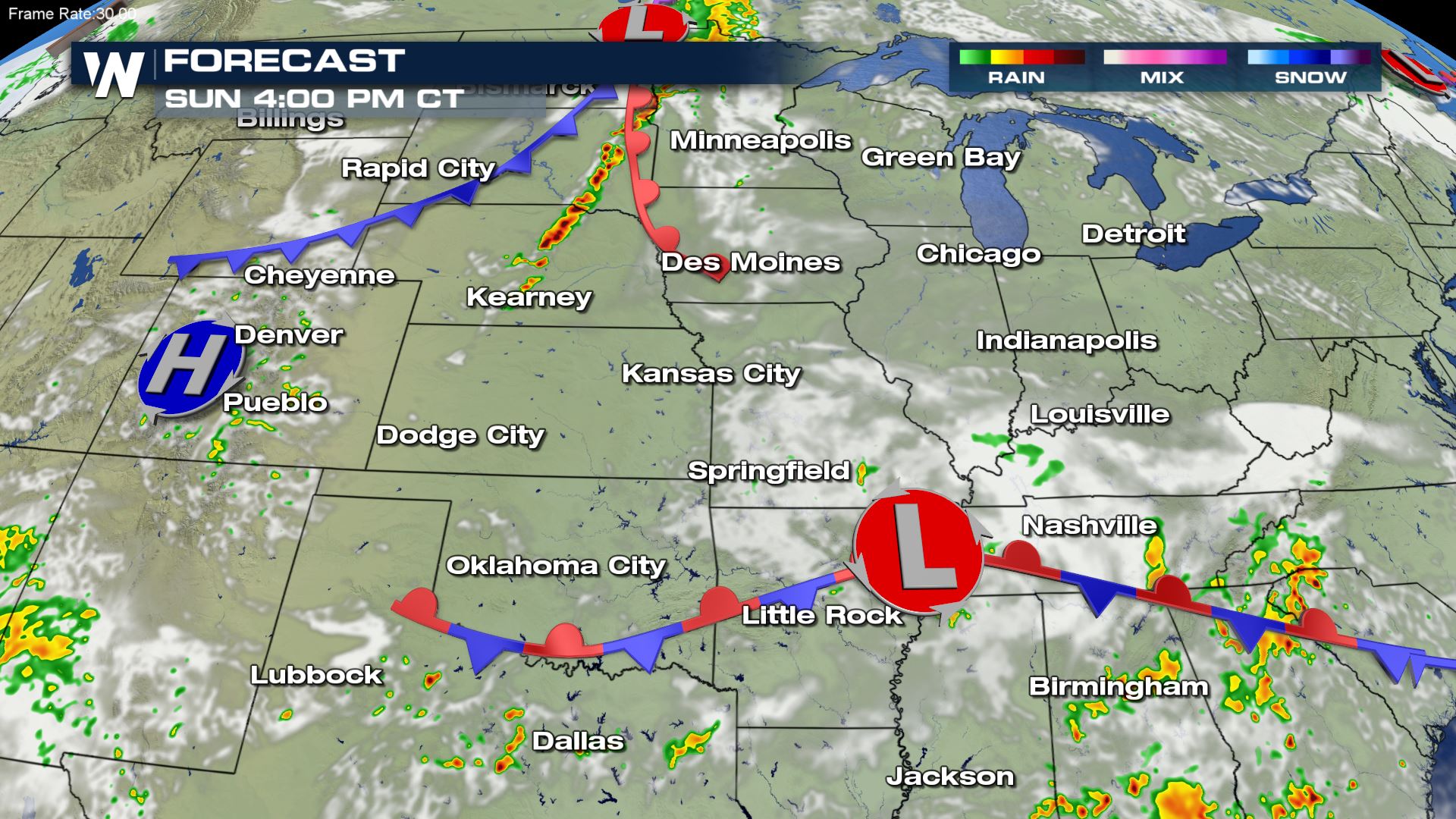 As the new frontal system stalls across the Southern Pains and Deep South on Monday, additional strong to severe storms and heavy rain will be possible for a large area stretching from Southeastern New Mexico to Western Alabama.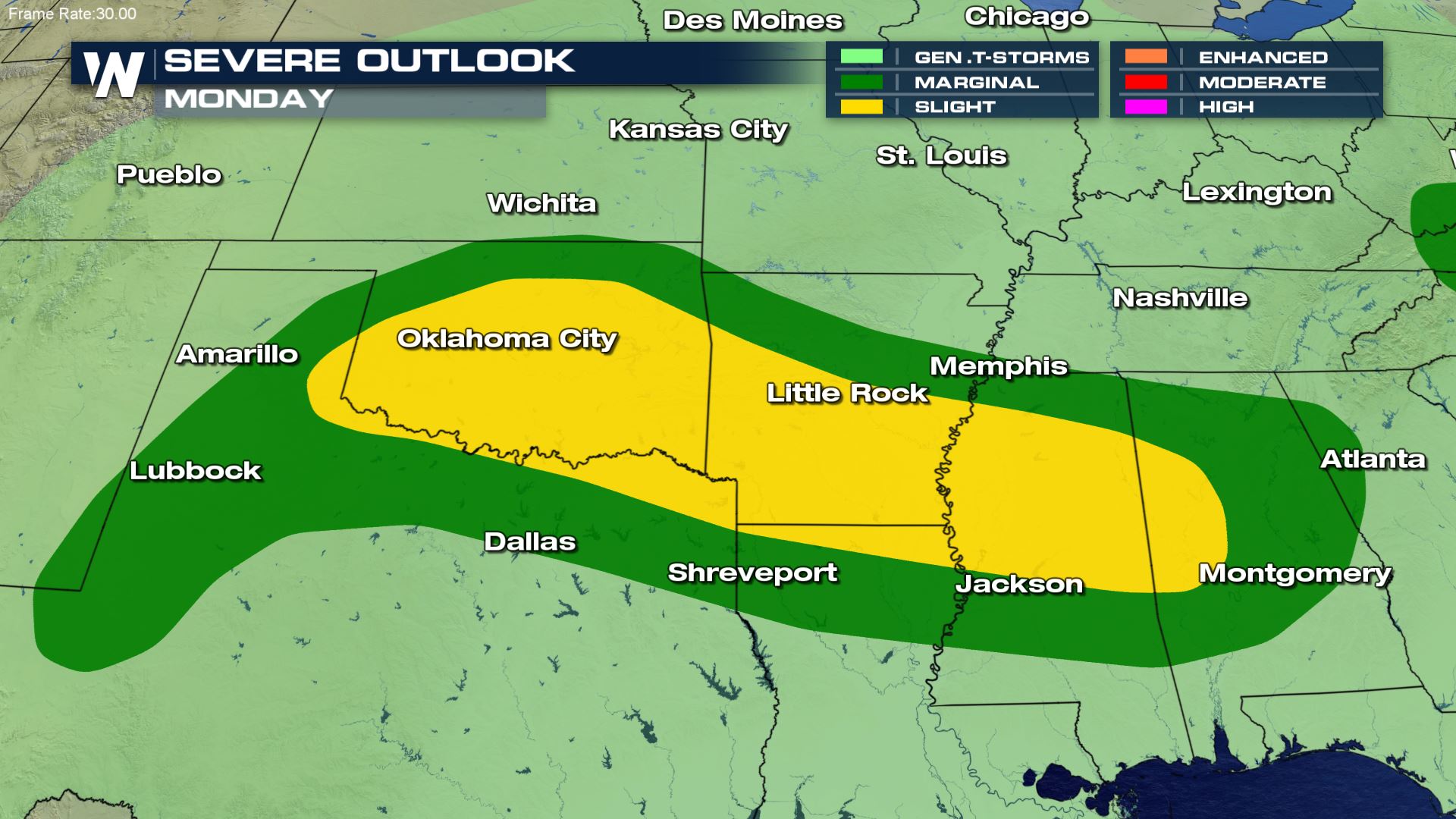 This story will be updated as new data becomes available. Warnings are always scrolling at the bottom of our broadcasts and live streams.