A powerful cold front is pushing through the southeast today.  We have seen numerous Severe Thunderstorm Warnings, along with several Tornado Warnings.  However, the threat for additional severe weather will continue into Sunday morning for many locations.  The Storm Prediction Center in Norman, Oklahoma has issued a Marginal Threat for severe thunderstorms on Sunday.  The dark green shading in the image below illustrates the location of the threat.  Cities include Atlanta, Birmingham, Montgomery, Hattiesburg, New Orleans, Beaumont, Port Arthur, and Houston.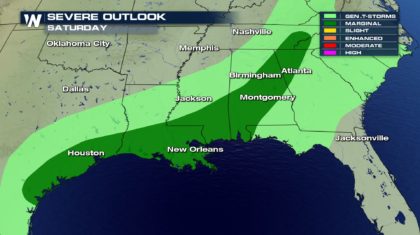 PRIMARY THREATS:
It appears that the primary threat will be straight line wind damage from thunderstorm downdrafts.  Winds could exceed 58 miles per hour, with much higher gusts possible.  Another threat will be the possibility of marginally severe hail, one inch or larger in diameter, near the Texas and Louisiana coasts.  It appears the threat of tornadoes will be relatively low, but can not be totally ruled out.
TIMING:
The strongest storms will be pushing through central Louisiana, central Mississippi, and central Tennessee around 1 am Sunday morning.  Even if severe weather isn't occurring, gusty winds and very heavy rainfall will be possible.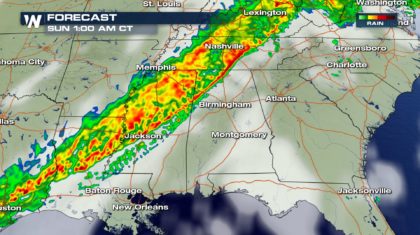 By 4 am, strong to severe storms will be near Birmingham, Alabama.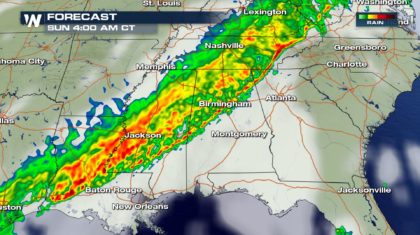 By 7 am, strong to severe storms could be pushing through Atlanta and Montgomery.  Strong storms could also be in the vicinity of Baton Rouge and New Orleans.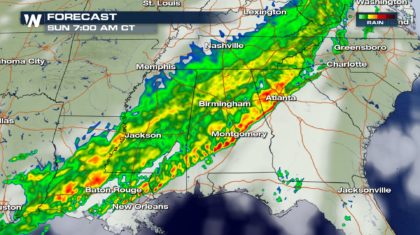 After Sunday morning, the threat of severe weather will greatly diminish, as the system weakens substantially.  Scattered showers will continue Sunday afternoon into Monday morning.  Rain will diminish Monday afternoon, and push out into the Atlantic by Monday evening.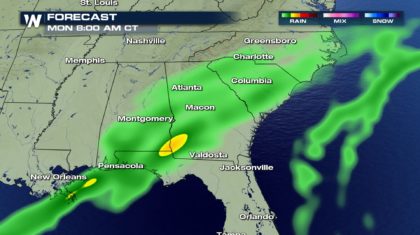 GOOD NEWS... BAD NEWS:
The good news first.  The severe threat on Sunday will be much lower than Saturday.  The number of severe storms should be lower.  And the intensity of any severe storms we do see, should be lower as well.  Now the bad news.  The storms will still pose significant threat to life and property, and should be taken very seriously.  And some of the storms may occur overnight, into early Sunday morning, catching people off-guard.  It could be dark when some of the storms hit, and many people could be asleep.  It's a good idea to have a NOAA weather radio turned on while you sleep tonight.  Make sure the batteries are fresh, and it's properly programmed to pick up any warnings that may occur in your county, and nearby counties.  If severe weather happens while you're sleeping, a NOAA weather radio could very well save your life.  Everyone in the path of this storm system needs to stay weather aware until the threat passes. For WeatherNation:  Meteorologist Matt Monroe