https://www.youtube.com/watch?v=1ktZG58LsHQ&feature=youtu.be As heavy snow fell on Febuary 28, the Department of Water Resources (DWR) conducted its third Phillips Station snow survey of 2019. The survey measures the current snowpack in one location to get a better picture of the Sierra Nevada's water content as a whole. For the final recording of February, Phillips Station hit 113 inches of snow depth and a snow water equivalent (SWE) of 43.5 inches. This is more than
double what was recorded last month at this location!
Compared to last year, when in the snow depth was only 13.5 inches and the SWE was just 1.5 inches. Multiple atmospheric river enhanced storms helped boost numbers in a big way. As of March 1, the statewide Sierra snowpack sits at 153% of normal.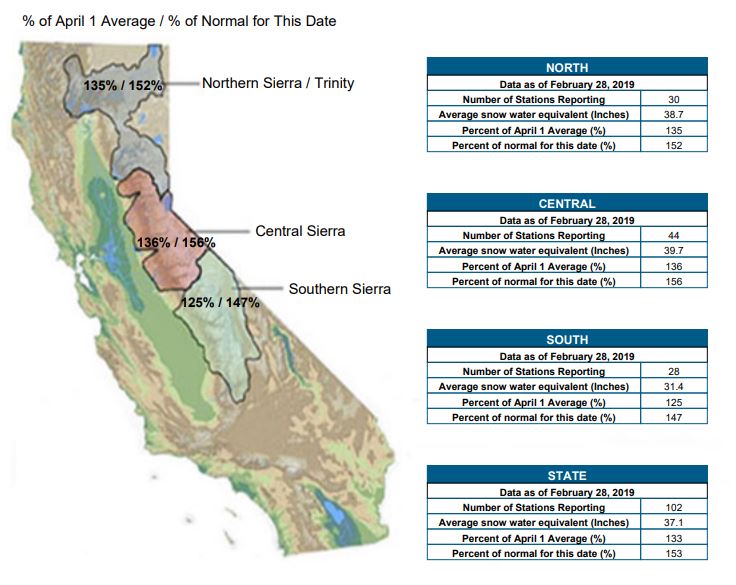 Current Regional Snowpack from Automated Snow Sensors Source:
CA DWR
SWE is extremely important for drinking water and drought considerations. It is defined as the "depth of water that theoretically would result if the entire snowpack melted instantaneously." "This winter's snowpack gets better each month and it looks like California storms aren't done giving yet," said DWR Director Karla Nemeth. "This is shaping up to be an excellent water year."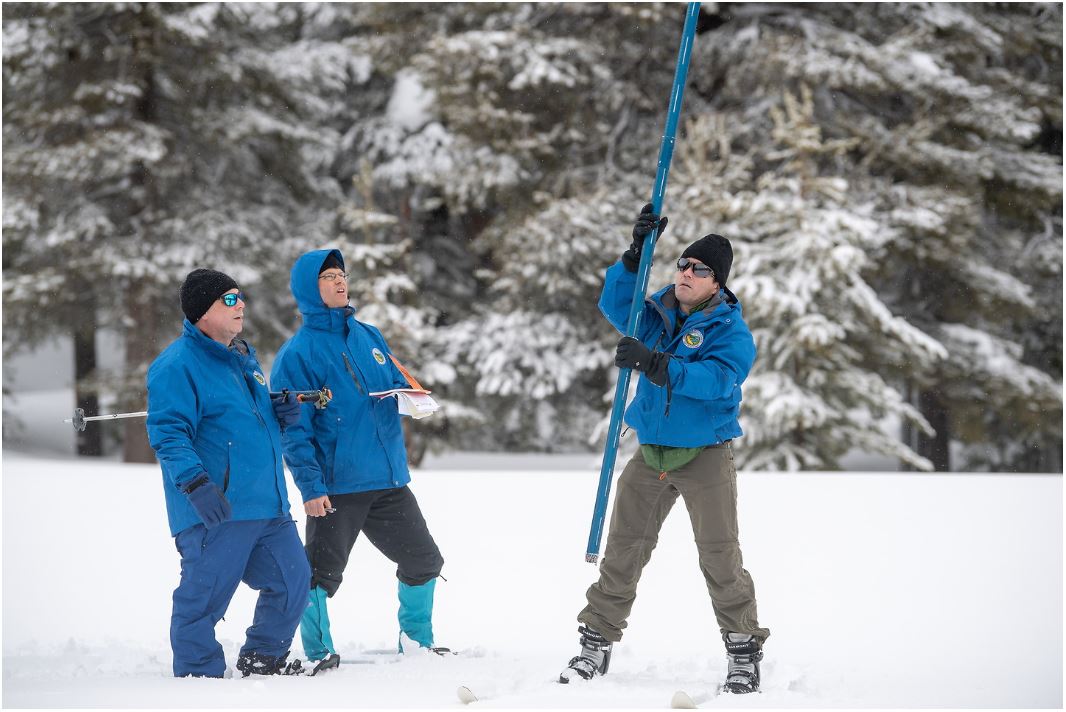 As of Valentine's Day, El Nino conditions were confirmed by NOAA and the NWS in the Northern Hemisphere. Climatologically, this usually means higher than average precipitation for March and April in California. "Along with the water supply benefits of the heavy rain and snow, there is also increased flood risk," said John Paasch, DWR Chief of Flood Operations. "We've activated the Flood Operations Center, a joint effort between DWR and the National Weather Service, to closely monitor weather, reservoir, river, and flood conditions. Our goal is to share timely and accurate information about changing conditions to help people and communities respond to flood events and stay safe." According to the California Department of Water Resources, the state's six largest reservoirs currently hold between 84 percent (Oroville) and 137 percent (Melones) of their historical averages for this date. Lake Shasta, California's largest surface reservoir, is 112 percent of its historical average. For WeatherNation, I'm Meteorologist Karissa Klos. Source:
CA DWR