Tis the season for severe weather in the southeastern part of the country, and it appears the next threat will arrive on Friday.  The Storm Prediction Center in Norman Oklahoma has issued their severe thunderstorm outlook for Friday.  There will be a "Marginal Risk" in the green shaded area in the diagram below.  Oklahoma City, Little Rock, Jackson, Alexandria, and Austin are included in this area.  A Marginal Risk means there is a five percent chance of severe thunderstorms anywhere in the risk area.  The yellow shaded area will be under a "Slight Risk".  There will be a fifteen percent chance of severe thunderstorms in this area.  Dallas, Waco, Lufkin, and Shreveport are currently included in the Slight Risk area.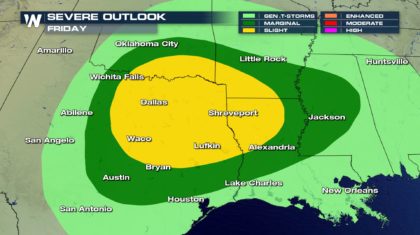 SET-UP:
There will be a cold front coming through the region on Friday.  This cold front will encounter an energetic atmosphere in the risk area.  Warm and relatively humid air will be rising.  Moisture will be surging northward out of the Gulf of Mexico.  The unstable air will need very little additional energy to produce strong to severe thunderstorms.  The cold front will essentially provide the spark needed to ignite the storms.  Storm development should remain along and behind the southward advancing cold front.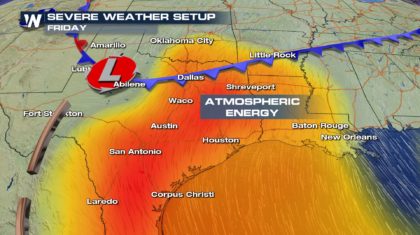 THREATS AND TIMING: 
The primary threats with any severe storms that form will be large hail, and damaging straight line winds, over 58 miles per hour.  While a few isolated tornadoes will be possible, the threat will remain very low with this system. Things should begin to explode during the early afternoon hours on Friday.  Showers and storms should start to fire first from central Oklahoma, into southern Missouri and northern Arkansas.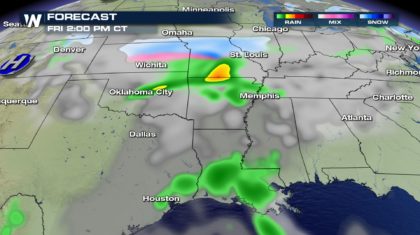 By the early evening, a strong line of storms could form from Dallas, through Little Rock, into western Tennessee.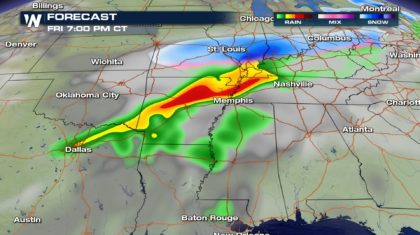 In the late evening, the line of showers and storms could stretch from eastern Texas, across the Arkansas/Louisiana boarder, into northern Mississippi.  If the system maintains its strength, severe weather could be an overnight event for towns like Jackson, Mississippi.  Aside from severe storms, very heavy rain will also be possible in many locations.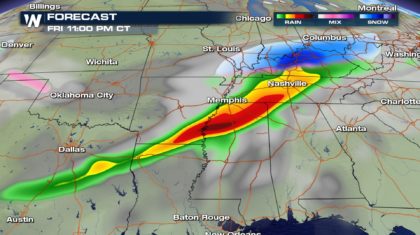 GOOD NEWS:
The system is a fast mover.  Dallas will see showers and storms on Friday, and then get back to sunshine for the weekend.  But notice the cooler temps on Saturday.  22 degrees cooler than Friday!  That's why it's called a cold front!  Temps will rebound quickly though.  Low to mid 70's return on Sunday.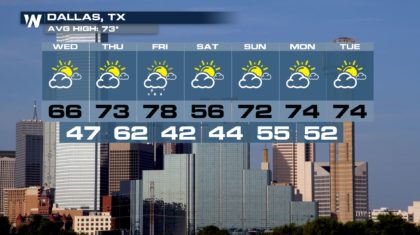 For all the latest weather information, including the potential severe weather event on Friday, stay tuned to WeatherNation TV on Dish, Direct, Roku, or Amazon Fire TV. For WeatherNation:  Meteorologist Matt Monroe