[
NOAA
] On Halloween night, Jamie and Donnie Munson were settled into their double-wide mobile home for the night in Trout, LA. Little did they know, their lives were about to change forever. Just after 8:00 p.m. CDT, a Tornado Watch was issued until 4:00 a.m. CDT for their area . Although recent trends were showing that the tornado threat was diminishing and a line of severe thunderstorms to the west had weakened, Senior Meteorologist, Jason Hansford, was closely watching a tornado warned discrete cell that had developed in front of the line in Rapides Parish, located in WFO Lake Charles's county warning area. As the storm neared WFO Shreveport's area, it continued to demonstrate strong rotation and even a debris ball on the Fort Polk, LA radar, prompting Jason to issue a Tornado Warning at 11:51 p.m.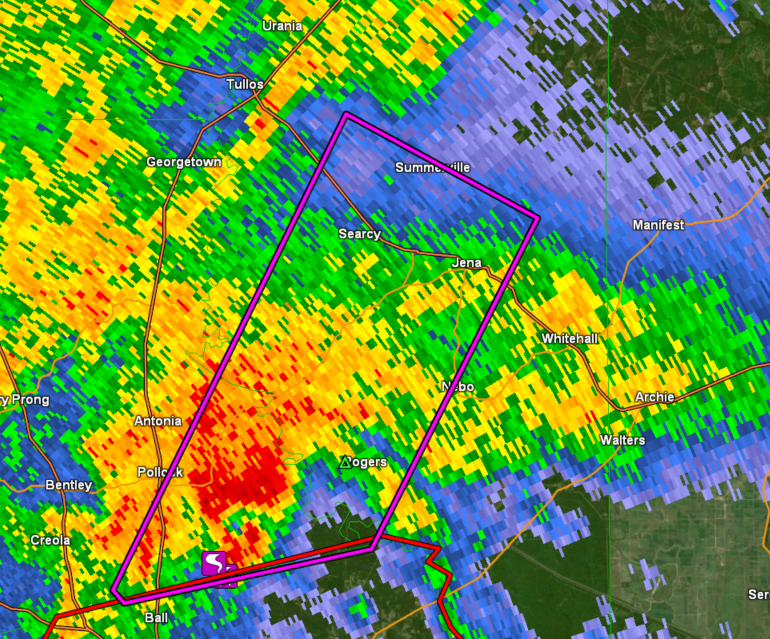 [
Ft. Polk, LA radar base reflectivity image of the tornado-warned storm as it crossed Grant Parish into LaSalle Parish.
] When the warning was issued, Jamie's mobile phone instantly alerted her of the warning, springing her into action. Jamie saw the storm was moving through Pineville and knew that given its northeast motion this would put the storm on a path very close to their location. Jamie saw a post about the tornado threat from LaSalle Parish Emergency Manager, Scott Franklin, on social media and knew this threat was very real, prompting her and her husband to leave their home and quickly move to the house of a family member nearby. About 10 minutes later, an EF-2 tornado ripped through Trout, LA. Jamie and Donnie stayed the night with family and awoke to the sight of their mobile home flipped over and thrown, completely destroyed with all of their life's possessions lying in rubble. All that remained were the stairs to their home, now leading to an empty foundation. It was their quick action after getting the Wireless Emergency Alert (WEA) that likely saved their lives and while they lost nearly all of their possessions, they are thankful to still be alive today.

[
The remnants of the Munson's mobile home. Photo credit Charlie Woodrum via NOAA
] "Weather technology and the alert system has come a long way. We are getting the alerts in time to be able to relay to our people in plenty of time to save lives. The alerts on the storm saved at least 20 lives that I know of in LaSalle Parish. You can't put a price tag on that." said Franklin. https://www.youtube.com/watch?v=DN3K7ObPZwg The Wireless Emergency Alerts system is an essential part of America's emergency preparedness. Since its launch in 2012, the WEA system been used more than 40,000 times to warn the public about dangerous weather, missing children, and other critical situations – all through alerts on compatible cell phones and other mobile devices. Edited for WeatherNation by Meteorologist Mace Michaels