First of all, let's begin by recognizing that it's now officially summer, and we expect the heat to arrive.  All we're doing here is pointing out the hot spots so you can prepare to beat the heat and stay cool.  Some of the heat is extreme, and the weather set-up is calling for more heat across the country over the next several days.  High pressure is over the southwest, and that's pumping in very hot air from the south.  This heat is getting pushed eastward across Texas, and even into the southeast.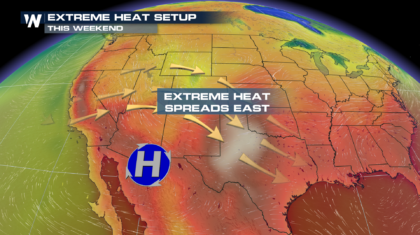 Heat Advisories are in effect though Sunday for northern and central California.  Excessive Heat Warnings were in effect on Saturday for the Mohave Desert including Las Vegas and parts of northwestern Arizona.  These warnings could be issued again on Sunday.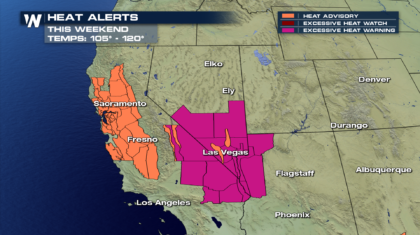 Checking out high temps on Saturday, Las Vegas is expected to reach 109 degrees.  It won't be much cooler across the region on Sunday.  Las Vegas will still be scorching at 104!  So it's quite possible heat warnings could be issued again.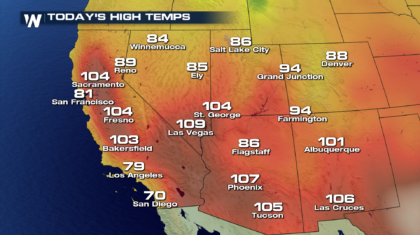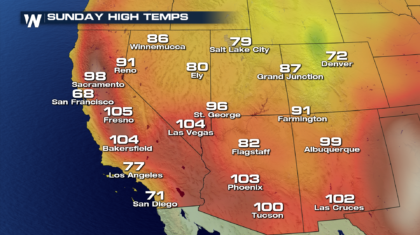 Saturday has been red hot across Texas and New Mexico.  Heat advisories are in effect for portions of both states through Saturday evening.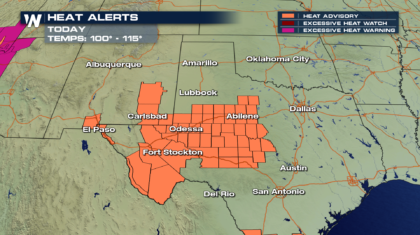 Triple digit heat can be found in towns like Albuquerque, El Paso, and San Angelo.  And similar conditions will be back on Sunday.  So we could see more Heat Advisories issued for Sunday in this part of the country too.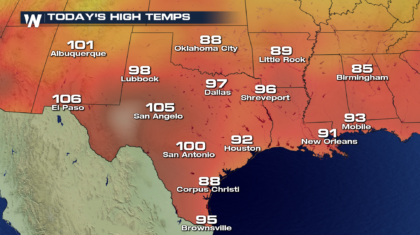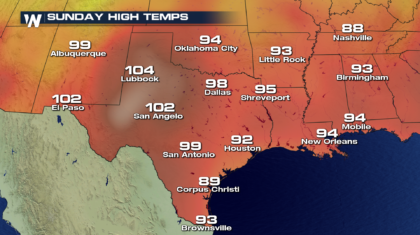 And the heat has been brutal in the southeast.  Heat Advisories were in effect on Saturday, and have already been re-issued along the east coast for Sunday.  Parts of North Carolina, South Carolina, Georgia, and Florida are all included.  Heat Index values will make it feel like 105 to 109 degrees during the afternoon and early evening hours on Sunday.  Highs in Charleston are expected to reach 97, and that's without the humidity factored in!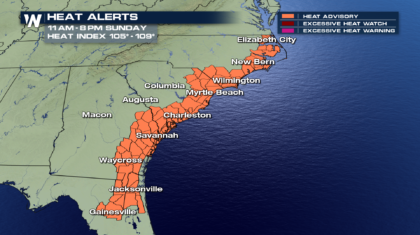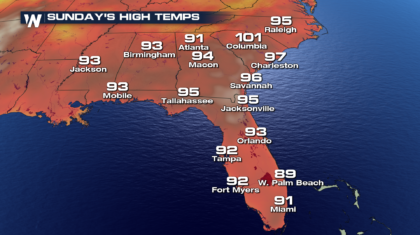 Under such hot and conditions, it's important to stay safe.  The tweet below is from the National Weather Service in Charleston.  It offers some GREAT information.  People in this part of the country deal with summer heat and humidity every year.  But everybody can use a friendly reminder on what to do.  Those tips can save your life! https://twitter.com/NWSCharlestonSC/status/1009817088461025282 The National Weather Service in Charleston also tweeted out how to recognize the difference between Heat Exhaustion and Heat Stoke.  Tips are offered on what to do in the case of Heat Exhaustion.  But if Heat Stroke is suspected, CALL 9-1-1 Immediately, and take action to cool the person until help arrives. https://twitter.com/NWSCharlestonSC/status/1009957084572643328 Here's another word of caution... Young children and pets should NEVER be left unattended in vehicles under any circumstances.  This is especially true during hot weather when car interiors can reach lethal temperatures in a matter of minutes. We are just getting started with what could turn out to be a very long hot summer.  So stay cool and hang in there.  Autumn will be here before you know it. For WeatherNation:  Meteorologist Matt Monroe