[
Dock debris in Chatham County, GA, left in the wake of Hurricane Irma. (Photo credit: Georgia Department of Natural Resources)
] [
NOAA
]  The NOAA Marine Debris Program's Southeast region, which spans Georgia, South Carolina, and North Carolina, includes gorgeous sand beaches, expansive meandering marshlands, diverse wildlife, significant history, and lots of southern charm. While sweet tea, hospitality, downhome sayings, and "y'all" are signatures of the south, so too are the issues with marine debris. Y'all, the struggle is real and it's a sight for sore eyes!
Fortunately, our partners in the Southeast are leading the way on tackling marine debris through action planning, prevention projects, and helping communities recover from hurricanes and natural disasters.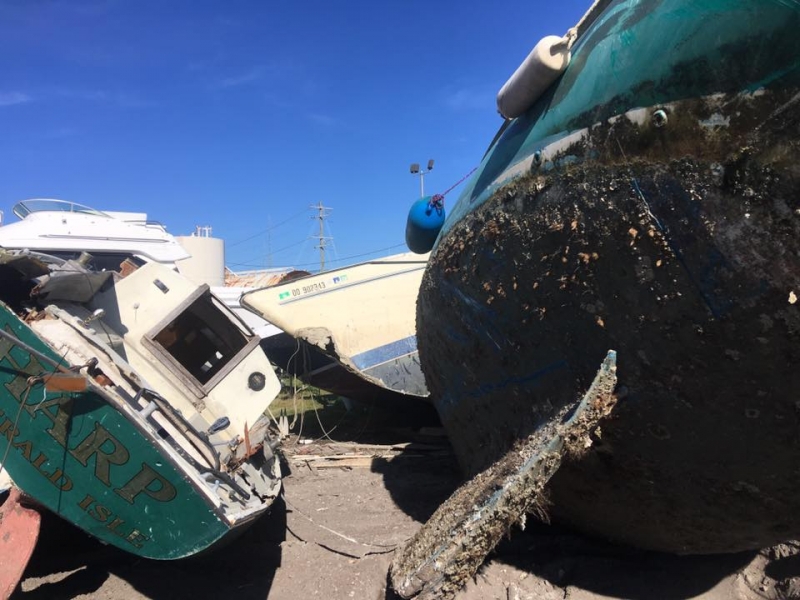 [Removing abandoned vessels like these protects wildlife, water quality, and habitat. (Photo credit: Town of Beaufort)]
With the support of a NOAA Marine Debris Program Removal Grant, the Town of Beaufort, NC has teamed up with N.C. Coastal Reserve and National Estuarine Research Reserve and Atlantic Coast Marine Group to remove abandoned vessels, derelict fishing gear, and other medium and large debris items. The BoatUS Foundation is also developing a professional documentary video to showcase the project and debris removal efforts in Beaufort Harbor. Removing these items from the local environment protects wildlife, water quality, as well as access to recreation in Town of Beaufort and Rachel Carson Reserve waters.
The University of North Carolina Wilmington (UNCW) MarineQuest, with the support of a NOAA Marine Debris Prevention Grant, is educating youth in southeastern North Carolina about the impacts of marine debris on sea turtles through their program, Turtle Trash Collectors (2TC). During 2TC programs, youth will participate in a hands-on simulation of a sea turtle necropsy, or animal dissection, and learn that marine debris can have major impacts on sea turtles, even causing death.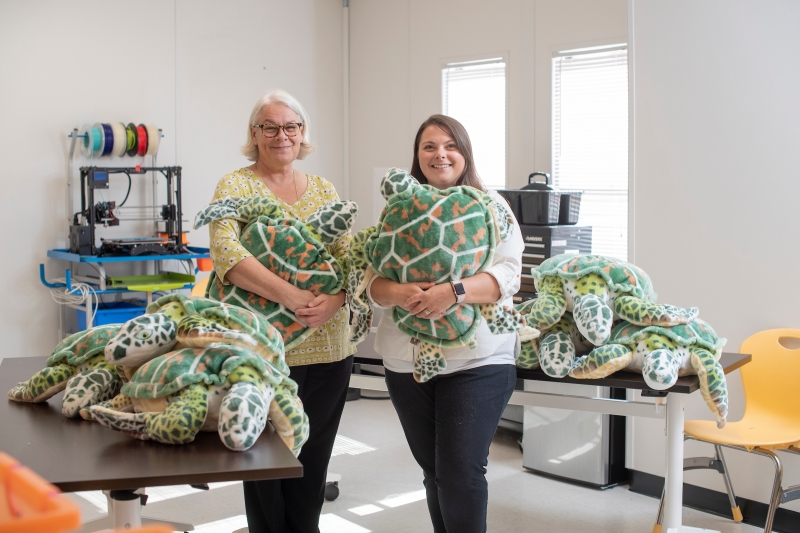 [Creators of the Turtle Trash Collector program, Sue Kezios and Laura Sirak-Schaeffer, pose with the stuffed turtles they adapted for classroom simulated dissections. (Photo credit: University of North Carolina MarineQuest)]
As we head into hurricane season, we look back at the impacts on the Southeast from the 2017 season. Hurricanes Irma left parts of Georgia and South Carolina with large amounts of storm related marine debris, such as vessels and dock debris, strewn across tidal waters and marshland. Almost two years after the storm, these communities are still cleaning up the mess. Fortunately, Georgia and South Carolina began removing Hurricane Irma related marine debris through disaster relief funding from the NOAA Marine Debris Program.
Edited for WeatherNation by Meteorologist Mace Michaels