Monday, March 4th was a momentous occasion for the city of Syracuse, New York.  Just kidding, probably not.  On that day, however, the city's weather observation station at Syracuse Hancock International Airport recorded just over one inch of snow.  While not monumental on its own, that one inch put Syracuse's seasonal snowfall total over the 100 inch mark!  Believe it or not, Syracuse was still a bit below average for seasonal snowfall as of that date.  With
more lake-effect snow in the forecast
through Thursday, the 'Cuse will likely climb above their seasonal average. Syracuse joins a very limited and exclusive group of cities in the United States that have had over 100 inches of snow during the 2018-2019 season. There are thousands of weather observation stations located across the country at
local airports
,
cooperative sites
, and other
collaborative networks
.  In a perfect world, every city and town would have their own weather observation station.  Unfortunately, due to monetary and logistical reasons, that is not the case.  It is very likely that there are many undocumented locations in the Mountain West or the Great Lakes snowbelts, for example, that have accumulated over 100 inches of snow this season. Here's a look at a handful of cities that have
officially
observed more than 100 inches of snow for the season.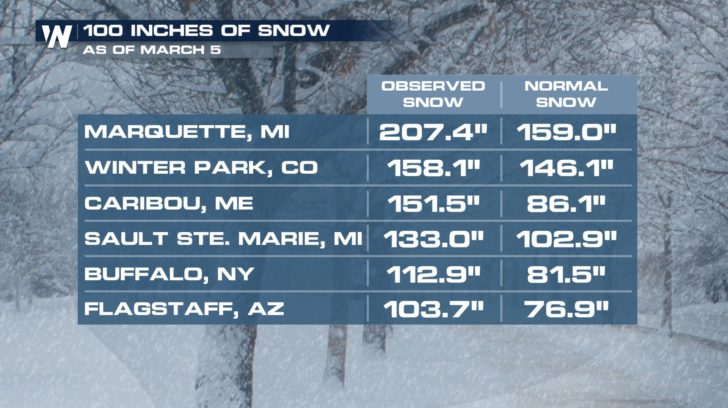 Many of these cities average some of the highest seasonal snowfall totals in the United States year after year.  So while it's normal for Marquette, Michigan to pick up well over 100 inches of snow every year, 2018-2019 is still way above normal.  In fact, the Upper Peninsula city is
more than four feet
above normal!  Perhaps a surprising city on this list is Flagstaff.  This northern Arizona city often receives more than six feet of snow per year because of its high elevation (approximately 6,909 feet above sea level).  Back in late February, the city received a whopping
40.8 inches
of snow during just one storm!  That one event propelled Flagstaff's seasonal total to over 100 inches. Most of the cities in this list accumulate snow simply because of their location downwind of the Great Lakes or high in elevation in mountainous regions.  The city of Caribou, Maine does not fit that description however.  Due to its far north location and relative proximity to the Atlantic Ocean (where Nor'easters bring extremely heavy snow), it averages one to two feet of snow per month during the cold season.  This season, however, Caribou's snow total is
more than five feet
above normal! With more wintry weather on the horizon for these cities, seasonal totals will continue to rise.  It's snow joke. 😉 -
Meteorologist Joe Astolfi