[
Credit: FEMA
] In 2004, the Atlantic Basin had one of its most active and destructive hurricane seasons on record. When the season finally ended, it ultimately produced more than $61 billion in damage and caused thousands of deaths across several countries.  Fifteen years later, we're reviewing the season and highlighting a few of the monsters — from NOAA's satellites' perspective. Considering its activity and devastation, the 2004 Atlantic hurricane season got off to a relatively late start — but it started with a bang. The first storm of the season, Alex, became a tropical storm on Aug. 1, a hurricane on Aug. 3 and a major hurricane on Aug. 5. It never officially made landfall, but it raked the Outer Banks of North Carolina before swiping the Canadian Maritimes and heading into the North Atlantic. https://www.youtube.com/watch?v=LHHeqRdQcZY From there, the season quickly caught up and produced 15 named storms, ending with the formation of Tropical Storm Otto on Nov. 30. In total, 2004 had nine hurricanes, including six major hurricanes with sustained winds of 111 mph or greater, and six tropical storms. This was well above the 1981–2010 average of six hurricanes and three major hurricanes per year. Nine of the named storms in the 2004 season struck the continental United States; of those,
a historic four hurricanes struck Florida alone
. Below, we'll review some of the most memorable storms of that remarkable season through NOAA's eyes in the sky.
Hurricane Charley 
Hurricane Charley was the first hurricane to hit the U.S. in 2004—and it was a bad one. It was also the first of four hurricanes to impact Florida that year. NOAA satellites followed Charley as it moved through the Caribbean before curving northward toward the U.S. Shortly before making landfall along Florida's Gulf Coast, NOAA scientists noticed it rapidly strengthening as it quickly jumped from a Category 2 storm to a Category 4, slamming into Florida with winds of 145 mph and bulldozing a path across the Sunshine State in a matter of hours.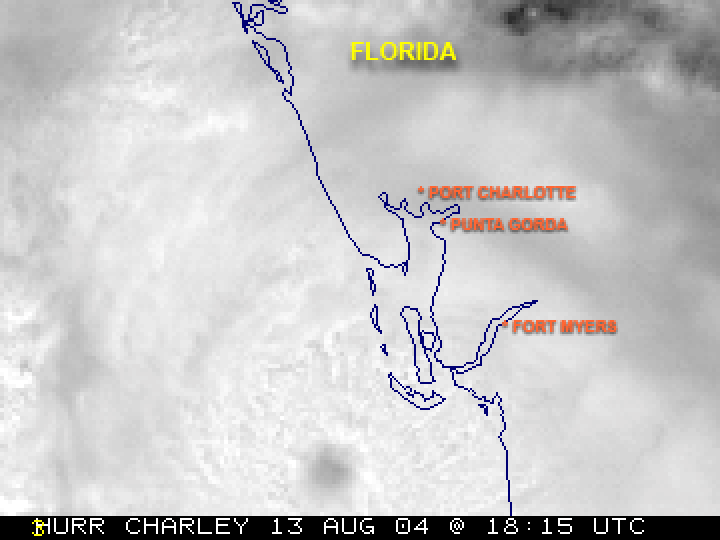 [A close-up visible satellite animation of Hurricane Charley making landfall near Punta Gorda, Florida, Aug. 13, 2004.]
Hurricane Frances
Furious Hurricane Frances was the second-most intense hurricane of the 2004 season, with winds of 145 mph at one point. Just three weeks on the heels of Hurricane Charley, Frances struck central Florida as a Category 2 hurricane on Labor Day weekend. Aside from the devastation it brought to the Bahamas and Florida, NOAA satellites tracked Frances and its subsequent remnants, as they dropped heavy rain across much of the U.S. eastern seaboard. Some places picked up more than 20 inches of rainfall before Frances was finished.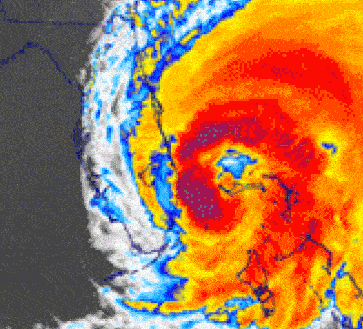 [
A GOES-12 4-km colorized infrared animation of Frances hitting Florida's east coast on Sept. 4-5, 2004.
]
Hurricane Ivan
The costliest and most intense storm of 2004 was its ninth storm — Hurricane Ivan. A Category 5 hurricane, with sustained winds of 165 mph at one point, Ivan was a long-lived "Cape Verde" hurricane. Cape Verde storms are so named because they form near that archipelago in the far eastern Atlantic. NOAA's satellites tracked Ivan from its birth to its dissipation, more than three weeks across thousands of miles. After devastating several countries in the Caribbean, Ivan turned its sights on the U.S. and slammed into the Gulf Coast with sustained winds of 120 mph on Sept. 16, 2004.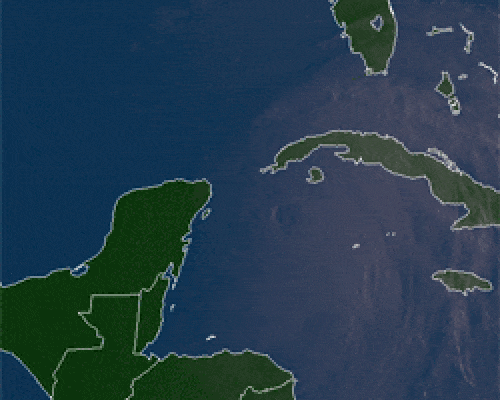 [
A GOES-12 visible animation of Hurricane Ivan approaching the Gulf of Mexico, Sept. 13, 2004.
]
Hurricane Jeanne
Category 3 Hurricane Jeanne was the deadliest storm of 2004 — and one of the deadliest Atlantic hurricanes in history. Its wind, waves, and torrential rainfall in Hispaniola caused more than 3,000 deaths. After that, NOAA satellites tracked Jeanne as it seemed to loop aimlessly in the western Atlantic, before making another landfall near Stuart, Fla., with sustained winds of nearly 120 mph. Property damage in the U.S. was estimated around $7.5 billion as Jeanne's remnants moved northeastward into the mid-Atlantic.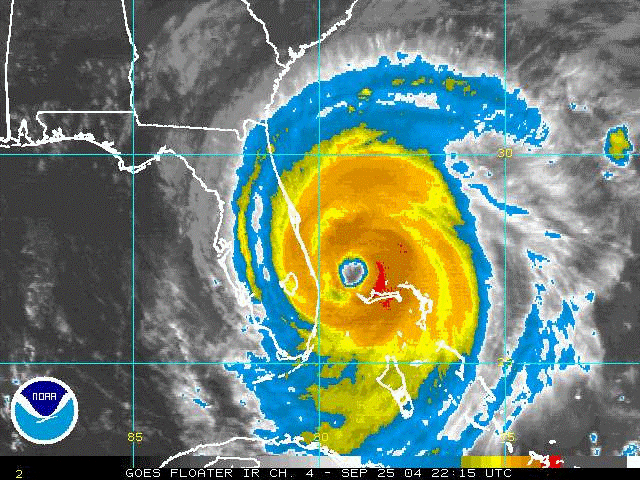 [GOES floater colorized infrared image of Hurricane Jeanne moving across Florida on Sept. 25-26, 2004]
Honorable Mention
Well before the Atlantic hurricane season even officially began, an extremely rare tropical system developed in March of 2004 and was closely watched by NOAA satellites—Hurricane Catarina. What made this storm so unusual was that it formed in the South Atlantic and hit southern Brazil with sustained winds estimated at about 95 mph. Typically, tropical systems don't develop in this part of the Atlantic because of the unfavorable environment. To this day, Catarina is the only hurricane ever observed in the South Atlantic.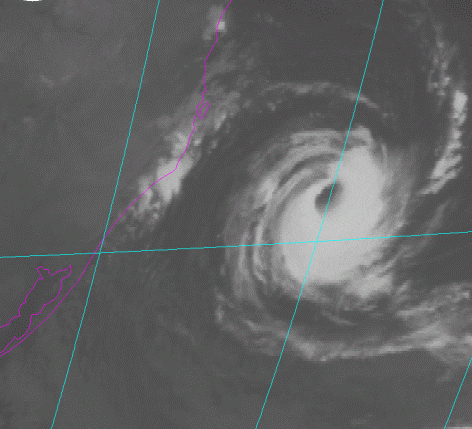 [
A GOES-12 combined visible and infrared loop of Hurricane Catarina, March 2004.
] Edited for WeatherNation by 
Meteorologist Mace Michaels