Local National Weather Service offices continue to issue alerts Friday in advance of the first nor'easter of the fall/winter season. NEW as of 4 p.m. ET Friday, we now have Winter Weather Alerts!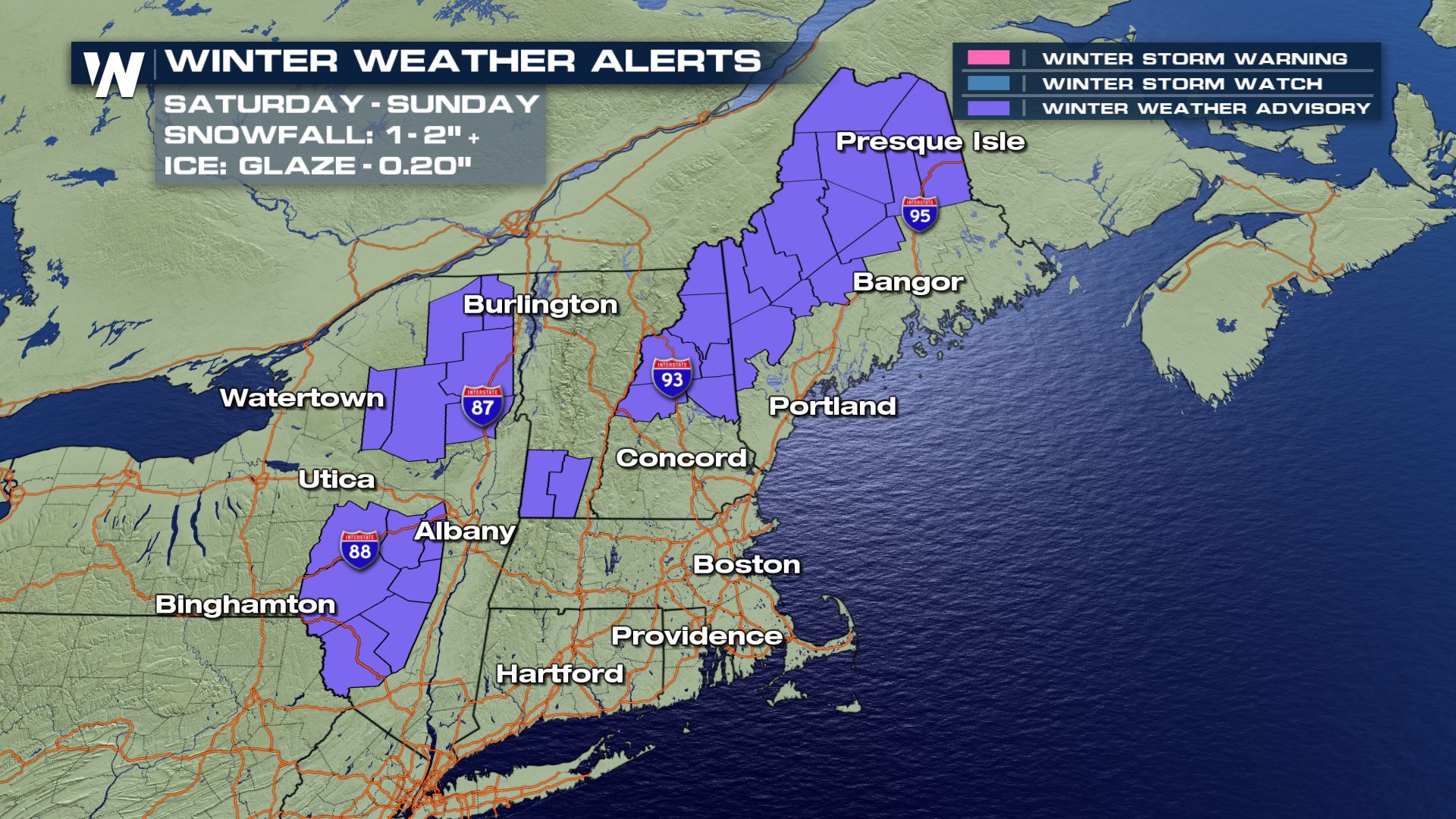 Saturday morning and then again Saturday night into Sunday morning will be the two time windows to expect a wintry mix of snow, sleet and freezing rain. The heaviest snow will be in New Hampshire and Maine (up to five inches!) while the lightest ice (but enough to make it slick) will be in New York. See all those leaves out there? Well, that's going to contribute to a flooding concern...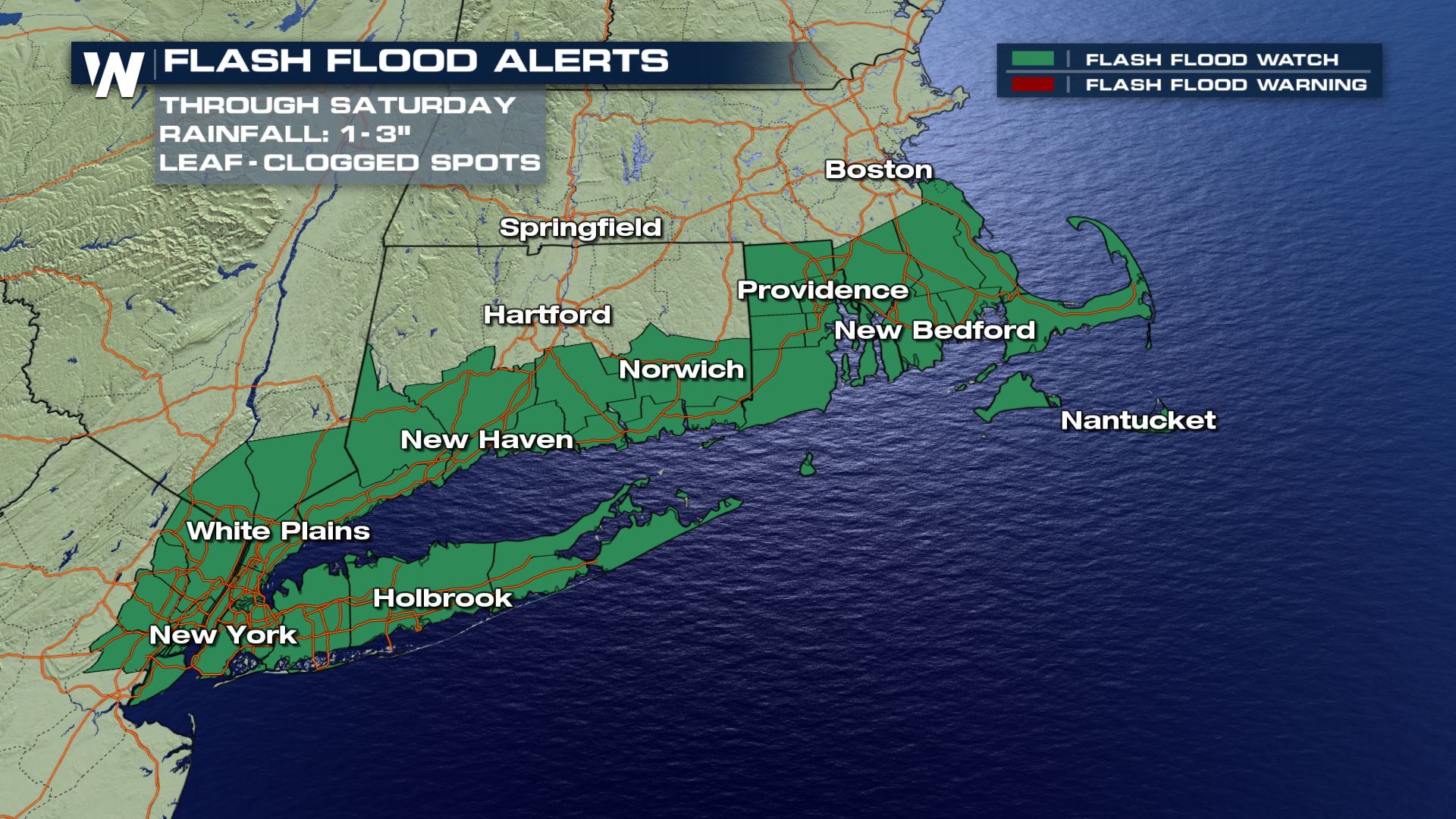 Clear your gutters and storm drains before the storm, as fallen foliage is expected to clog these areas and possibly lead to flooding. The following alerts cover all weather concerns for offshore waters including big waves, gusty winds, but also for coastal flooding. Here are the latest coastal/wind alerts: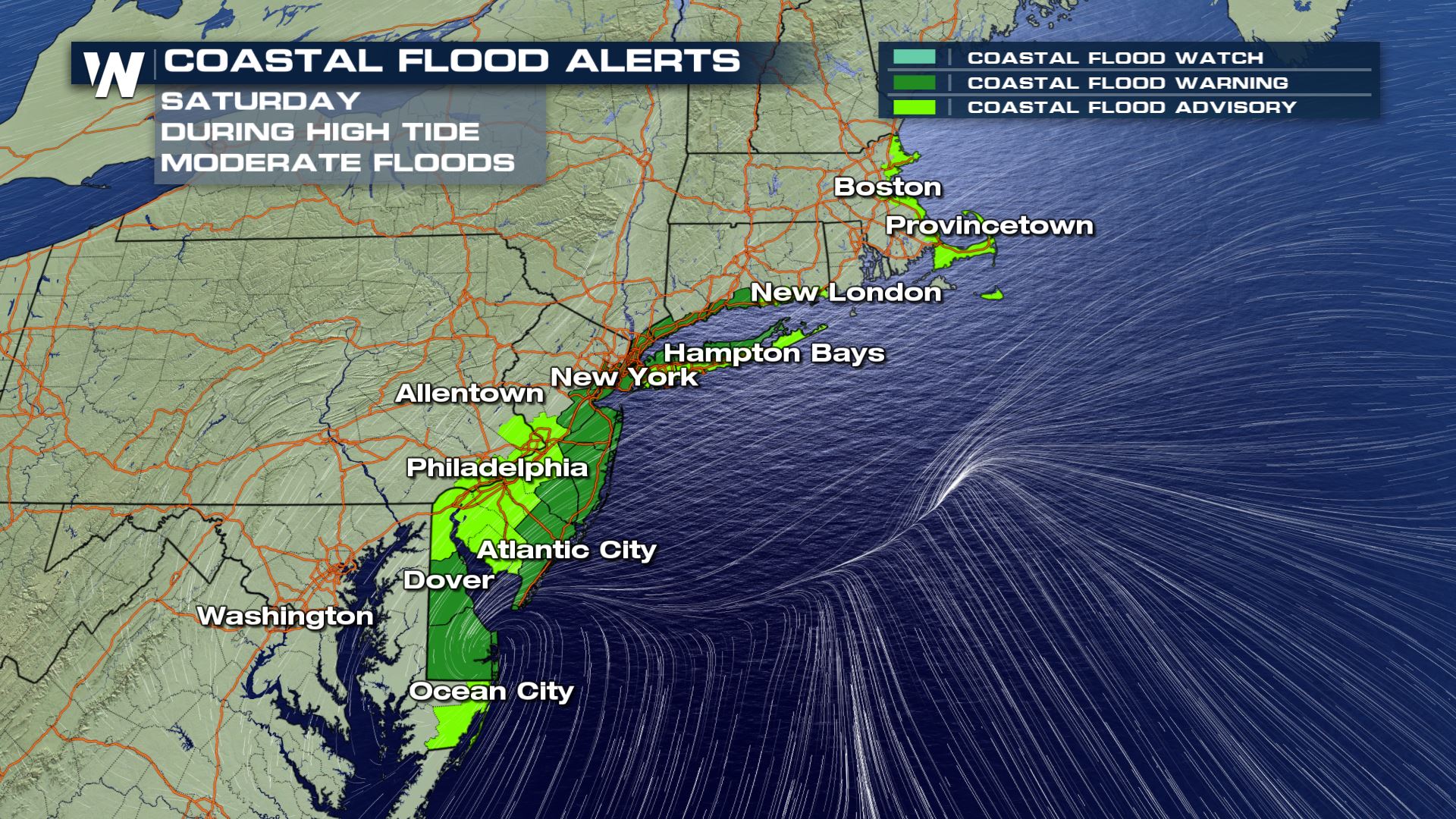 Coastal Flood alerts have been issued from Maryland to New England. Coastal flood alerts are issued when the combination of high tide, onshore winds and/or ongoing rainfall will contribute to flooding near the ocean. Vulnerable and low-lying areas near the coast can expect *moderate* flooding on Saturday. Check your local high tide time, because the forecast is for the high tide to be as much as 2 to 3 feet above normal on Saturday. The impacts here will be for closed roads and beach erosion. The next alert we have is a Storm Warning: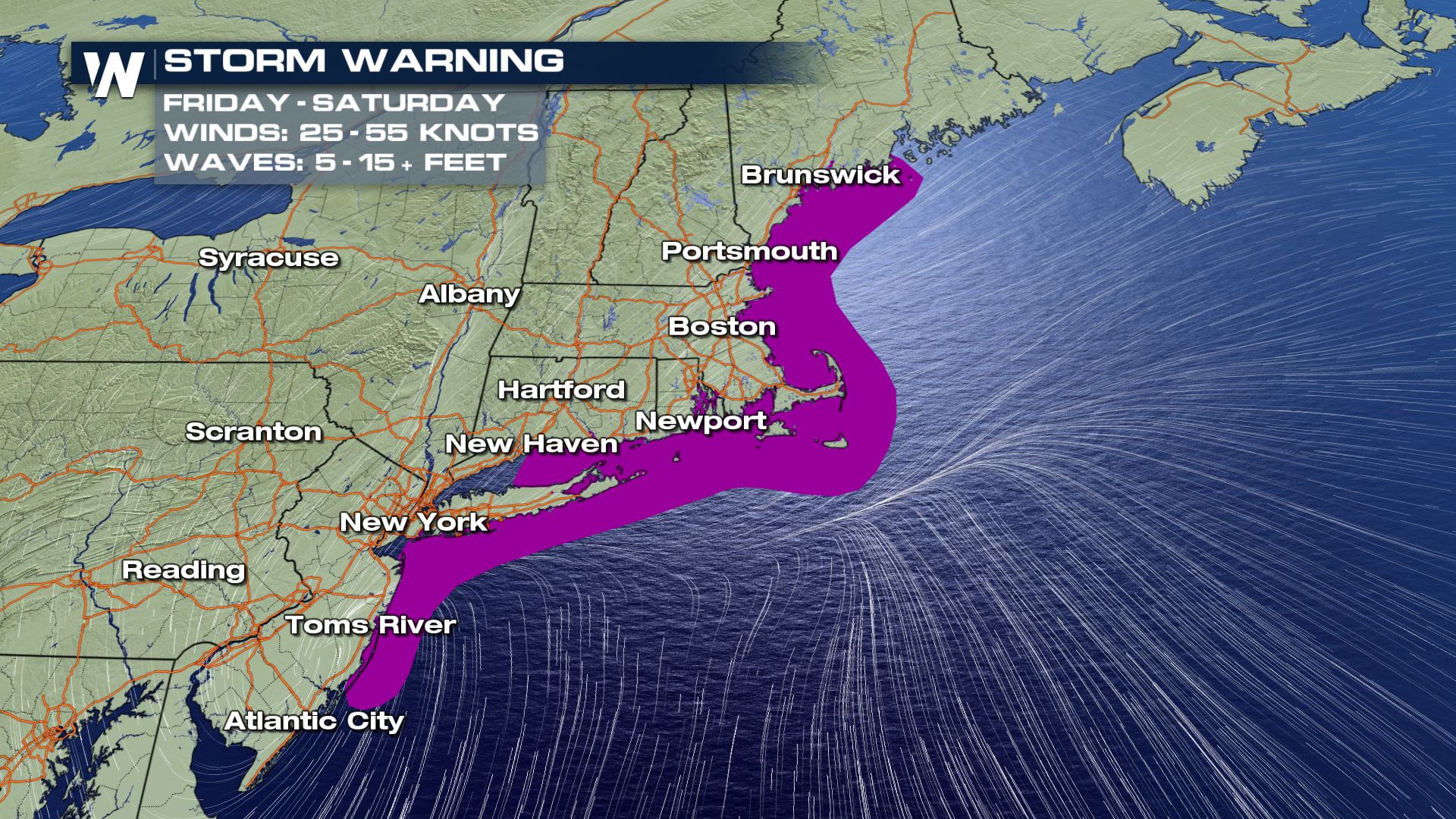 The National Weather Service issues a Storm Warning when the risk of storm force winds of 48 to 63 knots (or 55 to 75 mph) are expected. It is intended mainly for mariners and offshore water hazards for extreme winds. You should strongly consider avoiding the water as this nor'easter moves by. Next up, wind alerts on land have been issued:
*These are very important!*
[Related article: Blustery Winds, Travel Delays Expected in the Northeast]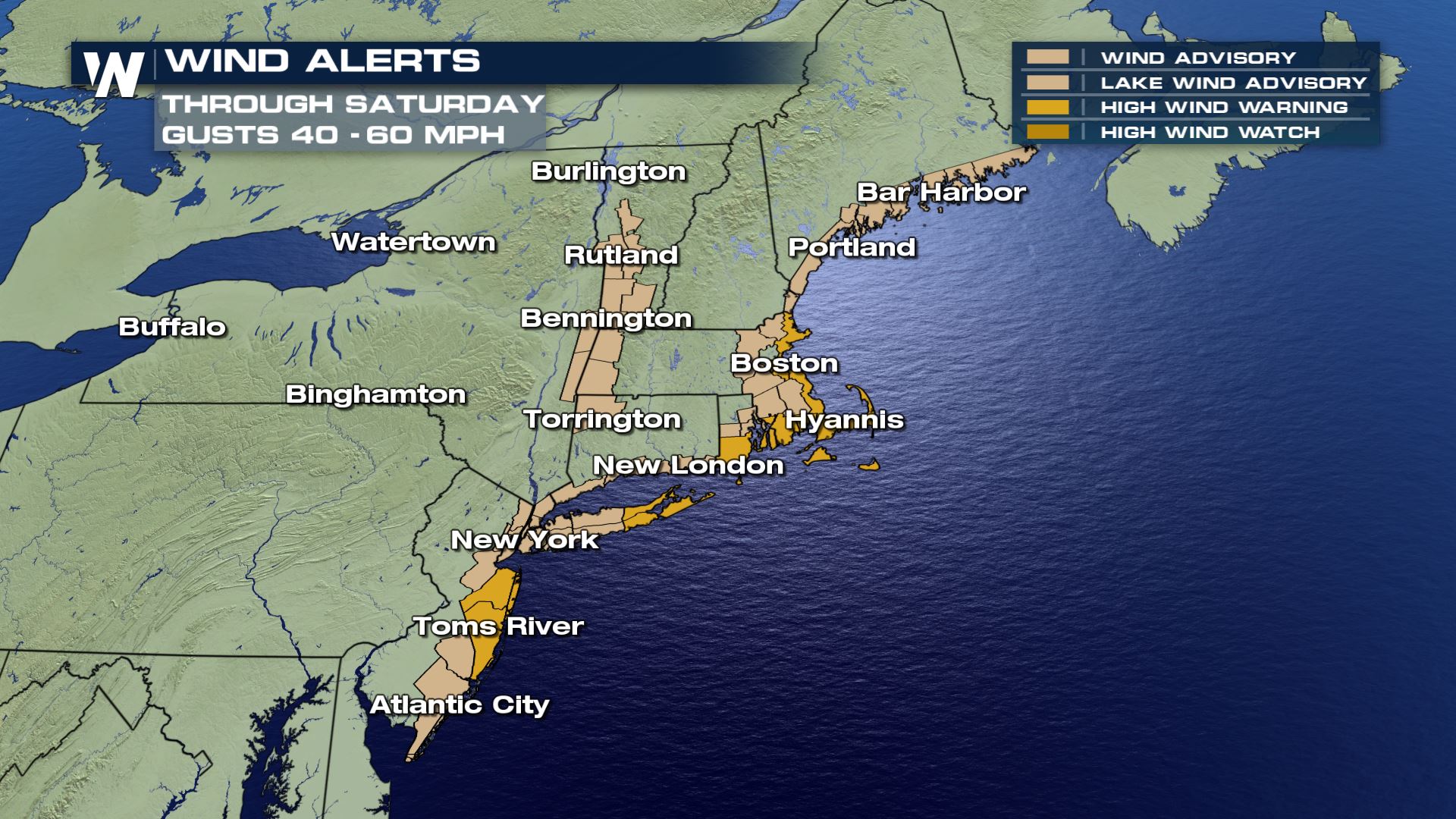 *This is very important because wind alerts bring a life-threatening danger* These winds can reach the same speed as severe thunderstorm warnings, though wind alerts may not get the same exposure and communication as a severe thunderstorm. Trees can come down on homes and cars, bringing that life-threatening danger. Keep these wind alerts in mind as you are out and about Saturday! Winds over land are expected to be strong, gusting up to 60 mph in some areas highlighted. This could lead to scattered power outages through Saturday. Make sure you are prepared in case you are without power for any length of time. Outage will likely be brief, not long term. We have written about the nor'easter coming.
For much more detail, click here to go to our other story.
Remember to stay with us for updates throughout the storm! For WeatherNation, Meteorologist Steve Glazier