With severe weather season in full swing this week, the sound of tornado sirens could once again be blaring in towns and cities throughout the central U.S. and the Midwest.  So it's a good time to review the workings of the tornado siren system.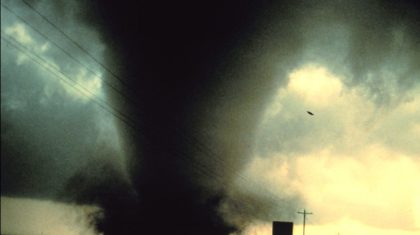 WHEN ARE THE SIRENS SOUNDED?
Obviously, when tornado warnings are issued by the National Weather Service, the sirens are activated.  However, in many communities they're also activated when thunderstorms have straight line winds of 70 mph or greater.  Winds of this strength can cause whole trees to uproot or snap.  Sirens can also be activated when hail reaches golf ball size or larger.  Significant damage can result with hail of this magnitude.
WHO OPERATES THE SIRENS?
Sirens are typically activated by city or county officials, usually a police or fire department or emergency management personnel.  Check with your city or county officials to learn more.  The sirens are usually tested once a week, usually on the same day, at the same time, typically in the morning.  Don't be alarmed by these weekly tests.  Knowing the day and time of the test will eliminate any surprises and false alarms.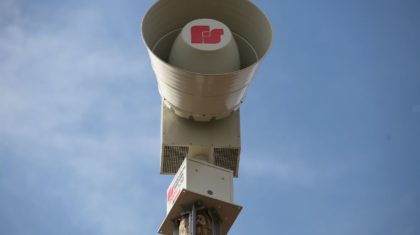 WHAT SHOULD YOU DO IF YOU HEAR A WARNING SIREN OUTDOORS?
When the sirens are heard, go inside a home or building
IMMEDIATELY
and tune to local media or a NOAA Weather Radio to get more information about the weather related danger.  The sirens will
NOT
sound an all-clear signal when the weather threat has passed.  People should be indoors, monitoring local media for updates on the storm.
WHEN INDOORS, YOU MAY NOT ALWAYS HEAR THE SIREN.
Sirens are an outdoor warning system.  They are designed to alert people outside that dangerous weather is approaching.  Many times, people inside buildings don't hear the sirens.  This is often the case during overnight severe weather events, when people are sleeping.  That's why it is so important to have a NOAA weather radio in your house, in a room where you can hear it.  When alerts are issued for your area, the NOAA Weather Radio will produce an audible alert, followed by a message detailing the severe weather threat.  If you're sleeping, it should serve to wake you up, and inform you of any pending danger. 
MAKE SURE THE NOAA WEATHER RADIO IS PROPERLY PROGRAMMED.
  Otherwise, you may receive alerts outside of your area.  Or, you could miss alerts meant for your area.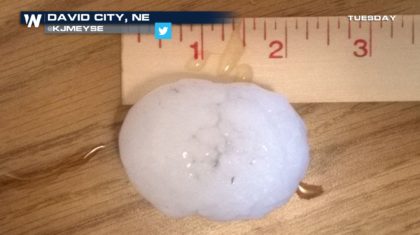 WILL THE OUTDOOR WARNING SIRENS WARN ME OF EVERY DANGEROUS STORM?
Not necessarily.  Sirens are designed to warn people of tornadoes, straight line winds of at least 70 mph, and hail at least 2 inches in diameter.  But there are other dangers associated with storms.  Heavy rains can result in flash flooding.  Flash flooding actually claims more lives in the United States than any other weather hazard.  And every thunderstorm contains lightning.  Lightning strikes cause injuries and fatalities each year in the U.S.  So when rough weather approaches, and the sirens aren't going off, that doesn't mean you can let down your guard.  Use common sense, and keep yourself safe.
IN SUMMARY:
Sirens are only one part of the severe warning system.  Many cities in severe weather areas don't have a siren system in place.  Sirens, while a valuable part of the weather warning system, are expensive to purchase and maintain.  Severe weather alerts in those areas are only available via television, radio, phone apps, and NOAA Weather Radios.  Make sure you always have a way, or better yet, multiple ways, of receiving weather warnings.  The information may very well save your life, and the lives of your friends and family members.
For WeatherNation:  Meteorologist Matt Monroe