Tropical Storm Beryl has formed in the Atlantic Ocean. Beryl was named midday Thursday, and formerly called tropical depression two. The name is given once winds reach a maximum threshold of 37 mph or greater.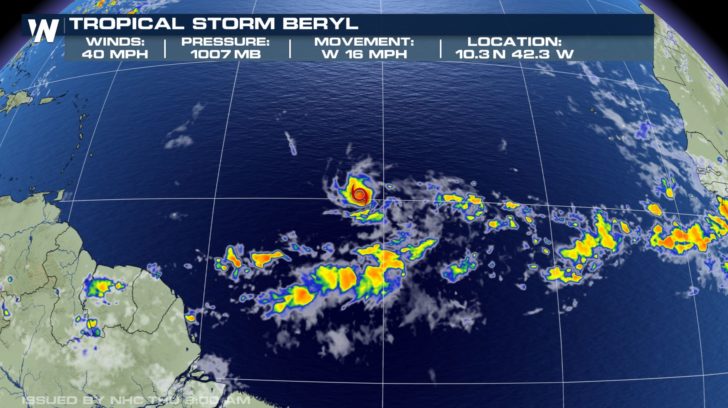 The tropical storm has maximum winds of 40 miles per hour and is moving west at 16 mph. The National Hurricane Center (NHC)  says that the depression will be located in a relatively low-shear environment over the next several days. While the storm is surrounded by dry air, it will be moving over warm waters over the new few days, which the NHC says that both those factors could limit intensification. The storm is expected to maintain strength through the weekend  as it gradually moves west-northwest.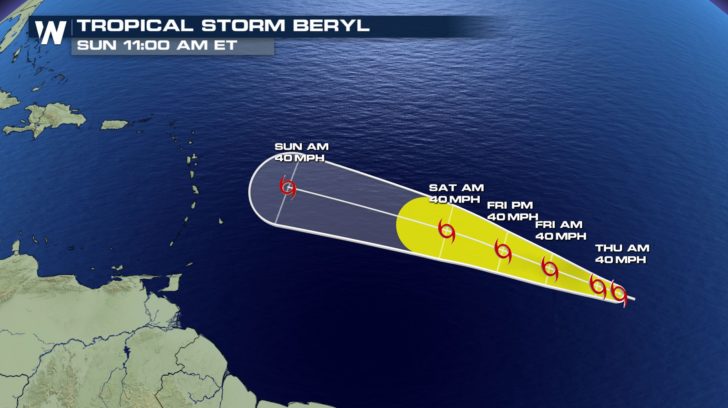 "Even though the cyclone is expected to dissipate east of the Lesser Antilles early next week, the remnant tropical wave will continue moving quickly westward, likely bringing locally heavy rains and gusty winds to portions of the Leeward Islands on Sunday and Monday," the NHC said in their advisory. Stay with
WeatherNation
for the latest on this tropical storm.