All eyes are on the Gulf of Mexico as Gordon continues to drift northwest.  Gordon formed near the Florida Keys early Monday and remained a tropical storm throughout the day.  This storm brought strong wind and heavy rain to all of South Florida.  Wind gusts topped 40 miles per hour and some rainfall totals were over 5 inches.
Tropical Storm Gordon is tracking west-northwest over the open waters of the Gulf of Mexico at a forward speed of  approximately 17 miles per hour.  Tropical Storm Warnings extend from near Florida's Apalachicola River west to Baton Rouge, Louisiana.  Hurricane Warnings are in place for the Alabama and Mississippi Gulf Coast, including Mobile and Gulfport. Per the National Weather Service, a Tropical Storm Warning means that sustained winds within the range of 39 to 73 mph associated with a tropical cyclone are expected in a specified area within 36 hours or less.  Similarly, a Hurricane Warning means sustained winds of 74 mph or higher associated with a hurricane are expected within 36 hours.  A Hurricane Warning can remain in effect when dangerously high water or a combination of dangerously high water and exceptionally high waves continue, even though winds may be less than hurricane force.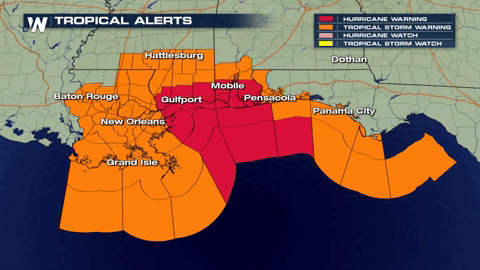 Tropical Storm Gordon will encounter more favorable conditions over the open waters of the Gulf Monday night and Tuesday morning.  This will help aid further organization and strengthening allowing faster wind speeds to become more prevalent by late Tuesday. The latest forecast track from the National Hurricane Center shows Gordon reaching Category 1 hurricane strength as it nears southern Mississippi by late Tuesday night and early Wednesday morning.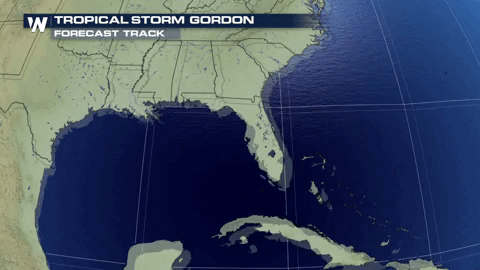 The greatest threat for storm surge flooding will be along the Mississippi Gulf Coast, along the northern shore of Lake Pontchartrain, and the extreme southwest Alabama Gulf Coast.  Parts of western Florida near Pensacola may feel the impacts as well.  The timing for greatest impact is late Tuesday into early Wednesday.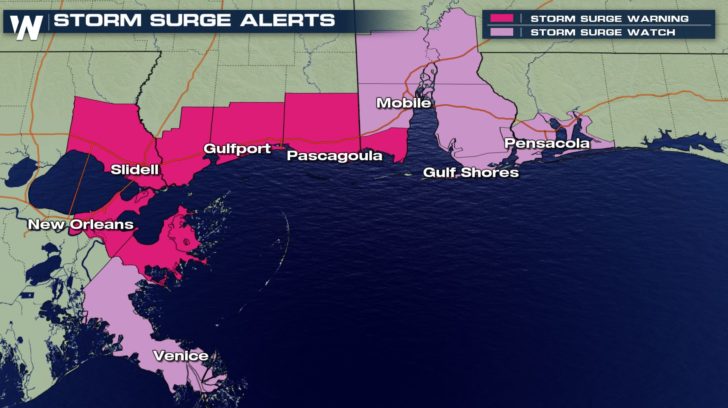 Flash flooding will be another major concern for parts of the central Gulf Coast as Gordon ushers in deep tropical moisture.  Rainfall totals will generally range between 2 and 4 inches, with isolated amounts up to 8 inches.  Gordon is also expected to slow its forward speed as it tracks further inland, keeping an elevated risk for flash flooding across the Ark-La-Tex region by late week.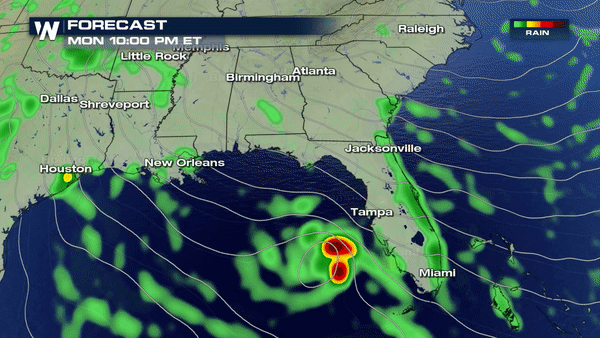 WeatherNation will continue its live coverage of Gordon as it nears land late Tuesday night through Wednesday.  Tune into Channel 215 on Dish Network or on nearly all streaming platforms.  Don't forget to download our app for up-to-the-minute coverage as well. Meteorologist
Merry Matthews
Meteorologist
Joe Astolfi