A closed circulation meandering off the southern coast of Florida (invest 98-L) will push north and likely become a tropical depression this weekend. Interests along the southeast U.S. coast should continue to monitor this disturbance and the impacts it may bring.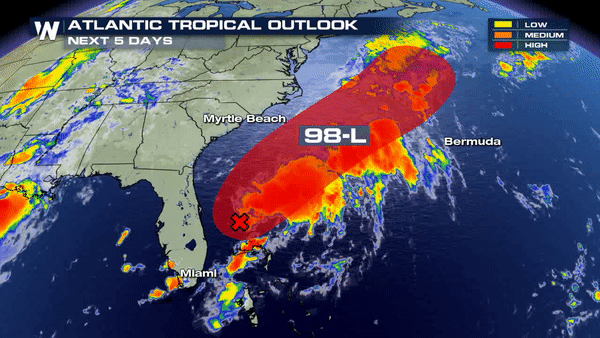 Invest 98-L
Short for investigation, invest 98-L was identified on Thursday. It was given the title Invest 98-L so that computer models could be initiated on the low. Those computer models are what you see below, often called spaghetti models plots. The slow moving front draped across the southeast will push the low to the northeast, where a trough in the jet stream will keep it out into the Atlantic.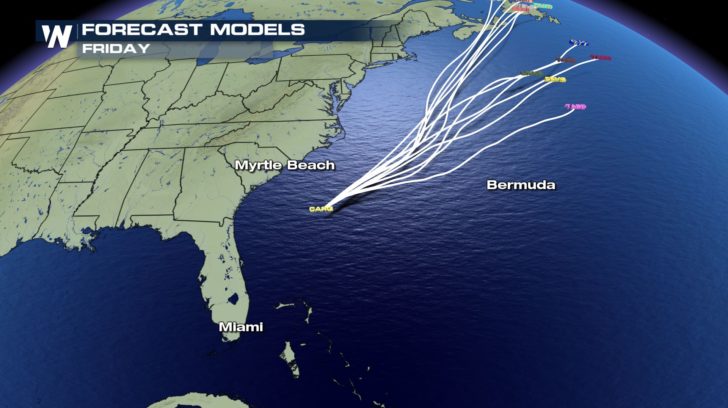 Right now this is nothing more than low pressure center. It is disorganized and not producing life-threatening impacts. However there are plenty of downpours and thunderstorms associated with the tropical wave. While it is disorganized now, it could become better organized in the coming days. It will likely reach Tropical Depression very soon, getting even stronger over the open waters of the Atlantic into early this week. The National Hurricane Center's latest update as of 2 p.m. ET Saturday:
"Showers and thunderstorms remain disorganized in association with a
trough of low pressure that extends from the southern Florida
peninsula northeastward over the western Atlantic for a few hundred
miles.  Environmental conditions appear conducive for gradual
development, and a tropical or subtropical depression is likely to
form within the next few days while the system moves slowly
northeastward well offshore of the southeastern United States.
Interests along the coasts of South and North Carolina should
continue to monitor the progress of this system.  An Air Force
Reserve Hurricane Hunter aircraft is scheduled to investigate the
disturbance this afternoon, if necessary."
Source: https://www.nhc.noaa.gov/ Continue to  monitor the progression of this tropical wave each day, especially if you live along the southeast coast.