[Lt. Cmdr. John Rossi at the controls of NOAA's WP-3D Hurricane Hunter aircraft during a flight into Hurricane Lane on August 20, 2018.]
As Hurricane Lane churned toward Hawaii, NOAA deployed two of the agency's "hurricane hunter" aircraft, a Lockheed WP-3D Orion ("Kermit") and Gulfstream IV-SP ("Gonzo"), from Honolulu starting August 19 to collect data vital to determining the storm's strength and predict its path as it moved west. Operating out of Daniel K. Inouye International Airport, the aircraft have been using Doppler radar and air-dropped sensor probes to measure conditions both in and around the hurricane, including wind speed, wind direction, temperature, pressure, and humidity.
The Gulfstream IV, a high-speed, high-altitude jet, has been sampling the environment around Hurricane Lane, including the winds that are steering it, while the four-engine WP-3D Orion turboprop has been passing directly through the storm at lower altitudes, flying right into and through its eye. During their flight on August 21, the crew passed through Lane's eyewall, a Category 5 storm at that time, and captured video from the eye of the hurricane. Known as the "stadium effect," the clouds of the eyewall towered over and around the aircraft.
https://www.youtube.com/watch?v=1uerhYwgUYg
Forecasters at the NOAA National Weather Service's Central Pacific Hurricane Center have been using data from these eight-hour flights in their forecasts. Flight crew from NOAA's Office of Marine and Aviation Operations and NOAA's Atlantic Oceanographic and Meteorological Laboratory processed and transmitted data from the aircraft, which will also be used to improve our understanding of hurricanes, with the goal of improving storm track and intensity forecasts.
Kermit was the first reconnaissance plane to fly through Hurricane Lane and it was also the first time a NOAA WP-3D Orion had ever flown into the eye of a Central Pacific hurricane. Crewed by a team of NOAA Corps officers and civilian meteorologists, engineers, and technicians, the aircraft are based at the NOAA Aircraft Operations Center in Lakeland, Florida.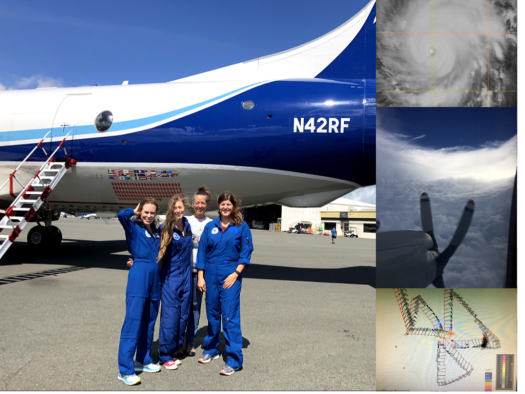 During the final NOAA flight into Hurricane Lane, history was made when (left to right) Lisa Bucci, Kelly Ryan, Kathryn Sellwood, and Heather Holbach became the first all-female science crew on a hurricane hunter mission.  The mission was conducted into the hurricane when it was category 5, the strongest category of hurricane, with sustained winds of 155 mph.  Heather Holbach was Lead Project Scientist, the project supervisor on the aircraft, for the mission, whose primary goal was to gather Doppler radar and dropwindsonde data in the hurricane and send it to the ground to help initialize forecast models.  Kathryn Sellwood quality controlled the profiles of wind, temperature, pressure, and humidity obtained by dropwindsondes as they fell from the aircraft to the ocean surface, and transmitted the data to the ground, also for model initialization.  Lisa Bucci and Kelly Ryan shared duties in ensuring proper quality control of the Doppler radar data and in gathering data with the Doppler wind lidar; the radar gathers wind information where there are clouds and precipitation, and the lidar gathers wind information where there are few clouds or where the air is clear. Holbach works at NOAA's Hurricane Research Division and is employed by the Northern Gulf Institute, a NOAA Cooperative Institute.  Ryan, Sellwood, and Bucci also work at NOAA's Hurricane Research Division and are employed by the Cooperative Institute for Marine and Atmospheric Studies. Info taken from
NOAA
 and
NOAA HRD
Edited for WeatherNation by Meteorologist Mace Michaels