AAA projects 54.3 million Americans will journey 50 miles or more away from home this Thanksgiving, a 4.8 percent increase over last year. The 2018 holiday weekend will see the highest Thanksgiving travel volume in more than a dozen years (since 2005), with 2.5 million more people taking to the nation's roads, skies, rails and waterways compared with last year. AAA, along INRIX, a global mobility analytics company, give us a look at the expected holiday travel forecast for 2018.
By the Numbers: 2018 Thanksgiving Holiday Travel Forecast
Automobiles: The vast majority of travelers – 48.5 million – will hit the road this Thanksgiving, nearly 5 percent more than last year.
Planes: The largest growth in holiday travel is by air, at 5.4 percent, with 4.27 million travelers.
Trains, Buses and Cruise Ships: Travel across these sectors will increase by 1.4 percent, with a total 1.48 million passengers.
In addition to
checking and monitoring the latest forecast
weather conditions for your drive, it is important you prepare for the trip! WeatherNation spoke with AAA spokesperson, Tamra Johnson on holiday travel. Johnson recommends before you travel, make sure you get your car checked out, including checking the battery, tire tread, and ensuring your car has an inspection. AAA expects to rescue nearly 360,000 motorists at the roadside this Thanksgiving. Dead batteries, lockouts and flat tires will be the leading reasons AAA members will experience car trouble. Watch the full interview below: https://youtu.be/riC5Ey49ors Across the country, travelers who take to the sky must account for long security lines, but also increased drive times to the airport. INRIX expects delays getting to the nation's busiest airports could be as long as an hour and a half. In most cases, the best days to travel will be on Thanksgiving Day, Friday or Saturday. Drivers should expect increased travel times on Sunday as most holiday travelers will be making their way home after the long weekend. Here are some of the worst times to travel by car or by air, according to AAA and INRIX.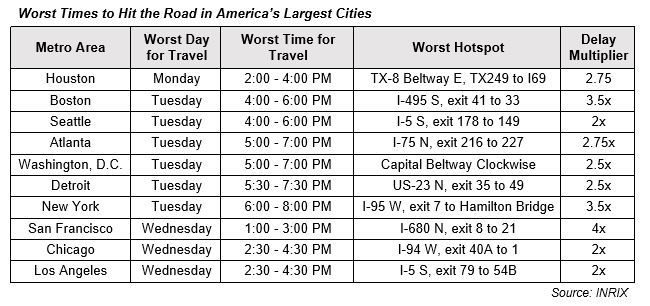 Top 10 Thanksgiving Destinations
Many travelers will seek iconic American cities, theme parks and other warm-weather destinations this Thanksgiving. Orlando, New York City and Anaheim top this year's top 10 holiday destinations based on AAA's online and travel agency air and tour bookings. Punta Cana, Dallas/Fort Worth and Miami are all gaining popularity as holiday spots compared with last year.
Orlando, Florida
New York, New York
Anaheim, California
Punta Cana, Dominican Republic
Las Vegas, Nevada
Cancun, Mexico
Dallas/Fort Worth, Texas
Honolulu, Hawaii
Washington, DC
Miami, Florida
As always, we will bring you the latest forecast weather conditions for the holiday travel season ahead. You can watch any regional forecast
here on our website
.