[Gulf shrimp boats docked. Image courtesy of NOAA NCEI, Barbara Ambrose]
From
NOAA
In a seemingly endless and vast ocean, how do fishers actually manage to find fish? Do they rely on experience and grit alone, or do they depend on data about ocean conditions and fish species behavior? Weather data from NOAA are helping land the next catch.
Innovative businesses, known as fishing forecast services, use ocean and coastal data to fill a niche in major U.S. fishing zones
. Because labor and fuel cost a premium, commercial and tournament fishers improve their chances of success by knowing where fishing conditions are promising. Forecasters analyze our data and create timely products and services used directly by fishers. Whether it's a commercial fisher looking for schools of tuna or a tournament fisher hoping to hook a trophy-sized blue marlin, third-party forecasters serve a hungry market.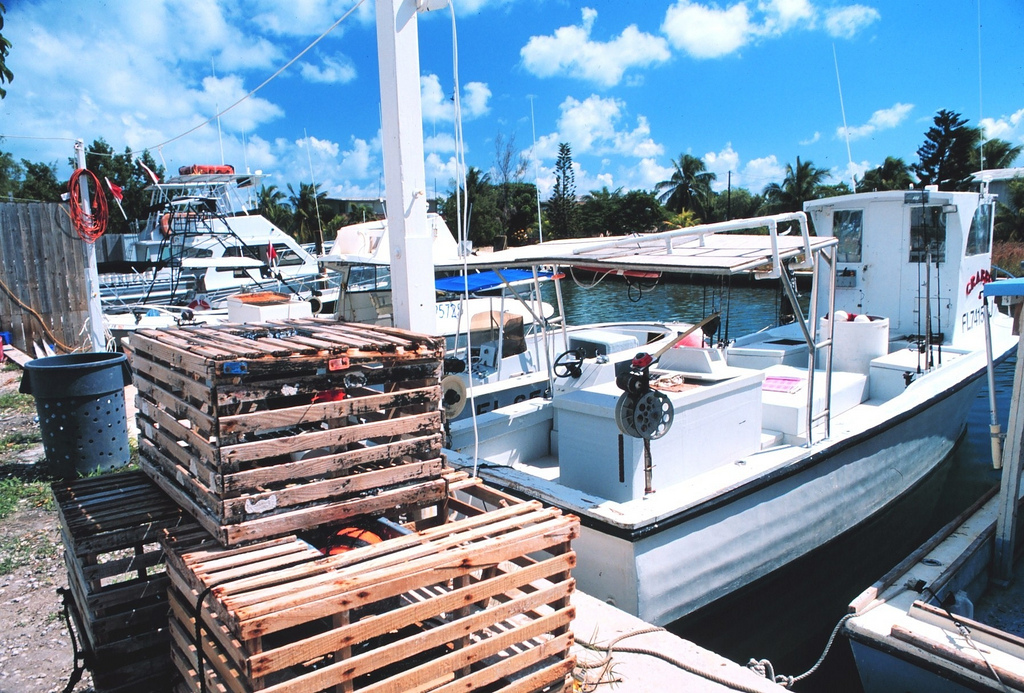 [Stone crab pots and fishing boats work out of small inlets in the Florida Keys. Tavernier, Florida Keys, Florida. 1997 October. Photographer: William B. Folsom, NMFS.]
Fishing Forecast Services Use Weather Data
A third-party forecaster, Roffer's Ocean Fishing Forecasting Service (ROFFS) based in Florida, estimates NOAA's weather data add $500,000 a year to his business. Using NOAA data, ROFFS creates a daily map, waypoints, and a summary of near-real-time fishing conditions with user instructions on how to interpret the information. ROFFS charges users a fee for these detailed analyses that can guide fishers to temperature breaks, ocean water color changes, surface currents, and other conditions where desirable fish may gather. "If there were not a NOAA and we didn't have access to these products, we would not have a business, and there would not be a robust fisheries forecasting industry," ROFFS owner Mitchell Roffer says.

Jeff Gammon, owner of Terrafin Satellite Imaging, a California company, produces sea surface temperature (SST) and chlorophyll charts for regions spanning North and South America. Gammon's customers access them via the web and through a mobile app. NOAA NCEI's bathymetric map layers are critical to developing his value-added products, he says. His customers use his analyses to reference ocean floor topography which, when combined with other ocean variables—chlorophyll, ocean color, and SST—allow fishers to target prime fishing locations.
Weather Data: Putting Food on the Table
William Bright, the captain of two New Jersey-based fishing vessels, uses weather data to put fish on the table around the globe. Bright and his crews fish year-round and hunt for tuna, swordfish, mahi mahi, mackerel, herring, and squid, depending on the season. His catches can bring between 20 cents to $5 a pound. Diners from Boston and New York to Africa and Japan eat his catch. Bright estimates that his catch feeds about 2.25 million people a year, and his annual revenues exceed $4 million.
He uses a third-party fishing forecast because "ninety percent of the fish live in ten percent of the ocean." Since 1987, Bright has used ROFFS to give his business a competitive advantage. "It's tough to survive right now with the weather and competition, so you really need to know where to place your bet before going offshore," he says.

Likewise, forecasts give a leg up to Gary Jarvis of Destin, Florida, a commercial and charter fishing boat captain for more than 40 years. Along with weather data, he says he uses the Terrafin app daily to make business decisions. In addition to giving him information about where to fish, the data also show him where not to go. "When you're making 120- to 180-mile runs, if you end 30 or 40 or 50 miles in an area that you don't want to be in, you're talking about substantial differences in fuel costs and time," Jarvis says.
Case in point, Jarvis' fuel bill hovers between $60,000 to $84,000 annually. Terrafin can guide him to a prime location and save him up to 15% on fuel, a potential savings of $12,600 per year. Edited for WeatherNation by Meteorologist Mace Michaels