[Warming of downward moving air produces the Chinook wind. From FAA]
From
NOAA
Chinook winds are downsloping, warm, and dry winds that occur on the leeward, or sheltered, side of mountain ranges, such as the Rocky Mountains. 
Chinook winds
 are fairly common during the winter months and often bring extreme increases in temperatures to the region as they move from west to east across the mountains. While these winds bring warmer temperatures during the winter months, they can often be devastating, with sustained 
winds and gusts
 sometimes as strong as those produced by tornadoes and hurricanes.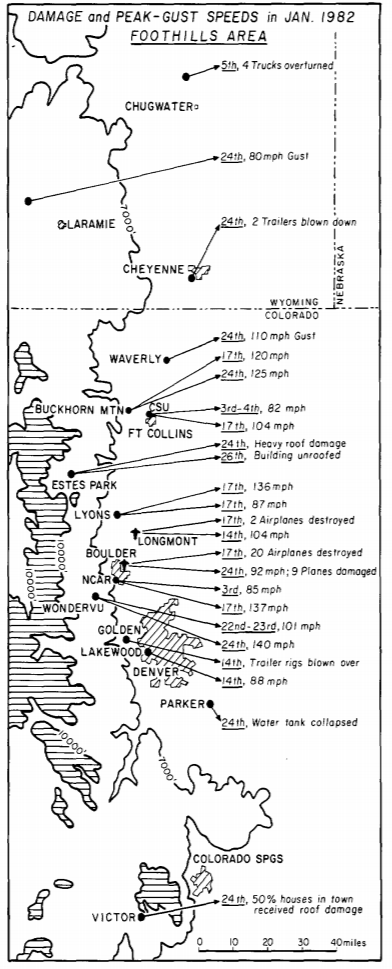 [Summary of January 1982 Chinook wind damage and speeds]
While the Foothills area of southeastern Wyoming and Colorado experienced a number of strong Chinook events in January 1982, 
the most severe episodes took place on January 17 and 24, two consecutive Sundays
. On those days in Boulder, Colorado, and along the Front Range, the winds caused damage equivalent to 
EF1 and EF2
 tornadoes, uprooting trees, power lines, and damaging many roofs.
The Chinook Wind Events
On January 17, there were numerous reports of peak wind gusts in excess of 100 mph in the area. NOAA's Environmental Research Laboratory, now known as 
Earth System Research Laboratory
 (ERSL), measured a 118-mph gust on its roof before the power failed.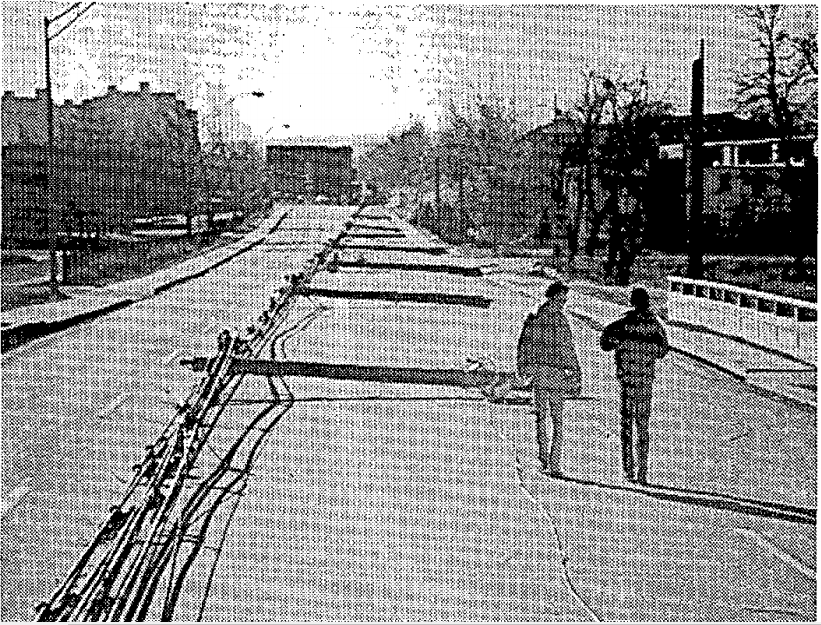 [Power-line poles down along 30th Street just west of NOAA's Environmental Research Laboratory in Boulder, Colorado, on January 17, 1982. Courtesy of NOAA.]
The 
National Center for Atmospheric Research
 (NCAR) at Table Mesa in southwest Boulder recorded a maximum wind gust of 137 mph just after 2:00 a.m. MST on the roof, 600 feet above the city. During the second high-wind period, NCAR recorded a 130 mph gust. In all, 20 gusts of over 120 mph were clocked at NCAR between 1:00 a.m. and 9:00 a.m. MST.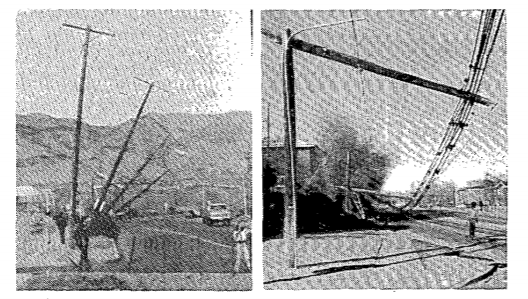 [Damaged power poles in Boulder, January 17, 1982. From Ron Holle and Jose Meitin via NOAA]
Boulder bore the brunt of the damage during the January 17 windstorm, which was one of the worst in the area's recorded history. An estimated 40% of all buildings in Boulder suffered at least minor damage between the night of January 16 and the morning of January 17; about 50 homes were damaged badly enough to be uninhabitable. In one instance, a gust completely unroofed a home, with the roof sailing over two adjacent houses before landing on a third. The winds also hit the Boulder Municipal Airport especially hard, destroying about 20 small planes. Several utility poles snapped, and thousands of electricity customers were without power. The wind also caused erosion damage to about 50,000 acres of farmland in Boulder County.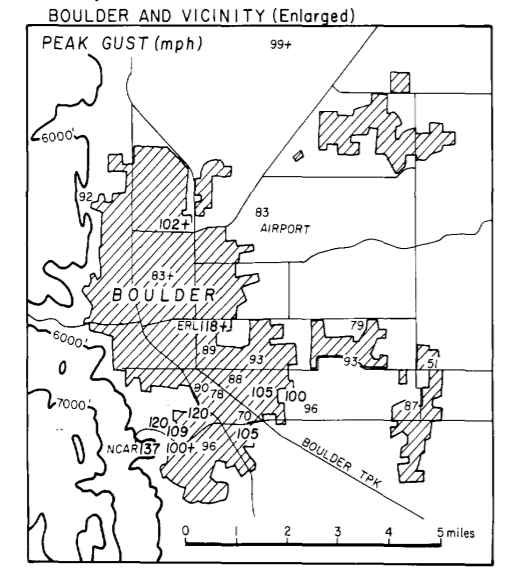 [Peak wind gusts around Boulder on January 17, 1982] Again, on January 24, the Chinooks howled down into the area. While Fort Collins, Colorado, about 45 miles north of Boulder, had escaped the brunt of the windstorm a week earlier, the city was hit hard this time. Winds up to 140 mph blew in the foothills west of the city, with gusts of 80 to 100 mph in town. Several trailers were blown apart in the area, and at least two homes were completely unroofed. Between 15 and 20 power poles were also snapped by the winds. Blowing dust in the area reduced visibility to near zero.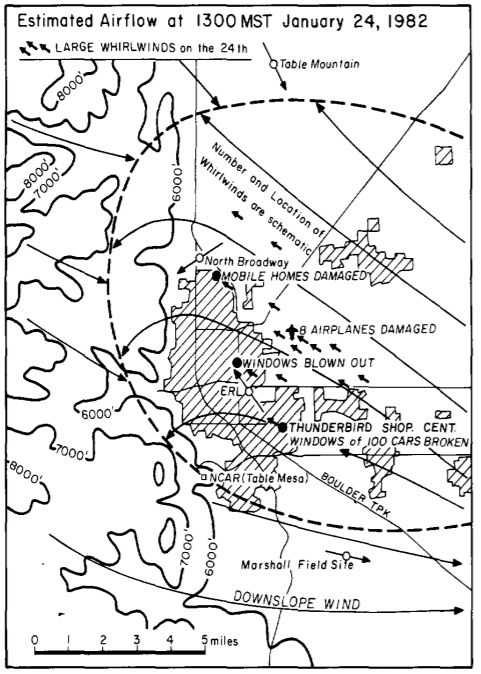 [Air flow and whirlwind from January 24, 1982 event]
Boulder, luckily, escaped the worst effects of this windstorm, but still saw several hundred thousand dollars of damage in the area. Four mobile homes and many cars were damaged, as were nine planes at the Boulder Municipal Airport. In the mountains just west of Denver, Gilpin County was not so lucky. The winds battered the county and partially wrecked a school in Central City. And, south of Denver, a water tank in Parker completely collapsed.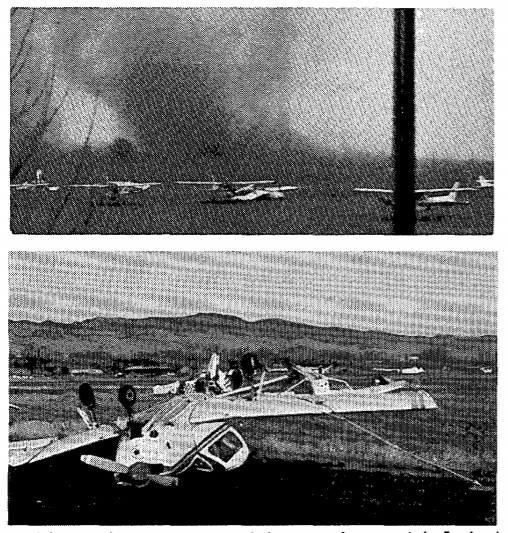 [From Boulder airport, January 24, 1982. From J. Hutchinson via NOAA]
The winds extended as far south as Victor, in the mountains west of Colorado Springs, where 100-mph gusts dislodged a home from its foundation and damaged roofs on nearly half the buildings in the town. The strongest wind gust recorded was 140 mph at Wondervu, a record for that normally windy spot. Elsewhere, speeds reached 125 mph at Buckhorn Mountain, 110 at Waverly, and 92 at Boulder.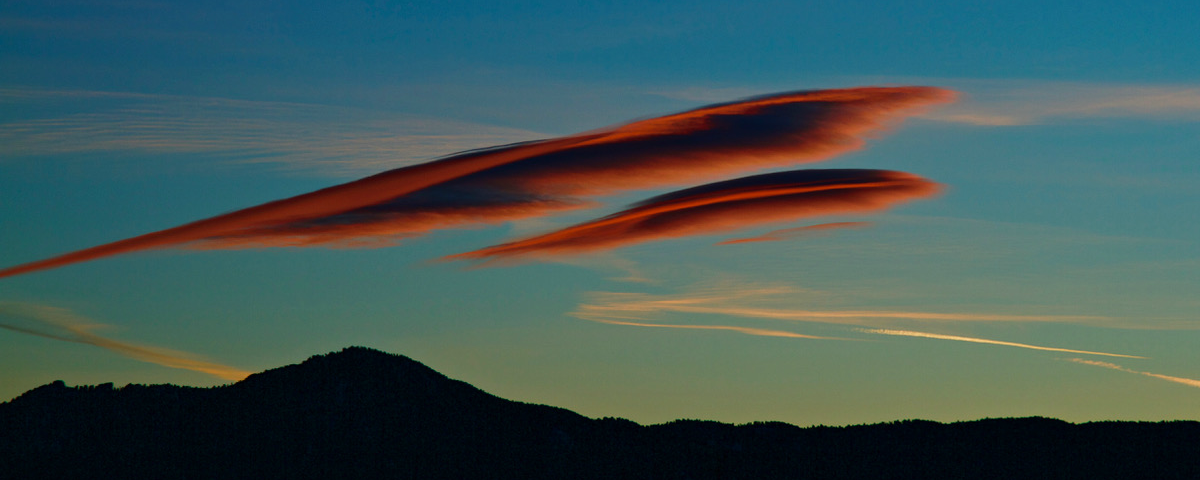 Ironically, Chinook winds can be accompanied by beautiful cloud formations, called lenticular clouds, that appear smooth and sculpted, as shown in the image above. To learn more about this windstorm and other major weather events throughout the United States that month, check the January 1982 Storm Data Publication.
Edited for WeatherNation by Meteorologist Mace Michaels