The active weather coming in from the mighty Pacific will continue today, and another storm is expected on Saturday.  That means rain will soak the coast and the valleys, and heavy snow will fall in the Sierra Nevada Mountains. Two more storms are rolling ashore within the next 48 hours.  The first storm is already bringing rain and snow to the Golden State.  There was even soaking showers this morning in Los Angeles.  Just about the entire state is being affected in some capacity. The map below shows the forecast for this afternoon.  The rain is depicted in green shading, and the snow in blue shading.  A large portion of the state will be getting rain, with more snow falling in the mountains.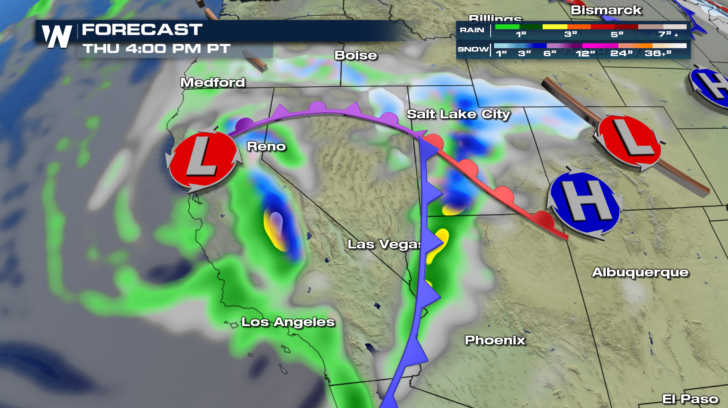 Friday will be much less active.  California will get a chance to dry out as the first system moves east, and the second system is off-shore.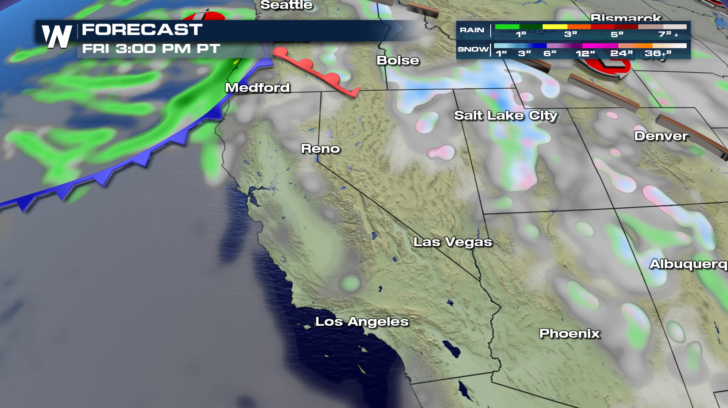 The rain and snow will ramp up once again on Saturday as the second storm arrives.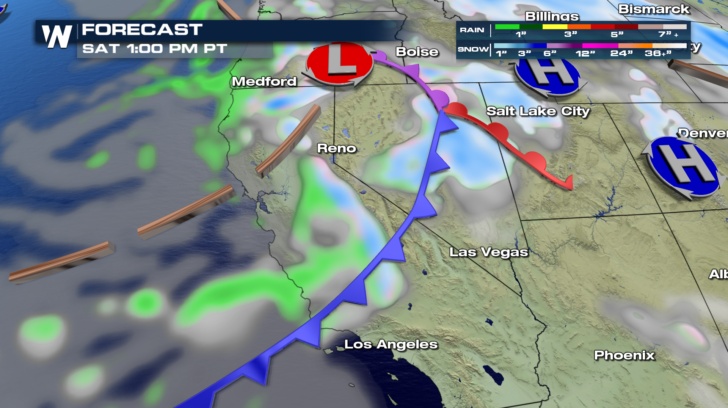 Winter Storm Warnings are in effect in the Sierra Nevada through early Friday morning.  Snow totals from this round of snow could total 12 to 18 inches across the mountain range.  Up to 36 inches of snow are possible on the highest peaks.  That's three feet of snow!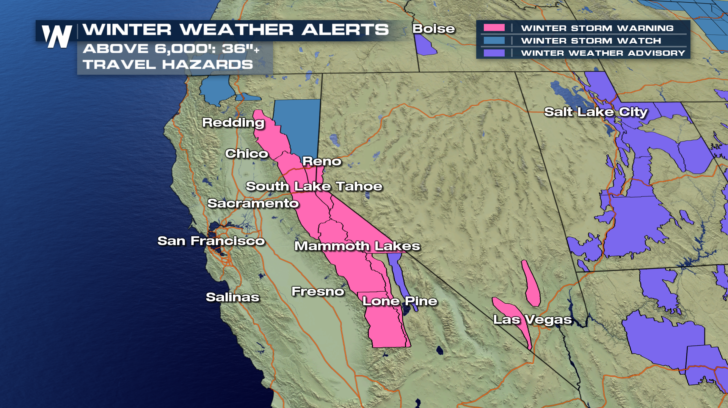 The second round of snow will bring additional accumulations on Saturday.  More winter weather alerts may be issued for the mountains as we get closer to Saturday.  Snow totals, by combining both storms, could reach one to three feet of snow in many locations.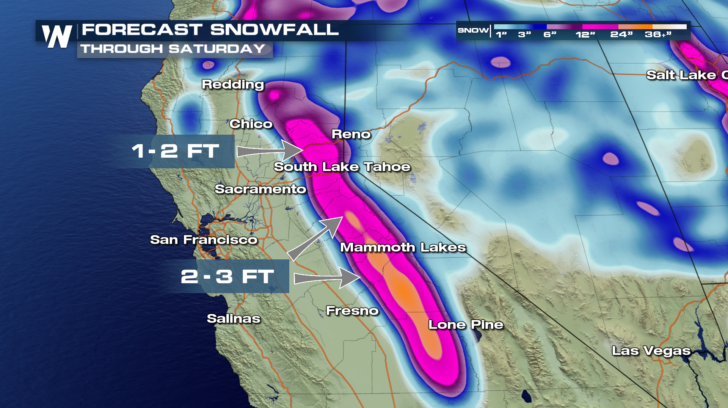 Here are snowfall reports coming from the National Weather Service in Reno, Nevada.  Mammoth Mountain Ski Area is the big snow winner.  Mammoth has received anywhere from 19 to 30 inches of snow.  That's a skiers paradise!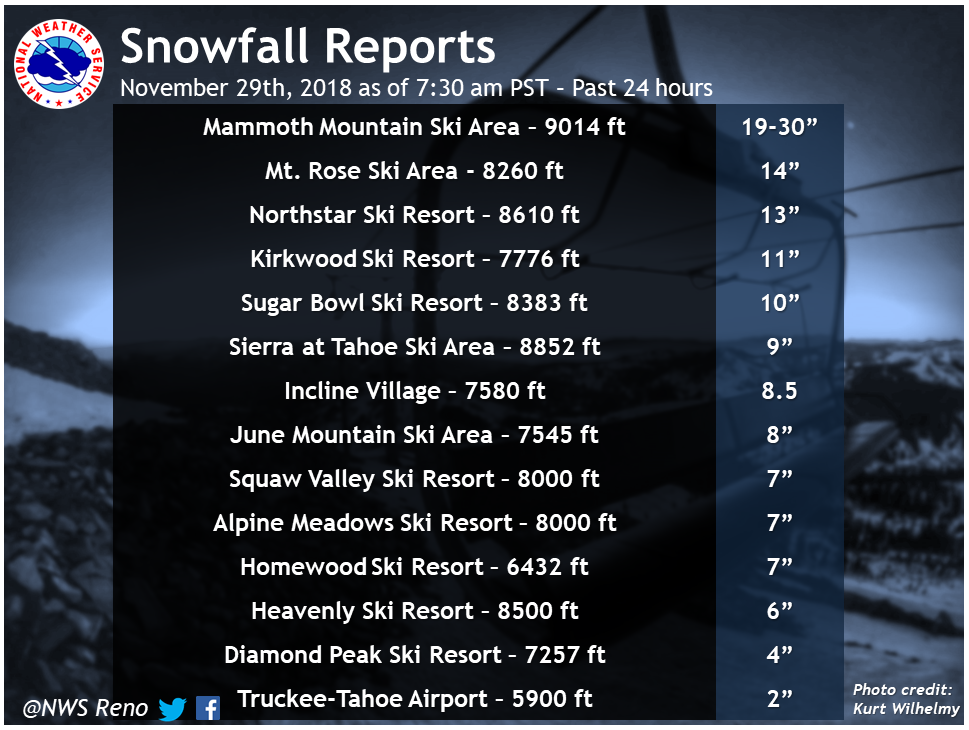 Heavy rains could also cause flash flooding.  Flash Flood Watches are in effect for Thursday in Northern California.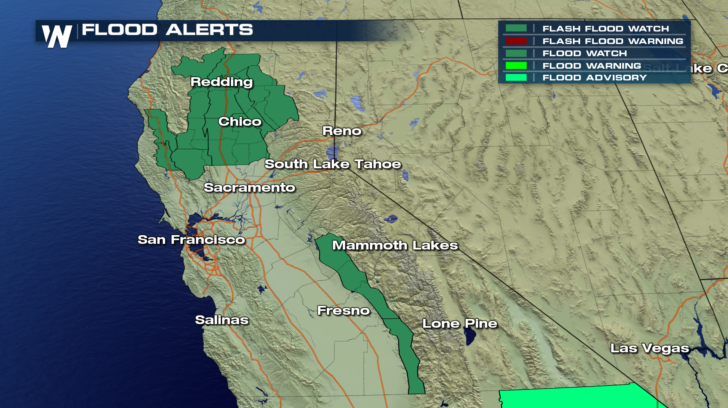 However, a large portion of southern California is also under Flash Flood Watches and Flood Advisories today due to heavy rain.  This includes the Los Angeles area, along with Palm Springs and  the Coachella Valley.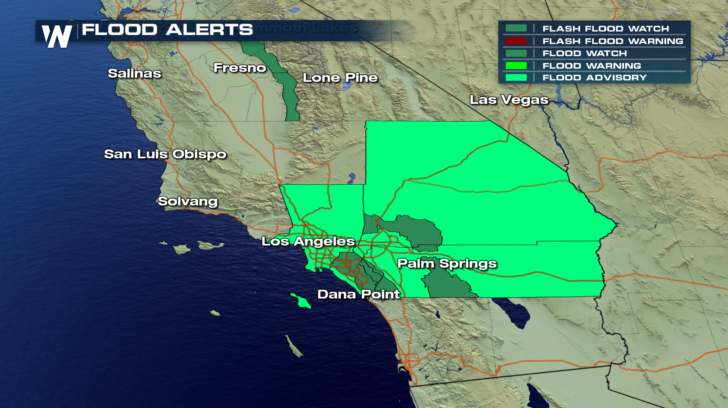 And believe it or not, there is also a marginal threat for a few brief tornadoes today as the storm moves through.  The Sacramento metro is included in this risk area, along with Modesto, Fresno, and much of the San Joaquin Valley.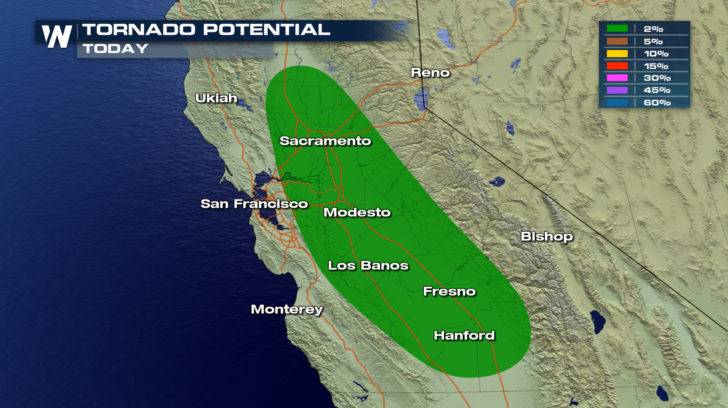 Below are extended forecasts for San Francisco, Los Angeles, and Sacramento.  All three cities have something in common.  Rain is in the forecast today, followed by a dry Friday, then more rain on Saturday.  But all three cities will also enjoy  plenty of sunshine and a nice opportunity to dry out Sunday and Monday.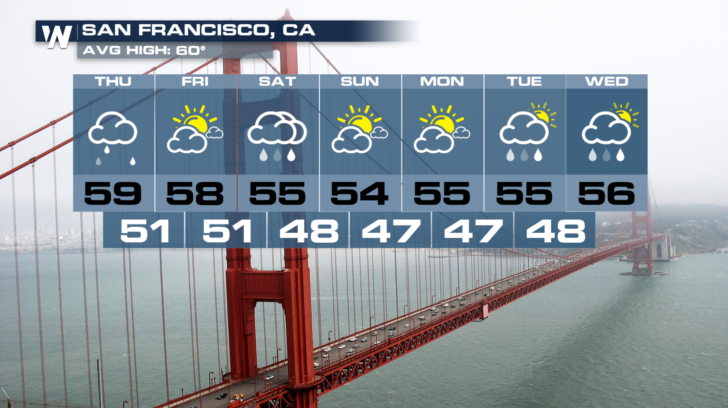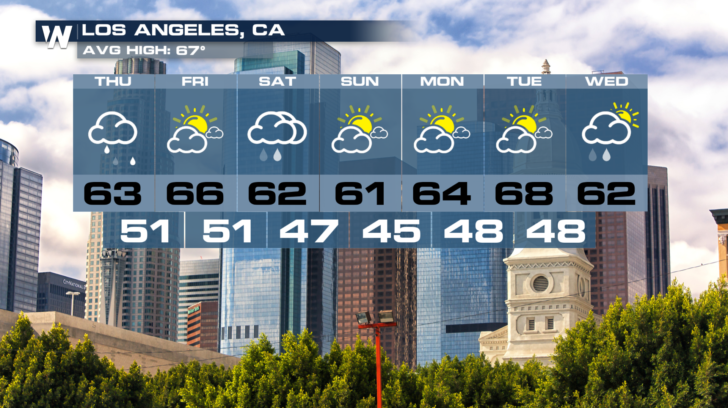 In summary, the weather in California will stay very active today, and again on Saturday.  Flooding rain and heavy mountain snow is possible, along with a severe weather threat today.  Stay weather aware, and stay tuned to WeatherNation for the very latest weather info.  You can watch WeatherNation on the Dish Network, Roku, Amazon Fire TV, and Apple TV. For WeatherNation:  Meteorologist Matt Monroe