This week has played host to a myriad of advisories and warnings across much of the country. From Blizzard Warnings to Coastal Flooding to Red Flag Warnings We've seen it all. But one common weather element played a major role in each of these events– wind.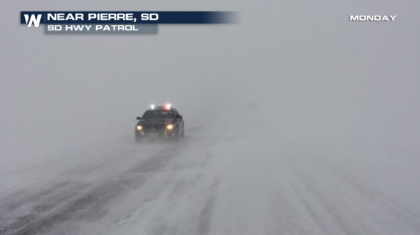 Wind Alerts
As our major winter storm spans a good portion of the central US, wind surrounds it. From the low-level jet fueling the severe storms to the cold air bringing winter's bitter bite.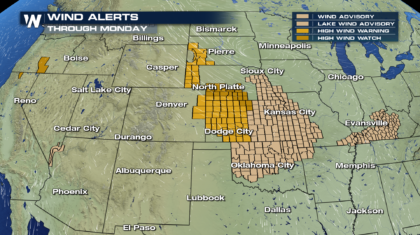 In the coming days these will only spread as our system plays a role in the next Nor'easter hitting the Northeast.
The Blizzard
Sustained winds of more than 30 miles per hour and visibility of less than a 1/4 mile for more than 3 hours is what classifies a blizzard. Those conditions spread across the plains on Monday and will last through Tuesday, even as the snow winds down. Making the impacts of the falling snow much worse. https://media.weathernationtv.com/news/blizzard-warnings-high-plains-upper-midwest/
Fire Danger
Where we didn't get moisture, wind elevated the fire danger. A lack of rainfall means the vegetation is dry and ready to burn. Adding wind gives the plains 2 of the 3 elements needed to make a fire. Any good boyscout knows: Fuel, oxygen, spark. With wind and dry vegetation, all that is needed to spark a fire is spark. And for that reason widespread red flag warnings continue across the Nation's heartland. https://media.weathernationtv.com/news/weekend-fire-weather-risk-four-corners-southern-plains/
Coastal Flooding
A storm surge is the most dangerous part of a hurricane. And for good reason. So even when a storm isn't a hurricane, the storm surge or coastal flooding associated with it can have major impacts. This was the case across much of the northeast with the previous storm, and will be in the coming days as we see yet another storm move up the coast. Onshore winds as far south as Florida caused flood concerns through Monday. https://media.weathernationtv.com/news/florida-coastal-flooding/
The Next Nor'easter
It's hard to write a weather-related article without mentioning the next storm. As residents continue to clean up following this past weekend's whopper, another major storm sets its sights on the northeast. Once again, wind will make this storm much worse than it otherwise would have been. https://media.weathernationtv.com/news/winter-storm-watch-much-northeast/ For WeatherNation — Meteorologist Jeremy LaGoo